In a thrilling Saturday night showdown, Washington quarterback Michael Penix Jr. exhibited his exceptional skills by guiding his team to a 52-42 victory over USC. The left-handed signal-caller wowed the crowd with a series of remarkable passes, including a spectacular 22-yard touchdown throw to Devin Culp early in the second quarter. Penix completed 22 of his 30 passes, amassing 256 yards while tossing two touchdowns and adding a rushing score to seal the triumph. This remarkable performance marked his seventh game of the season with three or more touchdowns, solidifying his position as a standout player for the Huskies.
Photo Cred: Washington
2. Over in Michigan, Michigan quarterback J.J. McCarthy continued to impress in their 41-13 victory over Purdue. He completed 24 of 37 attempts, accumulating a season-high 335 yards. Despite not registering a touchdown pass in this particular game, the talented junior QB played a pivotal role in the Wolverines' win. Michigan had five rushing touchdowns, led by Blake Corum's impressive three scores. McCarthy's season statistics now stand at a 75.7% completion rate, 2,134 passing yards, and a total of 21 touchdowns through nine games. This makes him a standout performer in the Wolverine lineup.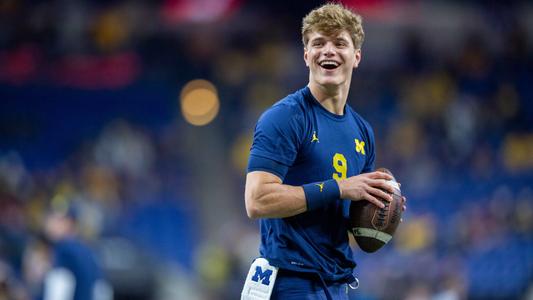 Photo Cred: Michigan
3. In Oregon, Ducks quarterback Bo Nix continues to make a strong case for the Heisman. His star shone brightly in Oregon's dominant 63-19 victory over Cal. He completed 29 of 38 passes for 386 yards and delivered four touchdowns, while also contributing two rushing scores. Nix was responsible for all five of the Ducks' first-half touchdowns, including two impressive TD passes to wide receiver Tez Johnson. Johnson finished the game with 12 receptions for 180 yards. Nix's season statistics are equally impressive, with 2,723 passing yards and 30 total touchdowns, complemented by a remarkable 78.1% completion rate.
Photo Cred: AL.com
4. In Ohio State, Marvin Harrison Jr. continues to be a game-changing force in college football. The connection between quarterback Kyle McCord and wide receiver Harrison has proven to be highly effective, particularly in the red zone. In a tense moment with a narrow 21-16 lead over Rutgers early in the fourth quarter, McCord found him for two back-shoulder fade touchdowns, preserving Ohio State's undefeated record. While Harrison may have had only four catches for 25 yards in this game, the 6-foot-4 junior showcased his unstoppable nature when it mattered most, making him a significant asset to the Buckeyes.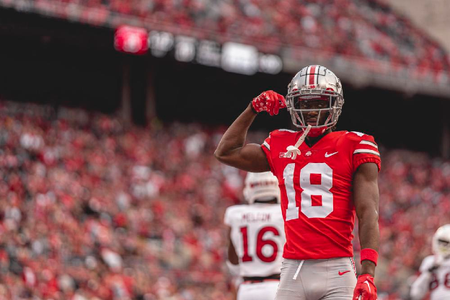 Photo Cred: Ohio State
5. At LSU, senior quarterback Jayden Daniels further solidified his Heisman Trophy candidacy with a stellar showing against Alabama's formidable defense on Saturday night. Daniels completed 15 of 24 passes for 219 yards, securing two touchdowns and one interception. He also showcased his versatility by rushing for an impressive 163 yards and an additional touchdown. Unfortunately, Daniels had to leave the game due to an injury sustained from a hard hit early in the fourth quarter. Regardless, his performance up to that point left a lasting impression on fans and Heisman voters alike. The team would go on to lose the game, but Daniels has done enough to stay in the Heisman race.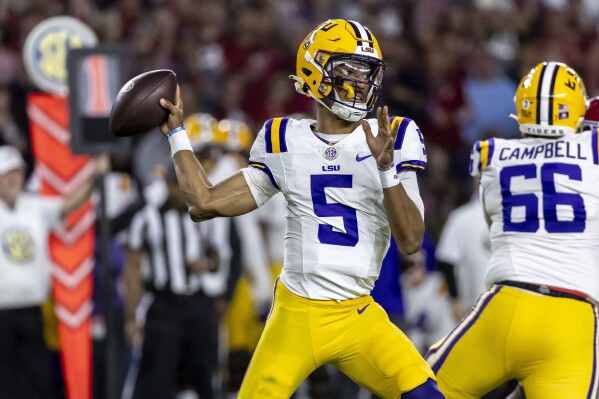 Photo Cred: AP News