Southern Methodist University (SMU) quarterback Preston Stone launched the 2023 season with an impressive 38-14 victory over Louisiana Tech, showcasing his prowess by completing 23 of 37 passing attempts for 248 yards and three touchdowns, all in the first half of the game. Stone, who redshirted in 2021 and saw limited action in three games, displayed his adaptability by completing three passes for 24 yards and rushing for two yards before suffering a season-ending broken collarbone in last year's match against Tulsa.
Photo Cred: Dallas Morning
The backbone of SMU's success stemmed from their formidable defense, which relentlessly pressured Bulldogs quarterback Hank Bachmeier, tallying six sacks and securing a pick-six from transfer player Kori Roberson. The defense also notched an impressive 11 tackles for a loss. Conversely, the Bulldogs struggled to reach Stone, as the Mustangs' offensive line prevented a single sack throughout the game.
Photo Cred: Dallas Morning
In a critical moment, Mustangs wide receiver Jordan Hudson scored the game's first touchdown late in the first quarter. Hudson debuted with the Mustangs after transferring from TCU, where he played 14 games and recorded three touchdowns and 174 receiving yards. Although Stone had a sluggish start in the second half, he later orchestrated a drive in the game's waning moments, culminating in a rushing touchdown.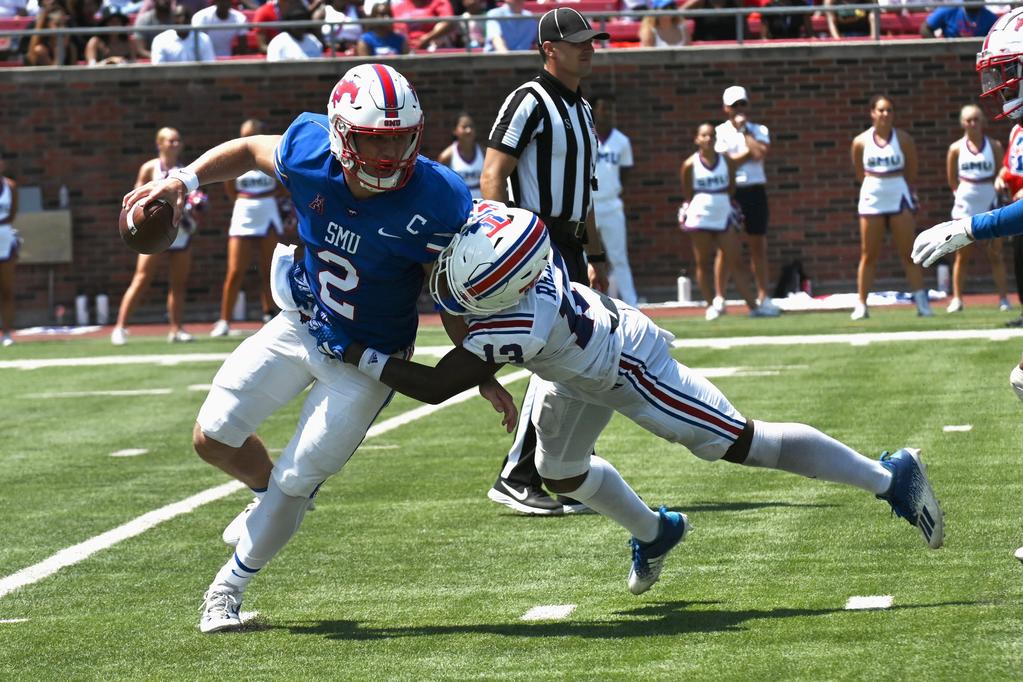 Photo Cred: Emerald McIntyre
These additional repetitions afforded Stone valuable experience running the offense as he prepares for the upcoming season, which will be crucial as the team embarks on road games across state lines. Looking ahead, SMU will travel to Oklahoma next week to face the Sooners, who blanked Arkansas State with a commanding 73-0 shutout earlier in the day.