We're less than a week from the 2023-24 NFL season, and the excitement is building as the preseason is in full swing. I'm diving into each position group, from the quarterbacks to the kickers, and ranking them before the season kicks off in Kansas City on Sept. 7. We wrap up the defense by looking at the defensive backs.
1. Denver Broncos
My hot take that's becoming less and less hot with each game: Patrick Surtain II is the best cover corner in football. Surtain has great feet and fluid hips and uses his long frame to disrupt routes. Not many teams have someone who can take away half of the field, but the Broncos do. Surround that with two excellent safeties (Justin Simmons and Kareem Jackson), a good nickel (K'Waun Williams), and a hybrid player who has the potential to excel both in the box and back deep (Caden Sterns) and you have a group that's worthy of the number one ranking.
Photo Cred: Miles High Report
2. New York Jets
Sauce Gardner blew past lofty expectations. As a rookie, he emerged as one of the best corners in the NFL and earned first-team All-Pro honors in year one. Opposite him, D.J. Reed was excellent at coverage a year ago, giving the Jets the best cover duo in football. The safeties are a bit more of a question mark, but when you can leave both your corners on an island on most downs, it provides an advantage for the defense.
3. Dallas Cowboys
By now, everyone knows that Trevon Diggs is the best corner in football at taking the ball away, but he is becoming more consistent down-to-down in coverage. The spot opposite Diggs has plagued the Cowboys but adding Stephon Gilmore in free agency should shore that up. Safety is more of a question in Dallas, but the trio of Malik Hooker, Jayson Kearse, and Donovan Wilson should be more than enough to make this an elite unit with the talent at the corner.
4. Cleveland Browns
This ranking may seem high, but the Browns' secondary is full of young talent that could be ready to blow up. I'm expecting a breakout season for Greg Newsome II at the corner opposite Denzel Ward, which would give Cleveland a great pair of cover guys on the outside. Juan Thornhill brings some big-game experience from Kansas City, and former LSU standout Grant Delpit could be ready for another leap in year three after showing improvement in 2022.
5. Buffalo Bills
The Bills possess the best safety tandem in football in veterans Micah Hyde and Jordan Poyer, who should anchor an elite unit if healthy. Tre'Davious White has struggled to stay healthy over the past two seasons but still has shutdown ability. Buffalo needs a second corner and hopes former first-rounder Kaiir Elam can grow to that role.
6. Philadelphia Eagles
The Eagles will miss Marcus Epps and C.J. Gardner-Johnson at safety, both of whom departed this offseason. The corners, however, are still elite. James Bradberry and Darius Slay can each cover any receiver in the league, and that enough lands the Eagles in the top 10. If safeties Reid Blankenship and Terrell Edmunds can come close to the production that Epps and Gardner-Johnson reached last season, this will be a high-end unit again in 2023.
Photo Cred: SI
7. Miami Dolphins
The Jalen Ramsey era in Miami isn't off to a great start after Ramsey suffered a meniscus injury in camp. With Ramsey out until December, the onus will again be on Xavien Howard as the number one guy, something he has proven more than capable of doing. When Ramsey gets back, the pairing of him and Howard on the outside gives the Dolphins two of the top corners in the game.
8. Baltimore Ravens
The question for the Ravens' secondary (like the rest of their roster) is always health. When healthy, they have a top-10 unit in the back end with Marlon Humphrey playing at an elevated level. Baltimore also has a good safety duo of Marcus Williams and second-year man Kyle Hamilton, who really came into his own doing a lot of different things for the defense last season.
9. Seattle Seahawks
The Seahawks struck gold in the 2022 draft with Tariq Woolen, who picked off a league-leading six passes as a rookie. Woolen is a gambler on the outside, but the duo of him and 2023 No. 5 overall pick Devon Witherspoon gives the Seahawks a promising young tandem at the corner. There's more experience at safety, with Quandre Diggs back in center field and Jamal Adams on the mend from his knee injury suffered in week one last season.
10. Kansas City Chiefs
The Chiefs' secondary players were the unsung heroes of their Super Bowl run a season ago, filled with late-round gems. L'Jarius Sneed's development into a number-one corner has been rapid, and Trent McDuffie came on in the slot toward the end of the year. With veteran safety Justin Reid tying things together in year two in Kansas City, this could be a solid group right from the jump.
11. Carolina Panthers
Jaycee Horn has struggled to stay healthy since being drafted in the top 10, but he has been an absolute monster on the field. Horn can shut down half of the field. He can seriously bolster this unit if he can remain healthy. The Panthers also added safety Vonn Bell from Cincinnati this offseason, adding to a solid safety room that includes Xavier Woods and Jeremy Chinn. The Panthers are searching for a number two corner, but if they find one? Watch out.
12. New England Patriots
This Pats secondary is underrated and underappreciated. Kyle Dugger is already a star at safety, using his supernatural physical traits to play the run and be a great cover man in both man and zone. They round out the secondary with rock-solid starters in Jabrill Peppers, Jonathan Jones, and Jalen Mills.
Photo Cred: USA Today
13. San Francisco 49ers
It remains to be seen what this defense will look like without DeMeco Ryans pulling the strings, but they still have plenty of talent on the back end. Talanoa Hufanga is a heat-seeking missile at safety, and Charvarius Ward developed into a top-end corner last season. The Niners also have a promising pair of young DBs in Deommodore Lenoir and Isaiah Oliver who can contribute immediately this season.
14. Los Angeles Chargers
Asante Samuel Jr. could benefit from some better hands, but he's figuring out the rest of this "playing corner in the NFL" quickly. Samuel is sticky in coverage and has great instincts and pairing him with a (finally) healthy J.C. Jackson should give the Chargers an elite duo on the outside. And that's not to mention Derwin James, the do-it-all force that anchors the Chargers defense from the safety position.
15. New Orleans Saints
There are questions at the second corner spot for the Saints, but they don't have to worry about the No. 1 role with Marshon Lattimore back in the fold. Lattimore is still a top-tier corner and should elevate this unit once again. Tyrann Mathieu returns to safety, giving the Saints a great duo in the back end. If the second corner spot gets figured out, this should be one of the Saints' strengths.
16. Tampa Bay Buccaneers
It's been an up-and-down few seasons for the Bucs in the secondary (and as a whole). They do have continuity, with Jamel Dean and Carlton Davis III once again filling the corner spots and Antoine Winfield Jr. back at safety, but all three have been inconsistent over the past few years. If they can return to their peak level of 2020-21, they can carry this defense to a strong season.
17. Cincinnati Bengals
This off-season was the time for the Bengals front office to pay the piper, and it turns out safeties Jessie Bates III and Vonn Bell were the odd men out. Now, Cincy turns to Dax Hill and Nick Scott in the back end, hoping they can fill those big shoes. The good news is that they will get Chidobe Awuzie back on the outside.
18. Pittsburgh Steelers
Minkah Fitzpatrick is one of the best safeties in football, someone who can change a game instantly with his nose for the football and his ability to cause turnovers. On the outside, things are a little spottier. Veteran Patrick Peterson was brought in and still is a solid starter, though he is past his prime. Pittsburgh will need rookie Joey Porter Jr. to hit to solidify the Steel Curtain.
Photo Cred: NY Post
19. Green Bay Packers
Green Bay still has a shutdown corner in Jaire Alexander, but the secondary is haphazard after that. Darnell Savage has had his moments at safety but is coming off a down year in 2022. Another player looking for a bounce back year in Green Bay is Rasul Douglas, who was excellent in 2021 but came back to earth last season. If the two can rebound, the Packers can field an above-average unit.
20. Washington Commanders
The Commanders are transitioning in the secondary, with veteran corner Kendall Fuller holding it together while the youth come along. Kamren Curl has made strides as a safety, and the team is extremely high on rookie first-round pick Emmanuel Forbes Jr. at the corner. The Commanders don't need this unit to be elite, but they need them to be good enough to complement their elite front line.
21. Atlanta Falcons
A.J. Terrell took a slight step back in 2022 after an amazing 2021 season, but I expect him to return to form again in 2023. Terrell struggled with scheme fit and some injuries a year ago, but he is too good a cover man to struggle like that again. Pairing a talent like that with former Bengals safety Jessie Bates III in the Falcons secondary should give them a big boost this season.
22. Chicago Bears
Chicago has a very volatile unit, with guys who have plenty of difficulties. Sometimes, Eddie Jackson looks like an elite safety, and other times looks lost in the back end. Corner Jaylon Johnson has shown very promising ability in his first few seasons and could be in for a breakout season.
23. Houston Texans
The Texans have quietly stockpiled talent in the back end of their defense. Safeties Jalen Pitre and former 49er Jimmie Ward form a strong duo, but the headliner in this group is Derek Stingley Jr. The 2022 No. 3 overall pick was good in his rookie season but was put into a box in the Texans' cover two heavy schemes. New head coach DeMeco Ryans should let Stingley play more man coverage and allow him to highlight his incredible physical traits, and Stingley could really take off in 2023.
24. Tennessee Titans
The Titans have missed on a lot of recent draft picks in recent years but may have finally found a solid starter last year in Roger McCreary. Tennessee also added Sean Murphy-Bunting from Tampa Bay, who has been a solid contributor in coverage for a few years. Kevin Byard may be out of his prime, but he is still a good ball-hawking safety, and that should make this group at least serviceable.
Photo Cred: ESPN
25. Minnesota Vikings
With Patrick Peterson gone, it's all up to the young talent on Minnesota's roster to carry the burden at the corner. They did add Byron Murphy from Arizona, who will immediately be the number one guy. However, youngsters Andrew Booth Jr., Akayleb Evans, and Mekhi Blackmon will manage business on the outside. At least veteran Harrison Smith is back to quarterback the secondary at safety.
26. Detroit Lions
The Lions made a concerted effort to upgrade the secondary in the offseason, adding one of the top safeties in the game in C.J. Gardner-Johnson and drafting Brian Branch out of Alabama in the first round. Both are versatile pieces that can play different roles, and both should be quality contributors in year one in Detroit. Despite that, the Lions still have plenty of questions at the outside corner, where Emmanuel Mosely and Cameron Sutton are the week one starters.
27. Jacksonville Jaguars
No names jump off the screen in Jacksonville, but Tyson Campbell quietly grew into a good cover corner last season. The rest of the names in the secondary aren't flashy, but they do form a group of solid veterans with safety Rayshawn Jenkins and nickel Trey Herndon.
28. New York Giants
The Giants are running it back and hoping for internal growth from a group that played average to below average a year ago. Adoree' Jackson is a solid cover corner and a freak athlete. Hard-hitting safety Xavier McKinney has shown potential as a box safety who can be physical in the run game.
29. Indianapolis Colts
Stephon Gilmore is gone, but Kenny Moore II returns and is still one of the best nickel players in football. Outside of Moore, however, the Colts are extremely thin at the corner, with multiple recent day-three draft picks competing for starting jobs.
30. Arizona Cardinals
The Cardinals officially waved the white flag on this group when they traded away Isaiah Simmons during the preseason. They have an excellent safety duo in promising Jalen Thompson and young star Budda Baker but are incredibly weak at the corner. Without Simmons' versatility in the slot, the Cardinals can't cover well enough to be any higher on this list.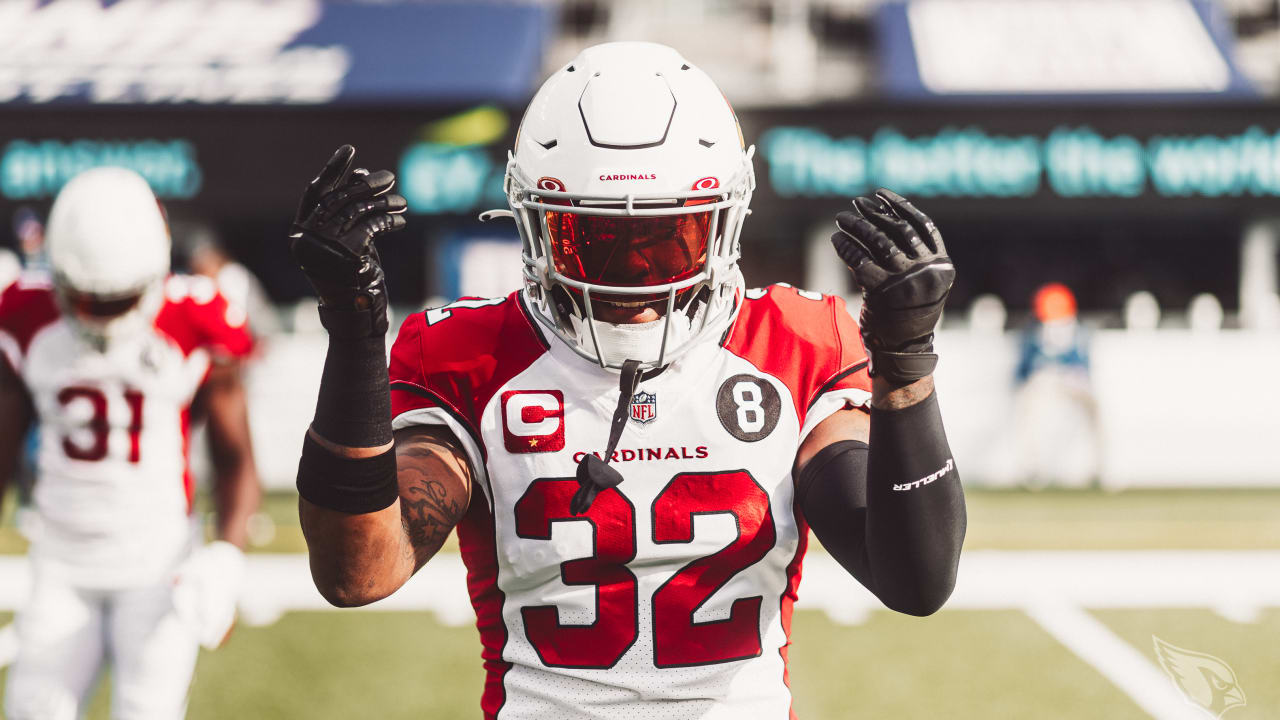 Photo Cred: Arizona Cardinals
31. Las Vegas Raiders
The Raiders are another team that doesn't have enough starter-level players in the secondary to field a good unit. Former TCU standout Trevon Moehrig has shown some promise, but it won't be enough to lift this group.
32. Los Angeles Rams
The Rams are simply out of talent in the secondary after trading away Jalen Ramsey this offseason. Ramsey's departure made four key contributors gone from a year ago in Los Angeles, including Taylor Rapp, Nick Scott, and Troy Hill. Cobie Durant is a promising young player, but this is a developmental year for the Rams' secondary.