The football team of Tennessee State University will play against Notre Dame this weekend. This season's opener game will be the first time in history that a historically Black college plays against an FCS team (football championship subdivision team). They are in two completely different conferences. TSU (Tennessee State University) in the OVC (Ohio Valley Conference) and Notre Dame in the FCS. The two opponents have never met, and the stakes are high.
Photo Cred: Saturday Blitz
No. 13 Notre Dame (1-0) opened the season last week with a 42-3 win over Navy in Dublin, Ireland. Tennessee has not competed yet this season. Given the history from last year's season, Tennessee finished with a record of 4-7, and Notre Dame finished with 9-4. The Leprechauns and head coach Marcus Freeman must secure their first win on their home field to prove they are the better team.
Eddie George, head coach for Tennessee State University's football team, places trust in his defensive line as they limited their opponents to 190.1 passing yards per game last season, making them 19th in the FCS. Notre Dame ranked no. 13 will be the toughest matchup this team has faced yet. This game will be tough as each team is relentless on the field. It will be a game about who can execute the best. Will the offense of Notre Dame override Tennessee State's defense or is Tennessee strong enough to stand its ground?
Photo Cred: Yahoo Sports
The biggest challenge for Notre Dame in its first-ever matchup with an FCS and HBCU school will be itself. How do the Fighting Irish respond mentally and to a lesser degree physically after traveling to and from Ireland for last week's 42-3 win over Navy? Notre Dame is simply bigger, faster, and better than Eddie George's TSU squad.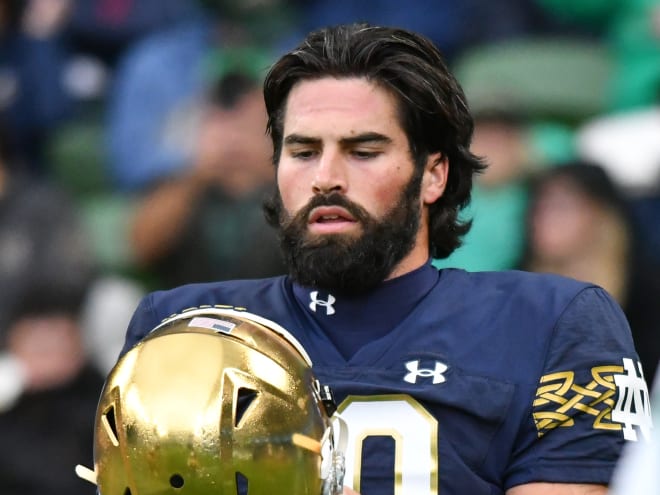 Photo Cred: Rivals
You never want to take an opponent for granted, but Tennessee State isn't in Notre Dame's league from a talent perspective. Offensively, the Irish continue their momentum under quarterback Sam Hartman. The Wake Forest transfer lived up to the lofty expectations when he completed 19 of 23 passes for 251 yards with four touchdowns and no interceptions against Navy. The young guys also get playing time due to a huge halftime deficit. Defensively, it's hard to imagine that Tennessee State can challenge the Irish. If the Tigers can't get anything going on the ground, it's poised to be a long day. Notre Dame dominates this one from start to finish undoubtedly.