Missouri started off strong and never looked back in its 35-10 victory over South Dakota to open the season on Thursday at Faurot Field.
Photo Cred: Columbia Daily Tribune
First Quarter Highlights
Senior quarterback Brady Cook finished the game with 172 yards and a touchdown. He also completed a 13-yard pass to sophomore receiver Luther Burden III, which got them to the Coyotes 23-yard line. A couple of plays later, Cook threw an 18-yard touchdown pass to sophomore WR Mehki Miller to give Missouri the lead early.
Photo Cred: Columbia Daily Tribune
Missouri kept the momentum the very next drive. Graduate student running back Nathaniel Peat ran it into the South Dakota 1-yard line on first down. On the very next play, Peat punched it into the end zone to give the Tigers a 14-0 lead with 3:19 remaining in the first quarter.
Second Quarter Highlights
Eliah Drinkwitz's team continued to pull away in the second quarter. Graduate student running back Cody Schrader ran the ball for 32 yards on five straight plays. He would punch it in a two-yard touchdown to extend Missouri's lead to 21-3.
Photo Cred: The Morganton News Herald
The Tigers would get the ball back quickly. Cook threw a 30-yard pass to Burden. A couple of plays later, he ran it in for a 15-yard touchdown himself. This gave Missouri a 28-3 lead with 33 seconds left in the first half.
Third Quarter Highlights
On the first possession of the second half, the Coyotes slowly made their way up the field. Junior defensive back Ennis Rakestraw Jr. broke up South Dakota quarterback Aidan Bouman's pass on third down. True freshman defensive back Marvin Burks Jr. capitalized on Rakestraw's play by sacking Bouman on fourth down to give the Tigers the ball.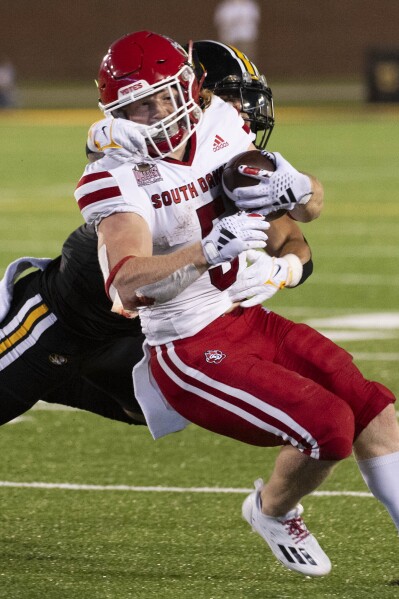 Photo Cred: AP News
Fourth Quarter Highlights
South Dakota didn't go away, however. Bouman completed a pass to wide receiver Jack Martens for 23 yards. He proceeded to connect with redshirt sophomore RB Mike Mansaray for a six-yard touchdown pass with 12:14 left in the game.
Photo Cred: ESPN
Top Performers on Offense and Defense
Missouri's offense ended the game on a high note. Sophomore QB Sam Horn threw a screen pass to Burden, which resulted in a 15-yard touchdown.
Missouri's defense had a strong performance in its season opener. Defensive linemen Johnny Walker Jr., Josh Landry, and linebacker Ty'Ron Hopper each had four solo tackles. Burks and Kris Abrams-Draine, meanwhile, had three solo tackles.
Photo Cred: ESPN
Burden III and Miller were the receiving leaders for the Tigers in their season opener. Burden finished with 96 yards and one touchdown, while Miller recorded 49 yards and a touchdown. Horn, who was Missouri's QB in the second half, ended the game with 54 yards and a touchdown.
The rushing attack was also strong for the Tigers. Schrader ran for 148 yards and a touchdown. Peat added 52 yards and a touchdown.
Photo Cred: Clayton News Daily
Next Week
Missouri will look to continue its hot start to the season as it hosts Middle Tennessee at 6:30 P.M. next Saturday at Faurot Field.
Photo Cred: Middle Tennessee State University Athletics