The Minuteman offense tallied 16 hits Wednesday to beat in-state foes Stonehill (10-32) 10-6. UMass (12-30) wasted no time taking the lead, scoring four runs in the bottom half of the first inning. Nolan Tichy homered to give UMass a 3-0 lead after just three plate appearances. It was Tichy's team-leading 10th home run of the season. Jake Given then drove home Mike Gervasi to chase Stonehill starting pitcher Max Bulport from the game after recording just two outs.
Photo Cred: Kalina Kornacki/Daily Collegian (2023)
The Minutemen added two runs in the second inning and another in the third to give starting pitcher Scott LeSieur a comfortable 7-0 cushion. LeSieur had a brilliant afternoon on the mound for the Minutemen, throwing six scoreless innings while striking out seven. The senior left-hander from Marietta, GA, made the most of his third start, allowing six hits and walking none. UMass led 8-0 when LeSieur left the game.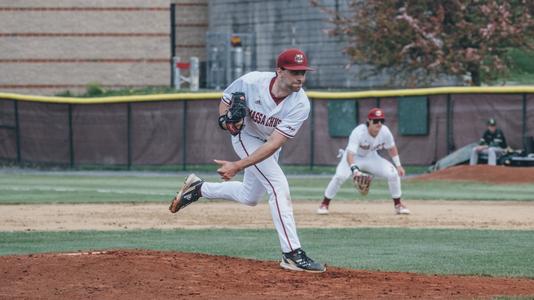 Photo Cred: UMass Athletics
LeSieur's scoreless outing was preserved in the fourth inning when CF Kevin Skagerlind made a diving catch in the right-center gap. The play was on ESPN's Top 10 Plays of the Day. Skagerlind also had a big game at the plate, going 3-4 and stealing a base. After allowing a run in the seventh, UMass ran into serious trouble at the top of the eighth.
The first three hitters in the inning reached base from Stonehill, and the Hawks managed to create productive outs to close the gap to 8-3 with two outs. Stonehill hit three consecutive singles to score 8-6 before the Minutemen finally got out of the inning. Jack Peters hit a two-run single to give UMass some insurance in the bottom of the eighth before Jackson Harrigan shut the door on Stonehill in the ninth to seal the UMass victory.
Photo Cred: UMass Athletics
Tichy led UMass with four RBIs on a beautiful Wednesday in Amherst. The Minutemen have relied on him all season, as he leads the team in hits, HR, RBI, & OPS. Tichy will lead the Minutemen into the Bronx this weekend when UMass will take on Fordham in a three-game series.