The ACC announced its complete 2023 college football schedule. The schedule is the first featuring a division-less, 3-3-5 model. This will allow the two top teams to face off in the conference championship game. The 3-5-5 model involves three permanent opponents for each school to maintain rivalries and a rotating selection of five teams every other year. The model ensures that every four-year ACC player will travel to every individual opposing stadium over the course of their careers. After the ACC schedule release, we look at the best quarterbacks; who will be playing in those games. 
1. Drake Maye, North Carolina
Photo Cred: UNC Athletics
 Maye averaged 358.5 yards a game and finished with forty-five total scores in his first year starting. In the air, he had 4,321 yards and 698 rushing yards. Maye was the prolific director of North Carolina's high-powered offense. The All-ACC player may have a new coordinator in Chip Lindsey, but he goes into the season as an All-American prospect. 
2. Jordan Travis, Florida State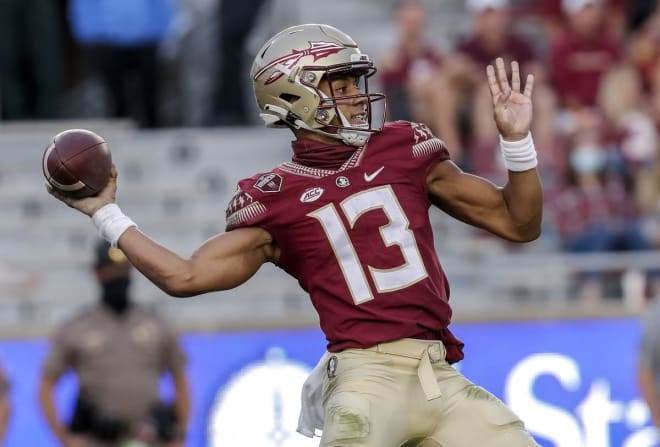 Photo Cred: Rivals.com
 Travis has made massive improvement under coach Mike Norvell. FSU got off to a slow start, but the offense was clicking mid to late season. Travis threw for 3,214 yards and twenty-four touchdowns with only five picks. He added 417 yards and seven scores on the ground. His accuracy sets him apart. He raised his completion rate from 55% to 64%. 
3. Riley Leonard, Duke
Photo Cred: Duke Athletics
 Leonard was one of the ACC's breakout stars. After entering the year as a question mark, Leonard threw for 2,967 yards and twenty touchdowns and ran for 699 yards and 13 scores over 13 games for a much-improved Duke offense. While he lacks an explosive arm, his ability to limit mistakes is key. What he lacks in downfield passing, he makes up with his legs. 
4. Garrett Shrader, Syracuse
Photo Cred: WAER.com
 Shrader elevated his play last season with Robert Anae as OC. After completing 52.6% and averaging 6.2 yards per attempt, the QB completed 64.7% and 8.3 yards per attempt in twenty-three. Overall, Shrader threw for 2,640 yards, seventeen touchdowns, and another 543 yards and nine scores on the ground. Shrader is a minimal-risk QB who makes few mistakes, but the huge play ability is lacking. Without a running game, he struggles. 
5. Brennan Armstrong, NC State
Photo Cred: Backing the Pack
 Armstrong is a curious case. He had a high and a low. He'll reunite with play-caller Robert Anae at NC State. This should get Armstrong back on track after. Armstrong transferred from Virginia. After throwing for 4,449 yards and 31 touchdowns with 251 yards and nine scores on the ground in '21, Armstrong amassed only 2,210 yards and seven touchdowns to 12 picks through the air at Virginia. He is a prototypical QB that showed NFL talent in 2021.