Missouri's experienced players showcased their skill in a commanding 101-79 victory over Arkansas-Pine Bluff (UAPB) to kick off the new season at Mizzou Arena on Monday. The trio of Sean East II, Nick Honor, and Noah Carter started their season on a high note.
Sean East III
East made a quick impact in his second year with the Tigers. The guard began the matchup by sinking two three-pointers in the first two minutes. Alongside his initial three-pointers, East continued to find ways to score. He amassed 14 points by halftime, scoring 12 within the first six minutes of the game.
The Louisville, Kentucky native carried his momentum into the second half by contributing eight straight points. He assisted fifth-year senior guard Caleb Grill wide open underneath the basket for a layup. A couple possessions later, East scored on a baseline drive. The starting point guard completed a three-point play on a second-chance layup, extending Missouri's lead to 75-48 with 13:21 remaining in the contest.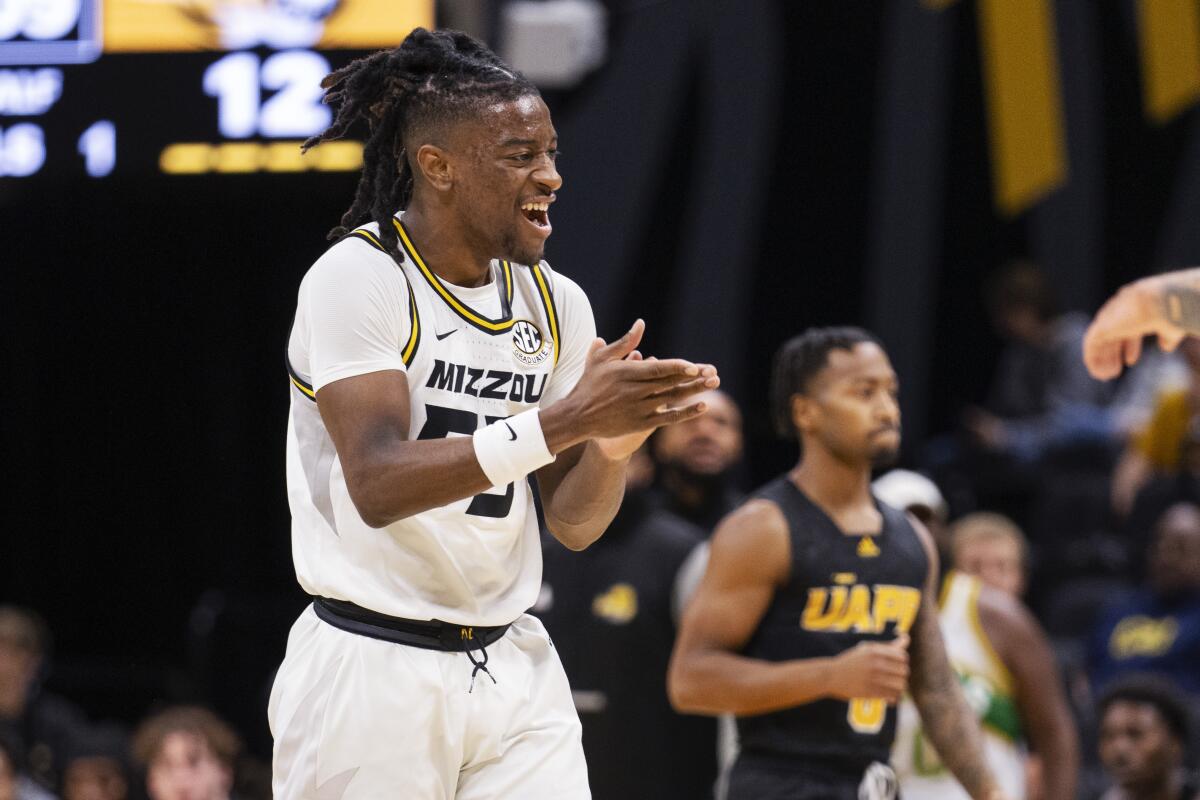 Photo Cred: San Diego Union-Tribune
East concluded the game as MU's leading scorer with 21 points, alongside three rebounds and two assists. Reflecting on his impressive performance, the fifth-year senior attributed it to the hard work he put into improving his shot. 
"I have been putting a lot of work on my shots," East said. "Over the past two years, I have been working extra hard to improve my shooting and my shots were going in tonight."
Nick Honor
Honor also delivered a stellar performance in MU's season opener. The Orlando, Florida native finished the matchup with 18 points, four rebounds, and four assists. The former Clemson Tiger made an impact early in the first half, contributing 10 points in the opening 20 minutes. He also recorded a crucial assist by finding sophomore forward Aidan Shaw on a baseline drive that resulted in a dunk. The Tigers were then up 20-12 with 12:57 remaining in the first half.
The starting point guard continued his impressive display in the second half, scoring five consecutive points. Honor recorded a layup on a fast break and knocked down a three-pointer in transition 30 seconds later as well. This gave Missouri a 68-44 lead with 15:58 left in the game. The fifth-year senior guard made four three-pointers throughout the matchup, concluding with a successful shot from beyond the arc with a little over three minutes remaining. 
Photo Cred: The Herald Journal
Post-game, head coach Dennis Gates expressed his desire for Honor to take more shots. Gates emphasized the need for the point guard to be more assertive instead of unselfish when given the opportunity.
"I want to convince him to take more shots," Gates said. "He made 40% of his three-pointers so it would build more confidence for him and our team if he is able to shoot more." 
Noah Carter
Another returning starter who made a strong impact was Carter. The forward finished with 15 points and six rebounds, capitalizing on his strength advantage against UAPB to score eight points in the paint. The fifth-year player started the night with an easy bucket to give the Tigers a 10-3 lead early. 
Nine of Carter's 15 points came in the second half, where he made an immediate impact. The  Dubuque, Iowa native scored MU's first points of the second half with a layup. Shortly after, he knocked down a jumper to extend Missouri's lead to 63-44 with just over 17 minutes remaining. The 6'6", 235-pound forward showcased his versatility by sinking a three-pointer with 1:08 remaining, securing a 98-77 lead for the Tigers.
Photo Cred: Hannibal Courier-Post
When asked about Carter and the other returning starters, Coach Gates emphasized that they earned their minutes. The second-year coach highlighted that the returners secured their right to start through offseason hard work and their unselfish attitude.
"This offseason they (Carter, Honor, East) earned their right to start," Gates said. "The way they were able to lead our new guys and get excited when the moment wasn't theirs is incredible." 
Looking Ahead
Missouri will tip off against Memphis at 8 P.M. CT tomorrow at Mizzou Arena, with the game broadcast on SEC Network.