1. QB Michael Penix Jr. of Washington
Photo Cred: Washington
Penix bounced back from his earlier shaky performance against Arizona State by throwing 369 yards and four touchdowns in a hard-fought win against Stanford. His upcoming matchup against USC's vulnerable defense presents a golden opportunity for Penix to bolster his odds. He also holds a win over Oregon.
2. QB Bo Nix of Oregon
Photo Cred: USA Today
Bo Nix is playing the best ball of his life. In an impressive display on Saturday, the senior quarterback delivered against one of the nation's top defenses. He racked up three touchdowns and 248 passing yards in Oregon's dominant victory over Utah. Nix's Heisman candidacy is now firmly in the top three.
3. QB Jordan Travis of Florida State
Photo Cred: CBS
Let's not overlook the most impressive stat: Jordan Travis has thrown 18 touchdown passes while only being intercepted twice. That level of performance from a quarterback is synonymous with championship-caliber football. Travis has put FSU on his back and returned them to national contenders.
4. WR Marvin Harrison Jr. of Ohio State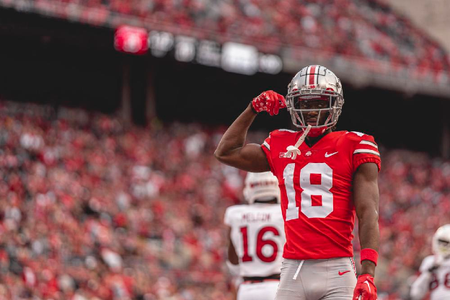 Photo Cred: Ohio State
With another exceptional showing, Marvin Harrison Jr. continues to solidify his status as the top receiver in college football. This includes a performance of 123 receiving yards and two touchdowns against Wisconsin. He has become a more convincing Heisman Trophy contender with each passing week. Harrison is the best wide receiver in the country.
5. QB J.J. McCarthy of Michigan

Photo Cred: Michigan
J.J. McCarthy is closing in on his career-high of 22 touchdown passes, with just four more to go, and he's achieving a personal-best 5.1 yards per carry. It's high time to recognize that McCarthy is enjoying a fantastic season, even if his competition has been less challenging. McCarthy is on track for the best year of his career.