In a recent matchup against the Washington Huskies, the Arizona State Sun Devils showcased their ability to create turnovers, yet their inability to capitalize on these opportunities emerged as a significant concern. The Sun Devils forced three turnovers during the game but found themselves squandering the advantageous field position by punting the ball or settling for field goals. To address this issue, Arizona State must prioritize converting these turnovers into touchdowns, a strategic shift that could significantly alleviate the pressure on their defense.
Photo Cred: 247 Sports
The opportunity to address this concern presented itself last week, as the Sun Devils gear up to face a relatively average opponent in Washington State. The Cougars, with a record of 4-3, provided the ideal setting for the Sun Devils to execute and make the most of their defensive turnovers. Notably, the Cougars' highest point total this season stands at 28 points, a mark they reached in a 42-28 loss to USC. In their recent contest against Washington State (on October 28th), the Sun Devils put on an impressive offensive display. They accumulated a total of 509 yards, with 274 of those yards coming through the air.
Quarterback Trenton Bourguet delivered a standout performance, completing 19 of his 26 passing attempts. The ground game was equally potent, with Cameron Skattebo amassing 121 rushing yards on 11 carries, including a touchdown. DeCarlos Brooks had a notable performance as well, contributing 11 carries for 67 yards and an impressive three touchdowns, marking his first three of the season. With this victory, the Sun Devils improved their season record to 2-6. Their next challenge looms as they face a formidable opponent in #18 Utah.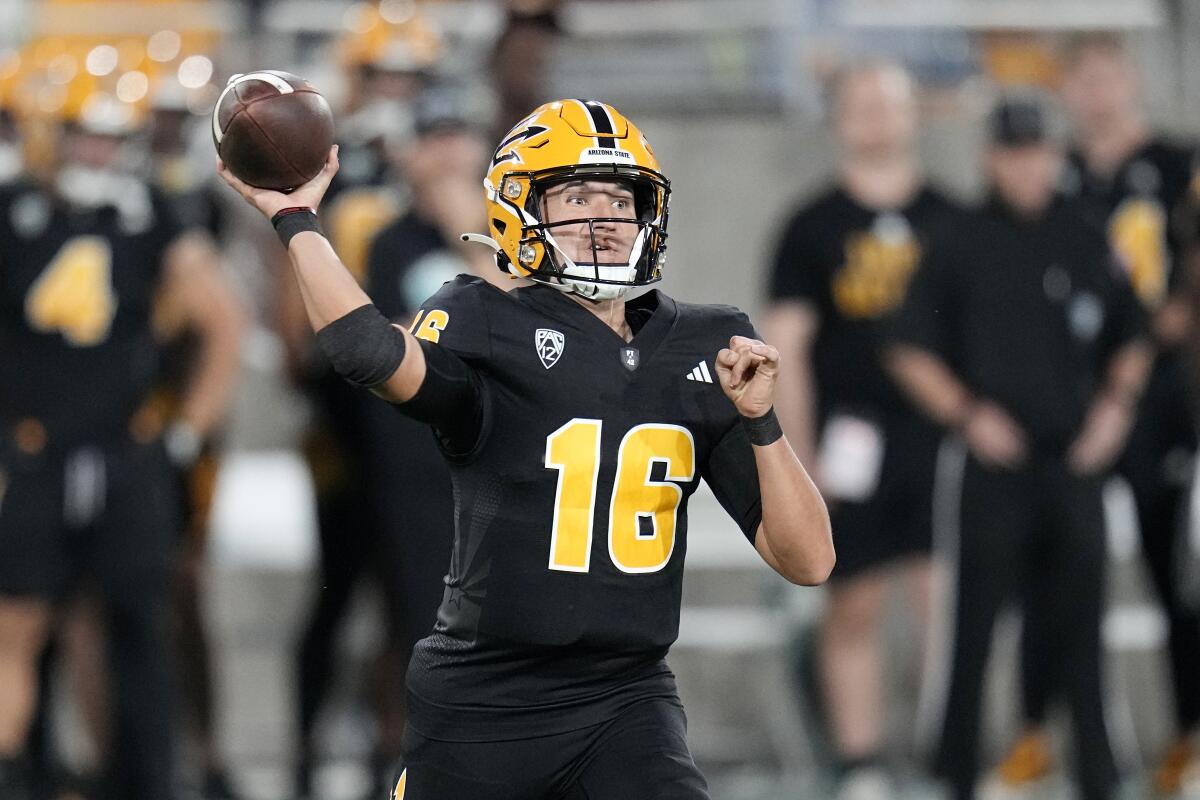 Photo Cred: San Diego Tribune
On the flip side, the Washington State Cougars now hold a 4-4 record with this loss. Their immediate focus turns to an upcoming game against Stanford as they aim to regain their winning momentum. The final score of this thrilling encounter favored the Sun Devils, concluding with a tally of 38 for ASU and 27 for Washington State. As Arizona State reflects on their success and missed opportunities, their attention shifts to the importance of converting turnovers into touchdowns, a crucial factor in securing future victories.