College of Charleston, Coastal Athletic Association:
Pat Kelsey's squad will see the return of two of its top three scorers. Ante Brzovic, a 6-foot-10 junior, had an impressive season last year. He averaged 11.6 points and 5.9 rebounds in just 19.1 minutes, which earned him third-team All-CAA honors. Reyne Smith, a 6-foot-2 guard, made a significant impact in his first year as a freshman. He continued to shine last year, as he averaged 10.8 points with 2.2 made three-pointers. The Cougars have also bolstered their roster through the transfer portal, adding grad transfer Bryce Butler. He is a 6-foot-5 guard who was a D2 All-American at West Liberty, where he averaged 22.4 points and shooting 43.3% from three last season.
Photo Cred: WCBD
Butler boasts an impressive 107-16 record in his four college seasons, including a run to the D2 National Championship game. Additionally, grad transfer Frankie Policelli, a 6-foot-7 forward from Stony Brook, joins the team. He averaged 13.7 points and 9.4 rebounds while shooting 36.8% from beyond the arc on 5.3 attempts per game last season. Keep an eye on the quick acclimatization of freshmen James Scott and Mayar Wol, both of whom possess great length and agility. Also, pay attention to the development of junior forward Ben Burnham as he takes further steps in his collegiate career.
Drake, Missouri Valley Conference:
Tucker DeVries will continue to be the focal point of this team for the third consecutive season. The son of head coach Darian DeVries, Tucker is the reigning MVC Player of the Year, having averaged 18.3 points and played a pivotal role in securing the conference championship. The Bulldogs also welcome back Darnell Brodie, a 6-foot-10 center and the team's leading rebounder and shot-blocker. Drake has been quite active in the transfer portal, adding double-digit scoring guards Kyron Gibson from UT-Arlington and Atin Wright from Cal State Northridge, as well as 6-foot-7 forward Carlos Rosario from Washington State. However, one transfer to keep a close watch on is Ethan Roberts, a 6-foot-5 wing who was the Patriot League Rookie of the Year last season. He averaged 12.4 points with a 40.7% three-point shooting rate.
Photo Cred: The Des Moines Register
New Mexico, Mountain West Conference:
Richard Pitino's team returns its top two scorers, Jamal Mashburn Jr. and Jaelen House. Mashburn, whose father is former NBA player Jamal Mashburn, led the MWC in scoring last season, averaging 19.1 points and shooting 38.2% from beyond the arc. House, son of former NBA guard Eddie House, not only contributed 16.9 points but also earned first-team MWC All-Defense honors. The Lobos have added firepower from the transfer portal, including Jemarl Baker, a former Kentucky guard who averaged 12.5 points and 2.9 assists at Fresno State last season.
Photo Cred: Mountain West Connection
They've also acquired first-team All-Southland grad transfer Isaac Mushila. Mushila is a 6-foot-5 forward who averaged 14.5 points and 9.9 rebounds at Texas A&M Corpus Christi last season. Dayton transfer Mustapha Amzil, a 6-foot-8 forward, brings his sharp shooting touch to the team. Nelly Junior Joseph, a two-time first-team All-MAAC performer, is set to anchor the middle for the Lobos with his averages of 14.9 points, 9.3 rebounds, and 1.5 blocks at Iona last season. With experience, offensive creators, and strong rebounders on their roster, the Lobos look promising on paper.
San Francisco, West Coast Conference:
The Dons may have lost their top three scorers from last season, but they retain five of their top eight contributors. Notably, four of these five players stand at 6-foot-8 or taller, with two even reaching 7-foot-1. Coach Chris Gerlufsen is set to field a lineup with considerable size. The team has also made significant acquisitions from the transfer portal, including former top-100 ranked players in guard Malik Thomas from USC and wing Mike Sharavjamts from Dayton. Marcus Williams, a 6-foot-2 guard who shot 40.8% from three while averaging 25.5 minutes last season, leads the team in assists. Two more promising transfers are 6-foot-8 Stefan Todorovic, known for his sharpshooting ability at SMU, and Jonathan Mogbo, a 6-foot-8 forward who averaged eight points, seven rebounds, and 1.1 blocks at Missouri State last season. On paper, the Dons possess a lineup with size, length, shooting capabilities, and impressive depth.
Photo Cred: University of San Francisco Athletics
UC Santa Barbara, Big West:
Joe Pasternack's team welcomes back three of its top five scorers, including the reigning Big West Player of the Year. That player is 6-foot-4 guard Ajay Mitchell, who averaged 16.3 points and 5.1 assists last season. The Gauchos have also added former top-25 recruit Yohan Traore from Auburn, a 6-foot-10 post player with impressive skills and mobility for his size. Additionally, Josh Pierre-Louis, a 6-foot-4 guard who excelled in points, steals, and assists last season, returns, as does Cole Anderson, the team's leading three-point shooter with a 41.5% success rate on 3.7 attempts per game. The team has further bolstered its lineup with the addition of 7-foot-0 JUCO transfer Mezziah Oakman and Creighton transfer Ben Shtolzberg. With this combination of returning talent and intriguing newcomers, UC Santa Barbara appears poised for a strong season.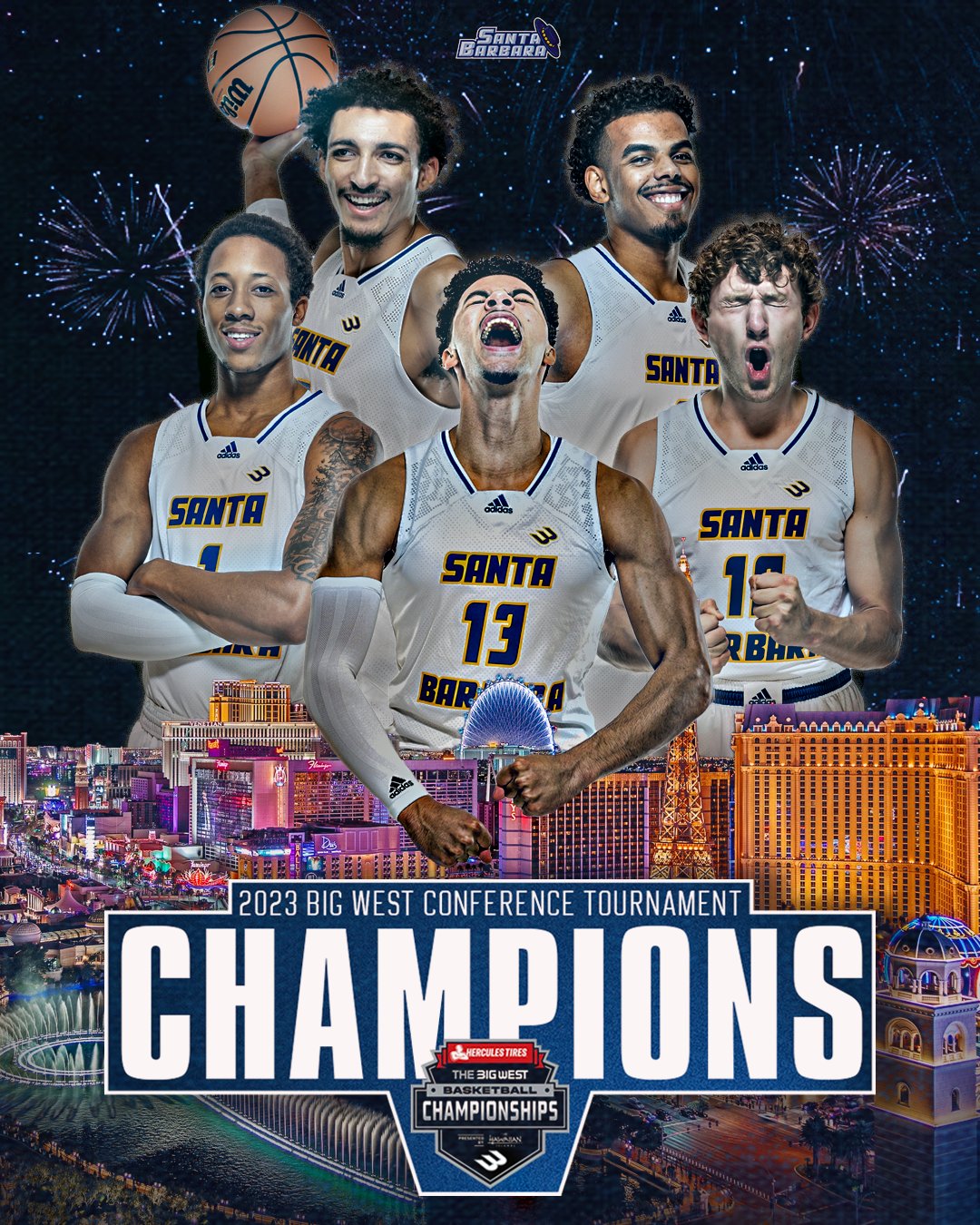 Photo Cred: X.com