The Heisman race is heating up. With the College Football rankings on the way, these players will either led their team to the playoffs or fall just short. So, as we move into to November, who is leading the way to be the next Heisman?
1. Michael Penix Jr., Washington
Photo Cred: Washington
Last week, Michael Penix Jr. maintained his top spot in the rankings with an impressive average of 368 yards per game, a completion rate of 70.8%, and an average of 10 yards per attempt. Penix appeared to be nursing an injury towards the end of the Oregon match and seemed off his game against Arizona State. While some have speculated about a connection, Washington's coaching staff attributed his performance dip to being "under the weather." 
2. Bo Nix, Oregon 
Photo Cred: SI
Bo Nix secured his second-place ranking with his remarkable performances. He boasts a stellar 78.4% completion rate and a passer rating of 180.3, with just one interception. Unlike Penix, Nix operates without the intense scrutiny that often accompanies frontrunners. This places him in an advantageous position to make a strong push in November and possibly overtake the competition.
3. Dillon Gabriel, Oklahoma
Photo Cred: CBS Sports
The senior left-handed quarterback completed 25 of 38 passes for 253 yards and three touchdowns in the 31-29 victory against the UCF Knights. Gabriel's precision was evident as he distributed passes to nine different players, with redshirt freshman Nic Anderson standing out with five receptions for 105 yards and two touchdowns. In total, he has accumulated 2,131 passing yards and 230 rushing yards, steering the Sooners to an impressive 7-0 record.
4. Jordan Travis, Florida State
Photo Cred: FSU
The seasoned senior was 27 of 36 passes with 268 yards and two touchdowns against #16 Duke. He led the charge on the ground, contributing a team-high 62 rushing yards and securing a touchdown. Travis truly shone in the late stages of the game, orchestrating three consecutive scoring drives that ultimately sealed the win for the Seminoles. With this victory, Florida State has extended their remarkable winning streak to 13 games, making them the sole undefeated team in the ACC.
5. J.J. McCarthy, Michigan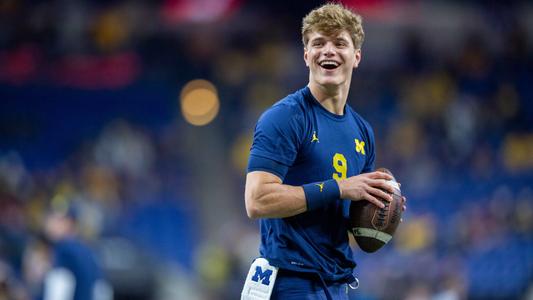 Photo Cred: Michigan
As the season unfolds, McCarthy's statistics are nothing short of outstanding. He boasts an impressive completion rate of 78.1% through eight games, having amassed 1,799 yards and contributed to 21 total touchdowns. McCarthy's exceptional performance continues to fuel Michigan's winning streak and solidify his status as a standout quarterback. The star, now in his second year as the Wolverines' starter, delivered an almost flawless performance in their resounding 49-0 triumph over Michigan State.