In Week 2 of the college football season, a thrilling matchup takes place as two undefeated teams, the Arizona State Sun Devils and the Oklahoma State Cowboys, clash on the gridiron. Arizona State is entering this contest fresh off a nail-biting victory over Southern Utah, where they narrowly secured the win with a field goal as the clock struck zero. Last week, Arizona State built an early lead of 21-7 in their matchup against Southern Utah, only to clinch the win by the slimmest of margins.
Photo Cred: Sun Devils Athletics
To stand a chance against the formidable competition in the Big 12, ASU must replicate its strong start from the previous game. Meanwhile, Oklahoma State highlighted their defensive prowess by allowing just 13 points in their 27-13 triumph. If their defense maintains its performance at a similar level, it could be a challenging night for ASU and their devoted fanbase. In an evenly matched contest, it wouldn't be surprising to see both teams scoring in the mid-twenties, although Vegas odds slightly favor ASU.
Under the leadership of their new head coach, Kenny Dillingham, ASU is embracing change from the outset. While it may take some time for the offense to hit its stride, Oklahoma State has not yet demonstrated the offensive firepower to dominate. True freshman quarterback Jaden Rashada impressed in his inaugural start, completing 18 of 31 passes for 236 yards and two touchdowns. The running back duo of junior players Cameron Skattebo and DeCarlos Brooks combined for 134 yards and a touchdown on 29 carries in last week's victory.
Photo Cred: Covers
To unlock their offensive potential, Arizona State must capitalize on the matchup nightmare that is tight end Jalin Conyers, standing at an imposing 6'4″ and weighing 270 lbs. The Oklahoma State offense faces the challenge of proving its ability to boost production after a challenging second half of the previous season. While the Thunderbirds failed to mount a pass rush against the Sun Devils in their last encounter, the ASU run defense held its ground admirably.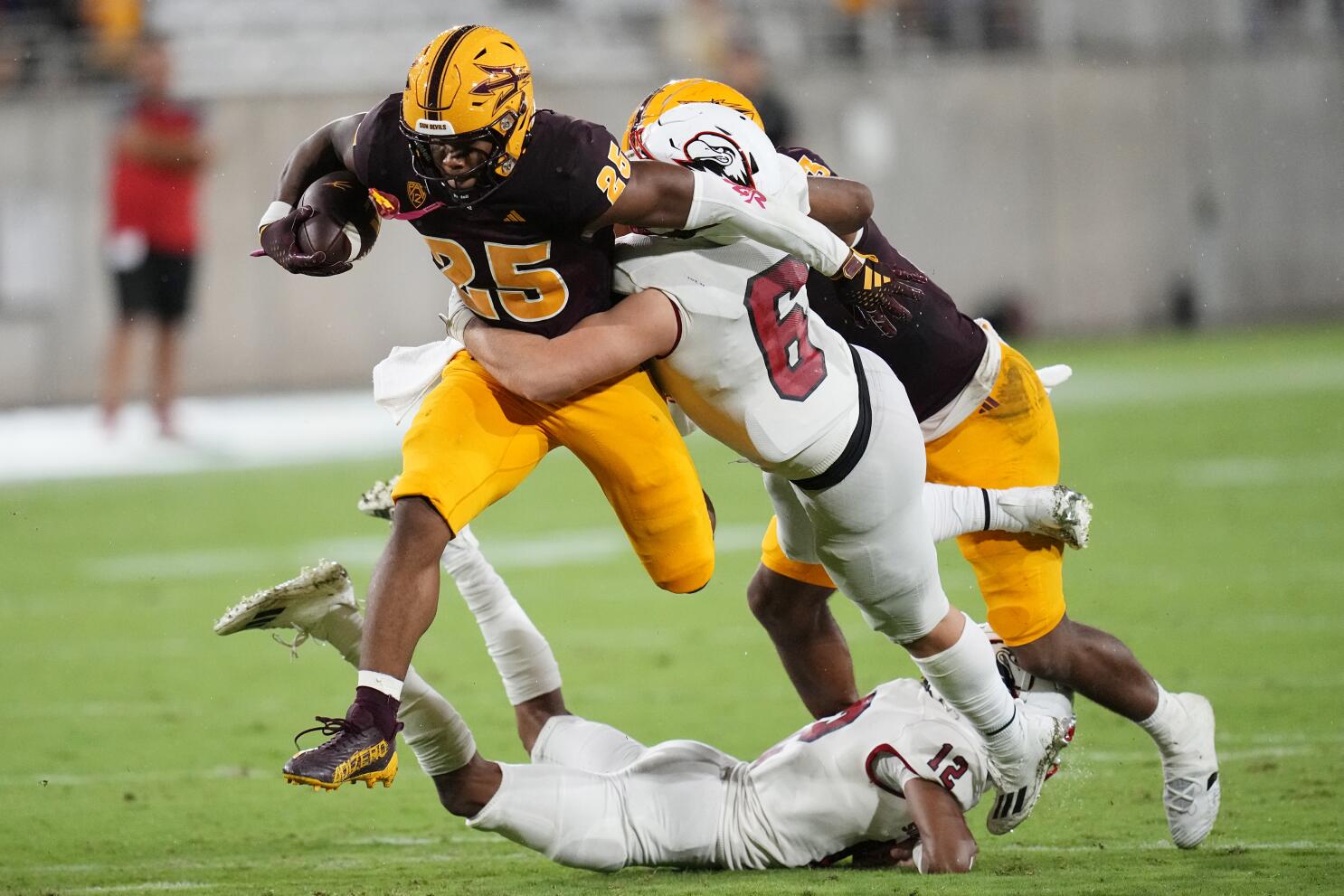 Photo Cred: San Diego Union-Tribune
Overall, ASU's defense allowed only two substantial drives, and they should generate enough pressure to disrupt any quarterback the Cowboys deploy. In this high-stakes clash, Arizona State and Oklahoma State have much to prove, setting the stage for an electrifying showdown that college football fans won't want to miss.