The Eagles will end this list after a postseason run that saw them just a field goal away from their second Super Bowl victory. The team had what many declared to be the best roster in football. They were stacked on the O-line, D-line, playmakers, and pretty much everywhere else. All this helped Jalen Hurts take a giant year-three leap into becoming one of the top quarterbacks in the league. Though savvy offseason trades, signings, and draft picks were made by general manager Howie Roseman, this elite roster built by the Eagles last year was not meant to last. After a wildly successful season, Roseman had the job of doing everything possible to ensure the Eagles could compete for a Super Bowl once again. Let's see how he did… 
Photo Cred: Iggles.com
Defense
The Eagles lost many vital pieces, both players and coaches, following the postseason. To start, the team had to replace both their offensive and defensive coordinators. OC Shane Steichen became the head coach of the Indianapolis Colts, while DC Jonathan Gannon became head coach of the Arizona Cardinals. Philly looked internally to replace Steichen, promoting former QBs coach Brian Johnson to OC. Sean Desai, the former Bears DC and Seahawks assistant coach, comes in to run the defense. 
Photo Cred: Fox 29 (L- Johnson, R- Desai) 
On the player side of things, DT Javon Hargrave becomes the team's biggest loss. He heads off to another contender, the San Francisco 49ers, on a four-year, $84 million deal. Hargrave comes off a dominant 2022 season and will be sorely missed. Thankfully, veteran Fletcher Cox returns on a one-year, $10 million contract in what may be his swansong with the Eagles. His presence should help lead a group of developing Philly DTs. Roseman continued his approach for drafting along the D-line, spending a top-10 pick (acquired in a great trade with the New Orleans Saints) on Georgia DT Jalen Carter. Carter was one of the most highly projected players in this class until legal issues brought to light potential character concerns, pushing him down the board. 
Photo Cred: The Spun (Roseman)
The Eagles spent what was essentially a free first-round pick on a player with a ceiling as high as (if not higher) than Hargrave. On the flip side, he does have a floor of being out of the league in three years… Someone was always going to take the risk on Carter, but Philly gives him the best possible chance to succeed. He will have Georgia teammates Nolan Smith (OLB) and Kelee Ringo (CB) there to help keep him in check. Smith and Ringo were also drafted this year by the Eagles at the end of the first and top of the fourth round, respectively. 
Photo Cred: WHYY 
The aforementioned trio completes a remaking of the 2021 Championship Georgia defense, joining last year's first and third-round picks Jordan Davis (DT) and Nakobe Dean (LB). Both played very little in their rookie year but will be needed to step up in year two. They have to replace the production of Hargrave and last year's starting linebackers, TJ Edwards and Kyzir White. Those two departed this offseason to the Chicago Bears and Arizona Cardinals, respectively. Besides drafting Dean, the Eagles spent little capital (as per usual) to address their other starting linebacker spot. That starting spot may be the team's largest weakness heading into next year, but it is one they're used to seeing.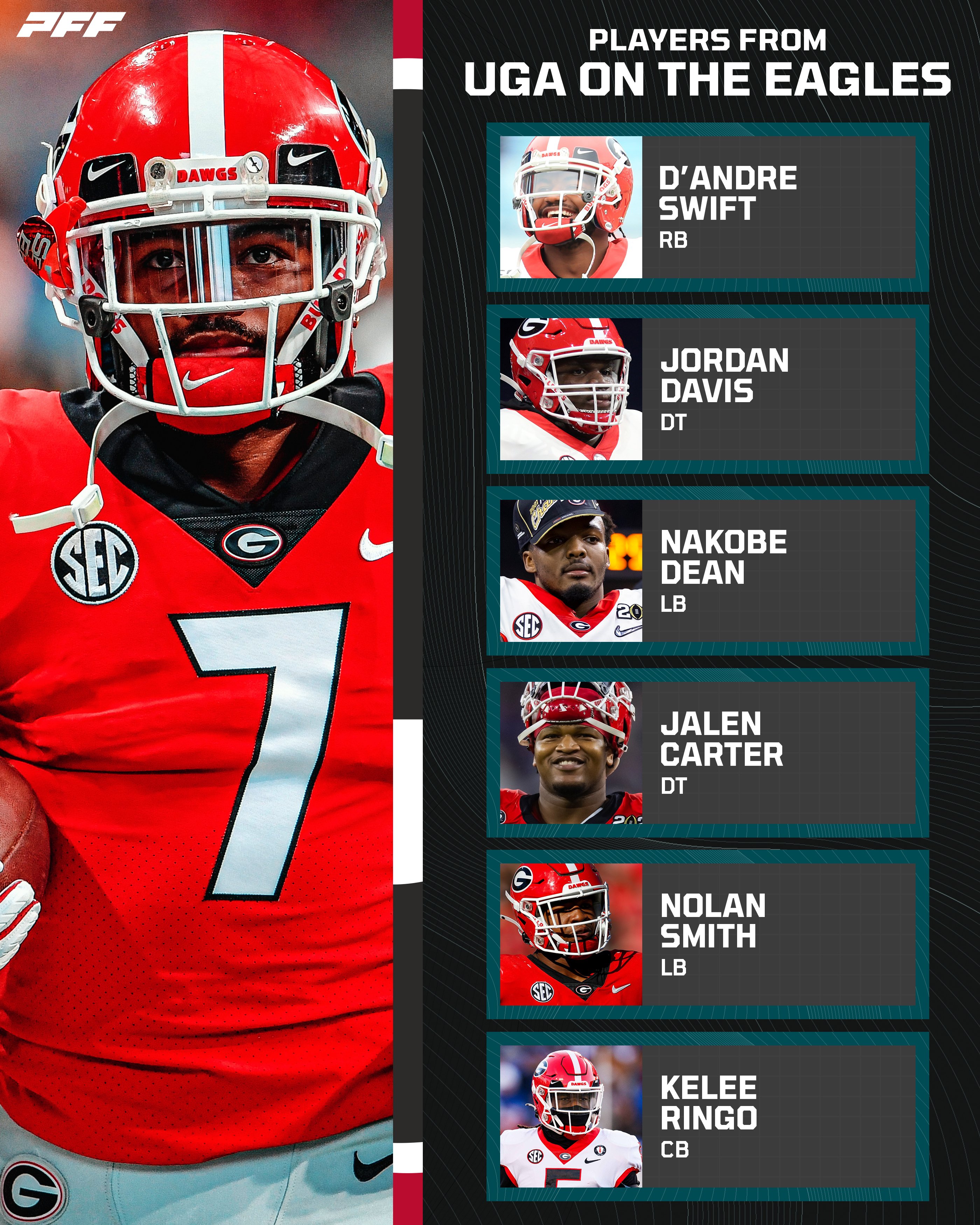 Photo Cred: Twitter
The Eagles made big moves in the secondary, re-signing cornerback James Bradberry to a three-year, $38 million deal. CB1 Darius Slay also returns, despite rumors surfacing that he would be cut/traded post-Bradberry signing. CB/S C.J. Gardner Johnson is this group's most significant departure, as he signed a one-year, $11 million deal with the Detroit Lions. Starting FS Marcus Epps also departs after agreeing to a two-year, $12 million contract with the Las Vegas Raiders. S Reed Blankenship, who showed promise as a rookie after going undrafted, will look to ascend further in place of Epps and his former starting role.
Photo Cred: The Liberty Line
The team looked cross-state for reinforcement. They brought in S Terrell Edmunds from the Pittsburgh Steelers on a one-year, $2 million deal. Edmunds, who spent his entire career with the label of a first-round reach, remains an excellent box safety. He can fill in quite nicely as the starter opposite Blankenship. S Sydney Brown, the team's third-round pick, will provide more depth at the position.
Photo Cred: Philadelphia Inquirer (Brown)
The Eagles' defense last season was as dominant as they've been since their Super Bowl win in the 2017-18 season. Their D-line has remained consistently dominant, but last year's domination was primarily due to their massive upgrades at linebacker and in the secondary. Despite the loss of Gardner-Johnson, that secondary looks nearly as strong on paper. However, the strength at linebacker remains to be determined. The Eagles had many off-season moves, providing quite a bit too much to discuss in just one article. Next week will be a breakdown of their movements on the offensive side of the ball and projections heading into next year. 
Photo Cred: Eagles Wire – USA Today