It has been a busy offseason for the Rutgers Scarlet Knights (RU) football team. They've had critical losses to the NFL Draft but also got huge additions via recruiting and the transfer portal. These additions will bolster the team's defense and improve the offense, particularly in the passing game. The Greg Schiano 2.0 era looks to take the next step this year, as Rutgers looks for its first six-win season since 2014 and first bowl berth since 2021. That was when they were able to go to the Gator Bowl, despite finishing with five wins. Last year, the Scarlet Knights went 4-8, however. With strong recruiting and a favorable start to the 2023 schedule, the team will look to return to a bowl with six or more wins.
Photo Cred: Rutgers Athletics
Let's Meet the Players!
OC and QB updates
After firing former offensive coordinator Sean Gleeson midseason, Rutgers had Nunzio Campanile serve as the interim OC to finish the 2022 season. Head coach Greg Schiano hired Kirk Ciarrocca this offseason from Minnesota to be the Scarlet Knights' next OC. Ciarrocca has worked for many college football teams in the past. This includes previous Big Ten experiences as offensive coordinator at RU, Penn State, and Minnesota. Veteran quarterback Noah Vedral exhausted his eligibility after a sixth college football season and will not be back with the team next season. Although inconsistent, Vedral won Big Ten football games with the Scarlet Knights and brought stability to the quarterback position. He served as a mentor to backup quarterback Evan Simon, who made several starts this season due to Vedral's injury.
Photo Cred: Rutgers Athletics
Simon struggled at times but helped the team win some games in non-conference play as well as playing in several Big Ten games. He returns to back up projected starting quarterback Gavin Wimsatt. Wimsatt came to Rutgers during his senior year of high school, where he played in a few games during the 2021 season while maintaining his redshirt. During the 2022 season, he saw some action in the early part of the season before suffering an injury against Temple.
Photo Cred: Rutgers Wire (Gavin Wimsatt)
Wimsatt then took over as starting quarterback for the Minnesota game and played out the slate in the starting role. This allowed him to gain experience against some of the best teams in the conference. He looks to take the next step this year with an improved offensive line, several new wide receivers, and a strong running back room. There will be a return of multiple starters, including former four-star recruit RB Samuel Brown V.
Now, Onto the O-Line
On the offensive line, Rutgers loses one of their top offensive lineman (J.D. DiRenzo) to the NFL. He had a great season last year, as he was named team offensive MVP after transferring in from Sacred Heart. Schiano hired Pat Flaherty to coach the offensive line. He's a long-time NFL o-line coach who won two Super Bowls with the New York Giants. Ireland Brown is expected to start at center, with Mike Ciaffoni at left guard, Curtis Dunlap Jr. at right guard, Hollin Pierce at left tackle, and Tyler Needham at right tackle.
Photo Cred: Giants Wire – USA Today (Pat Flaherty)
All five offensive lineman return from last year and bring size and experience to the position, in addition to very capable backups at all five spots. They look to protect Wimsatt from opposing defenders, give him more time to throw, and open up holes for the running backs to get through. This will greatly improve Wimsatt's play and help the offense score points to keep up with other high-powered Big Ten offenses.
Take a Look at the Pass-Catchers!
Greg Schiano also brings back former offensive coordinator Dave Brock as the current wide receivers coach. The Scarlet Knights lost some of their top wideouts from this past season, with Sean Ryan, Shameen Jones, and Aron Cruickshank all graduating. All three have been selected by NFL teams as undrafted free agents as well. RU does bring in a lot of talent in the receiving game regardless. Former Division II All-American wide receiver JaQuae Jackson looks to be a big playmaker for the Scarlet Knights, as does former FCS All-American wideout Naseim Brantley. While both receivers are making the jump to the Big Ten level, they have played at an extremely high level in their respective programs. Jackson and Brantley were highly coveted by many other Power Five programs.
Photo Cred: The Knight Report (JaQuae Jackson)
Rutgers also brings in tight end transfer Shawn Bowman out of Maine, also in the FCS. Bowman ranked as a top-45 tight end nationally and brings size, coming in at 6-5 and 263 pounds. The Scarlet Knights also return swiss-army knife tight end Johnny Langan. He's played everything from quarterback to wide receiver and running back but is primarily a bigger, pass-catching tight end. Other names to look out for in the receiving game are veteran receivers Chris Long, Isaiah Washington, and Christian Dremel. All three played supporting roles last season and are now the team's more experienced receivers. Max Patterson scored two touchdowns in the spring game and looks to see more playing time this season, as well as RB/WR Rashad Rochelle. Rochelle contributed in big games last season when his number was called as a true freshman and will look to build on that in his sophomore season.
Rounding Out the Offense With the RBs
One of the biggest strengths of the Rutgers offense last year was the running game. The Scarlet Knights return quite a few capable options to pick up yards on the ground. Samuel Brown V looks to pick up where he left off last season and is the most talented back on the roster. He had 28 rushes for 101 yards and a touchdown the game before he got sidelined. Brown V has definitely shown the potential to be the lead running back for next season. Veteran running back Aaron Young also returns for his senior season. After missing many games with injuries last season, he is expected to have a big role as well.
Photo Cred: Yahoo Sports (Samuel Brown V)
Kyle Monangai carried the load for the Scarlet Knights at running back later on in the season when Samuel Brown V was sidelined with a season-ending injury. Monangai had a standout game against Michigan State, taking 24 carries for 162 yards. On top of all of that, RU has Al-Shadee Salaam in more of a reserve role. That being said, he is a shifty back who can make defenders miss and had some long runs last season. One of his most important runs included his 22-yard touchdown that helped give Rutgers a season-opening win over Boston College.
Starting the Defense off With the D-Line
Rutgers retained defensive coordinator Joe Harasmyiak, who was previously the DC at Minnesota and the head coach of Maine. On the defensive side of the ball, the Scarlet Knights ranked in the top 10 nationally in various categories early last season. This was a large part of the reason that the team hung around in big games and won several others. On the defensive line, DT Ifeanyi Maijeh graduated and was signed by the Seattle Seahawks after the NFL Draft.
Photo Cred: App.com (Aaron Lewis)
However, RU returns many starters, including some who missed time with injuries, and also adds new pieces to their defense. Aaron Lewis, who ranked as the second-highest defensive tackle behind former Alabama star (and current Houston Texan) Will Anderson Jr., will start at left defensive end. He will pair with Wesley Bailey at right defensive end. Isaiah Iton, a transfer from Ole Miss, is projected to start at left defensive tackle, with Kyonte Hamilton at right defensive tackle.
Now, It's the Linebackers' Turn
Returning starters Deion Jennings and Tyreem Powell will start at the linebacker positions. They will be joined by Mohamed Toure, who will be returning after missing last season with a torn ACL. The same is true for Moses Walker, who could see some playing time at linebacker along with other veterans such as Mayan Ahanotu and Jamier Wright-Collins. The D-line and linebacker groups look to build on a strong 2022 season, where they lived in their opponents' backfields and put pressure on opposing quarterbacks. They will be backed up by a tough Rutgers secondary, which will be the last line of defense for the Scarlet Knights.
Photo Cred: YouTube- Rutgers Football
The Last Line of Defense: DBs
RU will lose three key defensive backs: cornerback Christian Braswell (drafted by the Jacksonville Jaguars) and safeties Avery Young and Christian Izien (signed by NFL teams as UDFAs). The three players had their share of interceptions and forced incompletions. More importantly, they limited opposing pass catchers and kept them out of the end zone on big gains. Two of the top Scarlet Knight DBs, cornerback Max Melton and Robert Longerbeam, do return this year. Other notable defensive backs returning are Kessawn Abraham and Desmond Igbinosun, who looks to start at free safety.
Photo Cred: ESPN (Max Melton)
Rutgers gets safety Michael "Flip" Dixon in the transfer portal from Minnesota, and he projects to start at strong safety with both Izien and Young having left the team. Cornerback Eric Rogers joins the Scarlet Knights' defensive back corps after transferring from Northern Illinois and looks to see playing time as well with Braswell having been drafted. The defense looks to build on their success from last season and will be helped by an improved offense and a strong special teams unit.
Last, but Not the Least, the Special Teams
Star punter Adam Korsak, who now plays for the Saskatchewan Roughriders in the Canadian Football League, will be deeply missed. He finished his college days as the NCAA leader in career punts, net punting yards, and career punting yards. Korsak will be replaced by fellow Australian and ProKick Australia punter Flynn Appleby. In the kicking game, Jude McAtamney returns after a strong season last year. He will be backed up by former five-star recruit Jai Patel among other kickers on the roster. Aron Cruickshank was also used as a punt and kick returner, as was Joshua Youngblood. Unfortunately, Youngblood left in the transfer portal to play at Delaware next season. It remains unclear who will return punts and kicks next season, but there are some notable options. The list includes wide receiver and running back Rashad Rochelle, running back Aaron Young, and wide receiver Chris Long.
Photo Cred: Yahoo Sports (Jude McAtamney)
Overall Outlook of This Team
This season will be focused on Gavin Wimsatt and his development. He will have everything he needs to put up better numbers and put the team in a position to win more games. A better offensive line, an improved wide receiver and tight end room with several transfers, and a deep running back room will surely make that happen! The defense loses some key players but brings back many others both in the defensive line and secondary. Several transfers, as well as players returning from injury, will just add to the depth and quality. The special teams unit will be missing star punter Adam Korsak but returns kicker Jude McAtamney. What remains to be seen is how many wins this roster will attain, but my prediction is they will win six games to qualify for a bowl game.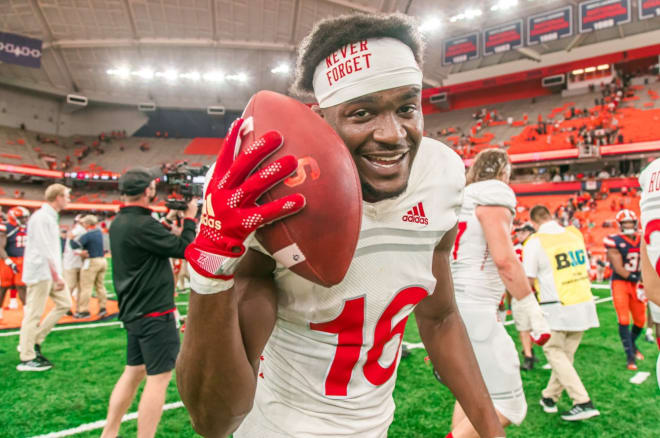 Photo Cred: rutgers.rivals.com
The Scarlet Knights' 2023 Schedule
As I said before, the schedule looks favorable to start the year, so I expect Rutgers to capitalize against teams in the non-conference and early part of the season. They should knock off Northwestern, Temple, and Virginia Tech at home to start the season 3-0 again. A tough game at Michigan (the defending Big Ten champion) is followed by a lower-division opponent in Wagner, so the Scarlet Knights should end up 4-1. They will likely fall to Wisconsin to end the first half of the season at 4-2.
Photo Cred: The Scarlet Faithful
I predict that Rutgers wins two important Big Ten contests against rivals Michigan State and Indiana to then clinch bowl eligibility at 6-2. Michigan State had lost their starting quarterback and one of their top receivers in the transfer portal, and RU looks to make it three straight wins against the struggling Indiana Hoosiers. After this, the schedule gets much tougher, as they take on perennial Big Ten and national contenders Ohio State. This will follow tough road games against Iowa and Penn State before the Scarlet Knights face Maryland. This team has dominated Rutgers for the last couple of years and has taken major strides forward.
Photo Cred: Rutgers Athletics
I expect Rutgers to lose all four of these games, as Wimsatt and the RU offense would have to be on another level to even compete with Maryland and Iowa, let alone Penn State and Ohio State. If Rutgers can start the season strong, they will still be able to clinch a bowl game. They could then face a similarly-talented team and have a chance to win that game to have a winning season at 7-6.
Get Ready for the 2023 Season!
It's a good time to be a Scarlet Knights fan, as Greg Schiano looks to once again return Rutgers football to relevancy in the Big Ten. Recruiting has looked great for both this season and the next, and the roster looks to be in good shape to win some games this year. Kickoff against Northwestern, which will be a Sunday afternoon game on CBS, is less than 50 days away! Tune in to Rutgers football this season and keep chopping!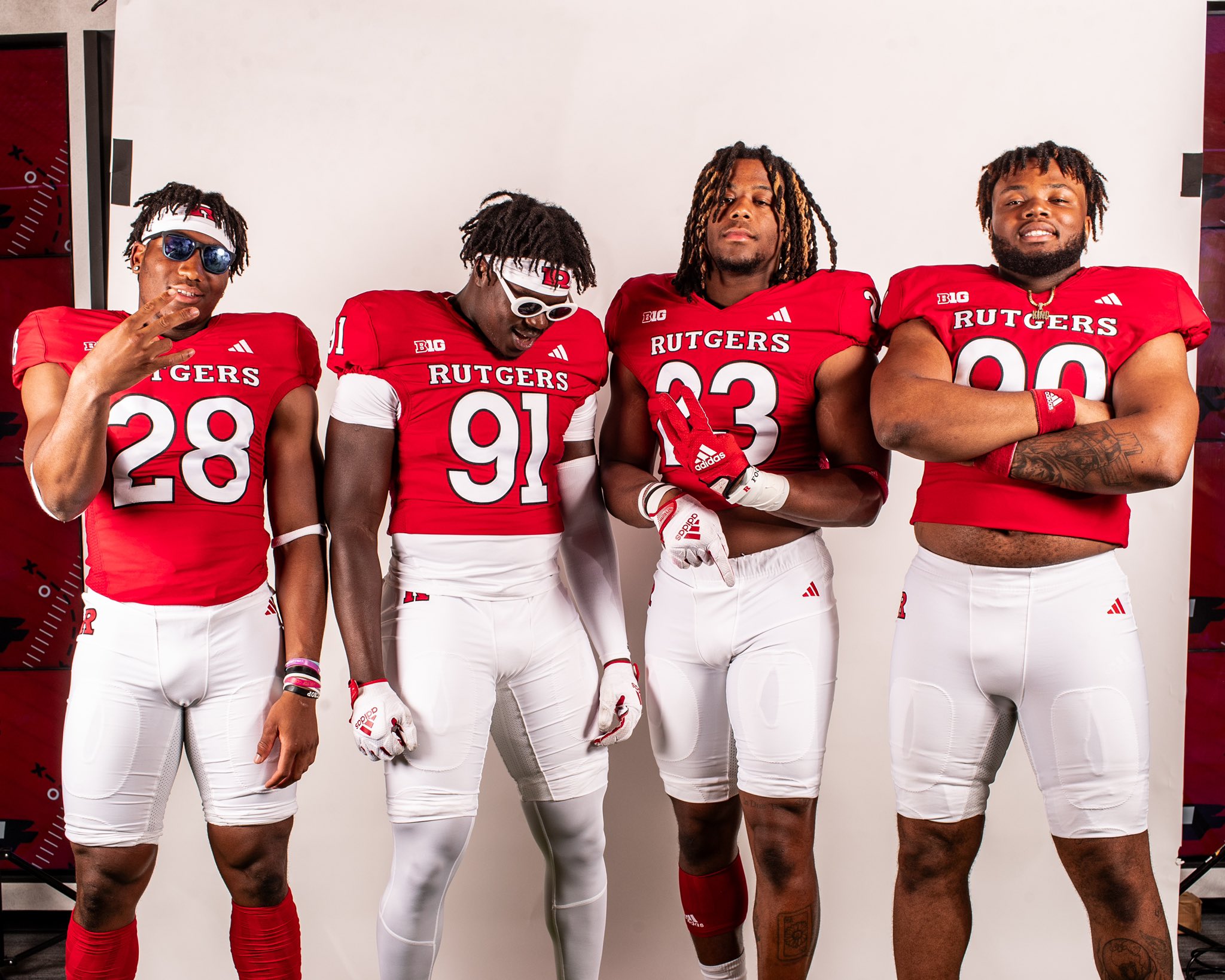 Photo Cred: Instagram