Wow, this season has been a whirlwind so far for all teams involved. For my Kolkata Knight Riders, we finally got stopped in our tracks but are still looking good overall. My preview and review series just keeps on rolling, sometimes giving me a short time in between games! Today, in a few minutes, is Match #22 in the IPL 2023 season, so here is my preview of Kolkata vs. the Mumbai Indians (MI). Mumbai has had our number on more than one occasion, winning 22 out of 31 matchups… However, it seems like the tides have turned in our favor after A LONG time! KKR managed to sweep MI last year, a feat we only managed to replicate in 2014. We have also won three of our last four games against them!
Photo Cred: SportsTiger
So far this season, we are in fifth place with two wins and two losses. Having the league's third-best NRR is buoying us up. We were in fourth place until the Punjab Kings won their matchup against the Lucknow Super Giants yesterday. MI is in ninth place, but they've only played three games. The Indians have won only one of those games and currently own the league's second-worst NRR. Let's hope we can our three-game winning streak going against Mumbai! As always with the pregame previews, here's what you can expect: ideal playing XIs, any pre-match news/updates, and a little information on the opponents and what to watch out for. Links to the entire series will be provided below.
Pre-match News & Updates
This is not exactly new news, as the information did come out right before the KKR-SRH matchup on Friday, but KKR has finally roped in a player to replace Shreyas Iyer. Well, it hasn't been officially said who he is replacing, but I will assume it's for Iyer. 20-year-old Gujarati player Aarya Desai (LHB, OB) has joined us for Rs. 20 lakhs.

Desai has played three First-Class cricket matches for Gujarat so far this year, his only games. He's hit 151 runs at an average of 25.16 and a strike rate of 57.63. He does have one 50 in six innings, a high score of 88. He's also bowled nine overs at a 4.00 econ. In all six innings, he's either batted at 1 or 2, meaning he is an opener.
My thoughts: WHY? Why do we need yet another player whose primary position is either as an opener or the top-order? Our struggles this year have been consistency in the middle order. Are we going to try to force someone out of position to fix those problems? When Shakib Al Hasan was out, we replaced him with Jason Roy. Now, Desai is (essentially) Iyer's replacement… I wouldn't have minded us even signing another spinner or spin-bowling all-rounder, but the last thing we needed was another opener…

KKR will be sweating about Andre Russell's fitness… There is quite the possibility he doesn't play today after suffering (what's reported to be) cramps. While bowling, he had to be taken out of the game twice. He did come out to bat for us but was unable to have any real effectiveness or impact. Good thing we at least have a ready-made replacement in the wings!
Mumbai's gun bowler, Jofra Archer (Overseas- represents England, born in Barbados), hasn't played since his season debut. He is being missed somewhat, as the Australian Riley Meredith hasn't been as effective. However, another Australian (Jason Behrendorff) has been able to at least deliver three solid overs per game. Archer is dealing with an elbow injury.
Photo Cred: India TV News (Desai)                                                Photo Cred: Reddit
My KKR Predicted Playing XIs
Bat-first
Rahmanullah Gurbaz (Overseas- Afghanistan) (Wicket-keeper)
Narayan Jagadeesan
Jason Roy (Overseas- England)
Nitish Rana (Captain)
Venkatesh Iyer
Rinku Singh
David Wiese (Overseas- represents Namibia/born in and formerly represented South Africa)
Umesh Yadav
Sunil Narine (Overseas- West Indies/Trinidad & Tobago)
Kulwant Khejroliya
Varun Chakravarthy
Photo Creds: (L) Reddit, (R) YouTube- Kolkata Knight Riders (Jason Roy)
Bowl-first
Rahmanullah Gurbaz (Overseas- Afghanistan) (Wicket-keeper)
Narayan Jagadeesan
Nitish Rana (Captain)
Venkatesh Iyer
Rinku Singh
David Wiese (Overseas- represents Namibia/born in and formerly represented South Africa)
Umesh Yadav
Sunil Narine (Overseas- West Indies/Trinidad & Tobago)
Kulwant Khejroliya
Varun Chakravarthy
Suyash Sharma
Photo Cred: ESPNcricinfo (Suyash)                         Photo Cred: Crictoday (Umesh)
My Impact Player Possibility
Batter: Indian option- Mandeep Singh, Overseas option- Litton Das (Bangladesh).
Aarya Desai may be our newest recruit in the Galaxy of Knights, but I'd be hard-pressed if I selected him ahead of Mandeep. Das makes it as my impact sub option here, as I am trying to work Jason Roy into the playing XI some way somehow.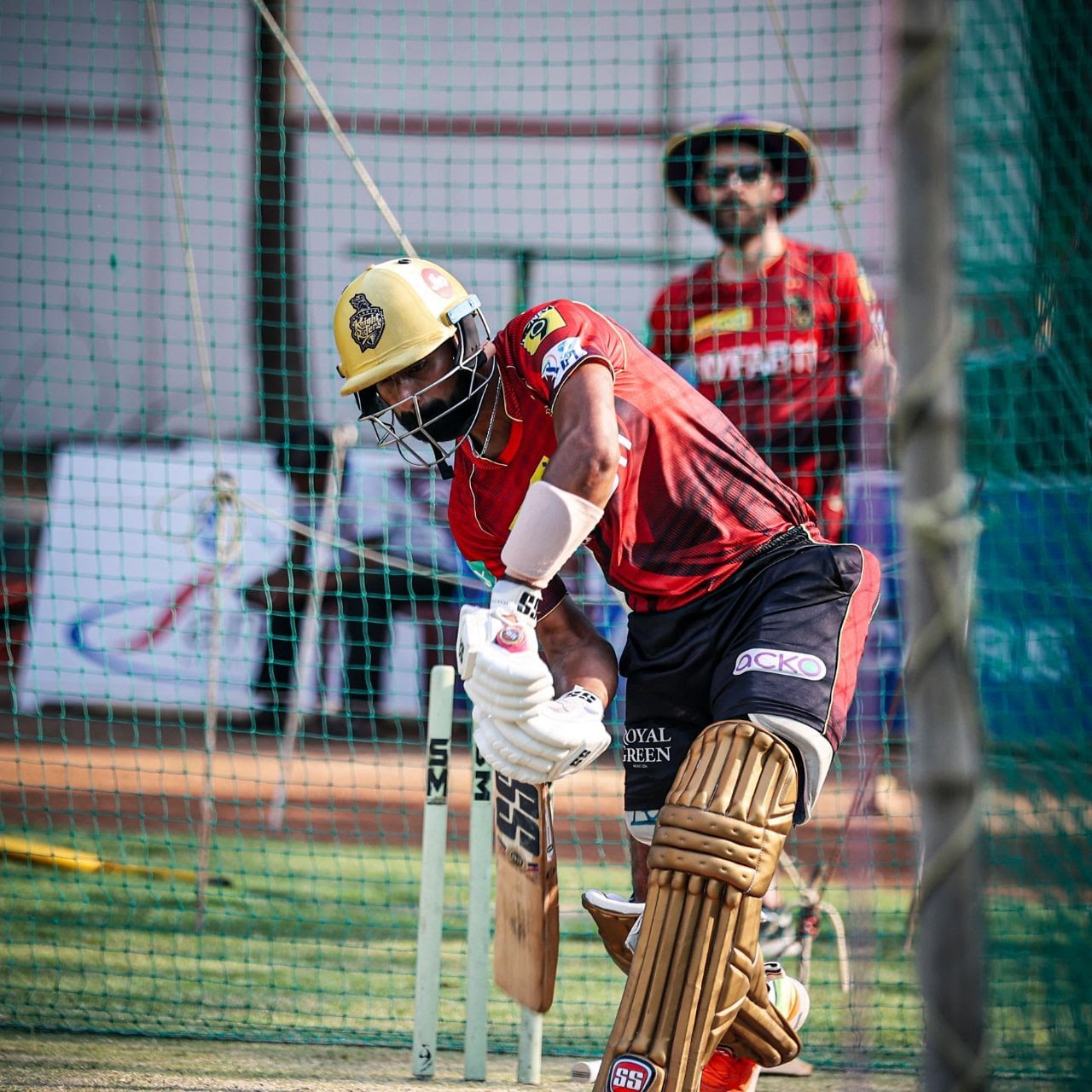 Photo Cred: Twitter
Seam Bowler: Indian option- Vaibhav Arora, Overseas option- Tim Southee (New Zealand).
For once, I will be having two new options in this category. As I am moving Khejroliya and Wiese up to the main squad, they need to be replaced. Arora takes over, as he is better than the more inexperienced Harshit Rana. Southee is here by default because our only overseas seam options are Southee, Lockie Ferguson, and Wiese. I am taking both Shardul Thakur and Ferguson off duty completely. Both could yet be back very soon, but they will both get a game off at least for me. Also, due to his injury, I am not trying to rush Andre Russell even as a substitute. Let him get back to 100% asap!
Spin Bowler: Indian option- Suyash Sharma.
Wash, rinse, repeat. Suyash > Anukul Roy. We don't have any overseas spin options.
Photo Cred: Twitter
My Playing XI Reasoning
Back to "chopping and changing". I have made three very necessary drops this time: Andre Russell, Shardul Thakur, and Lockie Ferguson.

As this match is not really a "must-win" situation, I see no reason to risk further injury to Dre Russ, so I am resting him for this game. Since we have him as a like-for-like replacement, why not see what David Wiese has to provide?
Thakur's contributions with the bat might be missed, but his bowling has been atrocious this season. The final nail in the coffin, for me, was his equally horrific fielding last game. Kulwant Khejroliya makes his KKR debut for me.
I wanted to give Ferguson the benefit of the doubt after the Gujarat Titans game. However, he turned in a worse performance (37 runs in two overs) and hasn't been given a chance to bat ahead of Umesh Yadav. Either Jason Roy or Suyash Sharma will replace him.

Gurbaz and Jagadeesan will be our first-ever unchanged opening pair. Jagadeesan did really well last game, and Gurbaz has had three solid performances before him. I think these two will come good from now on up top. If they don't, one of these two will drop to no. 3 so Jason Roy can open with the other player.
In my

bat-first XI

, I am looking to solve our middle-order crisis by stabilizing it with Nitish Rana and Venkatesh Iyer further down the order. Coming into the top three is the Englishman Roy. I think it's about time to make this happen. We need more consistency from our batters, and I feel like this is the best way to do so.
Venkatesh and Rana flip-flop between the 4/5 and 3/4 roles for me this time. It probably will be a trend throughout the season, depending on how they perform per game.
Narine, Umesh, and Chakravarthy still remain as constants, and Rinku joins them.

As much as I may hate his batting style (due to how often it doesn't work out), I need Narine for his bowling. I have bumped him down the pecking order, though. We don't need to necessarily keep sending him out for no reason now.
Umesh had his first bad game of the season, but that's not enough of a reason for me to keep him out of the side. We still need an old head like him in this lineup.
Chakravarthy actually had "a better game" than most, but that's not saying much. Just as with Umesh, the performance wasn't bad enough to drop him.
Rinku might have to play the role of finisher even more so with Russell out of the side.

In my

bat-first XI

, my

Impact Player

selection is Suyash Sharma. Pretty easy selection, as he's proven himself thus far. Even though he had a rough go against SRH, I still trust him as our third spin option.
In my

bowl-first XI

, my

Impact Player

selection is most definitely Jason Roy and no one else. We will definitely need batting help in the second innings, and I would like to see none other than Roy take the opportunity.
Photo Cred: Mens Team | IPLT20
KKR Player Unavailability
Shreyas Iyer: Back surgery, ruled out of the tournament.
Shakib Al Hasan (Overseas- Bangladesh): Opted out of the tournament.
Andre Russell (Overseas- West Indies/Jamaica)?: Suffered cramps last game, and might still be injured/not at 100%.
The Opponent- Mumbai Indians
What to Watch Out For
Tilak Varma. He's been MI's most consistent batter in three games for them, having scored 147 runs for a minimum of 122 SR (max of ~183 SR). He's even bowled an over, giving up only seven runs, so he could be utilized in this role as well.

A couple of key players are coming into form again

.

Captain Rohit Sharma has come good for Mumbai after a horrific 10-ball 1 in his season debut. He's hit 86 runs for ~144 SR in the last two games.
Opener and wicket-keeper Ishan Kishan has also hit two straight 30s after a 13-ball 10 against the Royal Challengers Bangalore (RCB).
Behrendorff gave up 37 runs in three overs in his season debut but then came back stronger in the next two games. In his last six overs (two three-over spells), he's picked up four wickets for a sub-8.00 econ.

At least two good spinners

. Piyush Chawla has had three great games so far, joining Varma as two of the best MI players this season. He's picked up four wickets with economy rates of 5.50-6.50. Kumar Kartikeya was brought in as the impact sub in their second game and bowled four overs for 6.00 econ and picked up a wicket.

Jofra Archer

. At his peak, he was one of cricket's best bowlers, both in domestic and international games. Unfortunately for him, he has faced a lengthy time off from playing due to elbow and back injuries since 2021. He played well against RCB (33 runs given up in four overs, 8.25 econ). However, he faced an elbow injury again, which has made him miss the past two matches.

Nehal Wadhera

. He may have batted in only one game but what a contribution he had in that one game! A 13-ball 21 (with one 4 and two 6s) got him to 161.53 SR. MI will be looking at some more valuable contributions from him down the line.

Honorable Mentions

:

Suryakumar Yadav (a.k.a SKY): 'SKY' has been one of the most entertaining batters in cricket since his international debut in 2021. At least that's when he got to showcase his talents to the world, as India had been seeing his ingenuity in the IPL and in domestic matches. However, he has been having a horror run of form from February this year and onward, and it's continued into the IPL.
Tim David: The Singaporean-Australian had been one of Associate cricket's best rising talents for a while, and the Aussies were lucky to nab him through his parents' heritage. This season, he's really only had one good game [a 22-ball 31 against the Chennai Super Kings (CSK)].
Cameron Green: The Australian is also in the same boat as David. He's only had one good game batting (an eight-ball 17 against the Delhi Capitals). As a bowler, he has been rather expensive (eight overs, 80 runs, one wicket). He did manage a 6.66 econ in between two 10+ econ games.
Photo Cred: Latestly (Varma)                         Photo Cred: Latestly (Chawla)
Any Previous Player/Team History
Three current Indians were former KKR players: Piyush Chawla, Sandeep Warrier, and Suryakumar Yadav.

Chawla- He played for Kolkata from 2014-19. He won a title with us in his debut season. Before us, he represented Kings XI Punjab from 2008-13. After KKR, he played for CSK in 2020 and MI in 2021 before going unsold in 2022.
Warrier- Warrier played five games for us from 2019-21. He was initially an injury replacement for Kamlesh Nagarkoti in 2019 and we kept him up until the end of the 2021 season. After that, he went unsold in 2022 and he signed with MI this year as Jasprit Bumrah's replacement.
Suryakumar- He's actually only ever represented MI and KKR in the IPL. His IPL debut was in 2012 as a 21-year-old for Mumbai, and he was with the team in 2013 as well without getting a game. From 2014-17, he was used in the lower order for us. In 2018, MI bought him back, and he's been with them since.

We didn't properly utilize his skills while he was here, and I will always regret that… I am just glad that MI was at least able to showcase his talents and that now the world gets to also see what an amazing batter he is! I just wish he could've done that with us…

Four current Knight Riders have played for MI: Nitish Rana, Kulwant Khejroliya, Anukul Roy, and Tim Southee.
Photo Cred: The Economic Times (Chawla)             Photo Cred: The Statesman (Rana)
The Links to My KKR Preview & Review Series