This has been one of the most exciting and interesting IPL seasons in recent memory! Every game, there is a nail-biting finish to the end, or at least teams try to keep things interesting up until the end. There have been very few true blowouts in the tournament, which is good because more fans will want to tune into the matches! Welcome back to another entry of the KKR preview and review series. Match no. 19 featured the Kolkata Knight Riders (KKR) and the Sunrisers Hyderabad (SRH).
Photo Cred: India Today
As a reminder, KKR is 2-1 to start the season while SRH is 1-2. Kolkata has had things go their way quite a few times this season already. Meanwhile, Hyderabad had to wait until game 3 of their season to get things going their way. That's when they had their full arsenal of South African overseas players to play for them (Markram, Jansen, Klaasen). Let's take a look to see who prevailed this time. Links to the entire series will be provided below as always.
Match Information and Result
Date– April 14th, 2023.
Stadium– Eden Gardens, Kolkata.
Photo Cred: ICC Cricket
Toss– KKR won the toss, chose to field.
Result– SRH won by 23 runs.
Player of the Match– Harry Brook (SRH).
Scores– First innings: SRH 228/4 (20). Second innings: KKR 205/7 (20).
Photo Cred: NDTV Sports (Brook)
Article-Specific Key
Batting

RHB: Right-Hand Bat
LHB: Left-Hand Bat
Pre-Match Playing XIs, Substitutes, and Impact Players
Sunrisers Hyderabad
Available Subs–
Impact Player selection– Washington Sundar: Replaced Harry Brook, bowled two overs, and took two catches.
Photo Cred: CricketAddictor (Markram)                    Photo Cred: Social News XYZ (Jansen)
Kolkata Knight Riders
Available Subs–
Impact Player selection– Venkatesh Iyer: Replaced Suyash Sharma, batted at no. 3.
Photo Cred: SportsCafe
An Innings Unlike What We've Seen Before
I say that because of a few reasons. 1. We saw this IPL season's first centurion, 2. This total (228/4) was the highest score this year so far, 3. Only once has a 220+ total been chased down in the IPL. All these reasons combined for a tough task in the second innings for KKR. If they were to (somehow) chase this down, they would need to be as error-free as possible. Having been a fan since 2008, I knew that wouldn't necessarily be the case…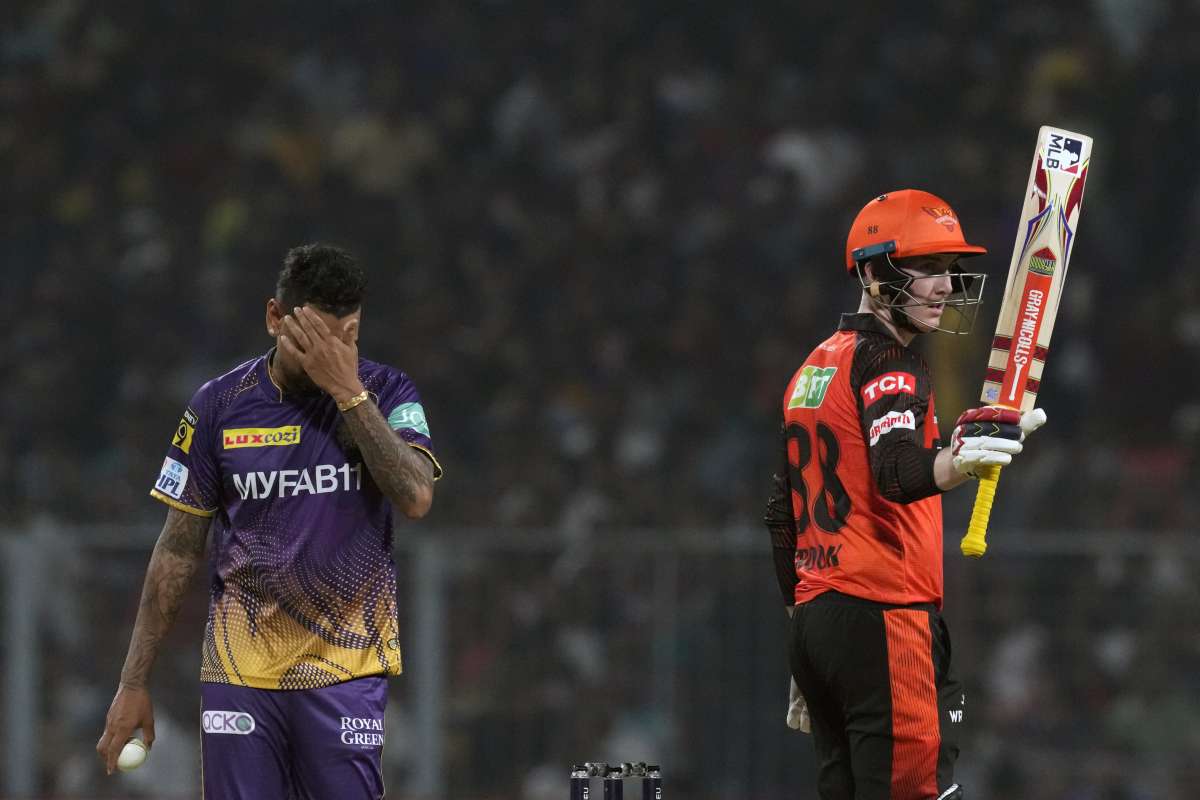 Photo Cred: India TV News
The Harry Brook Show
Englishman Harry Brook had been struggling for form (21-ball 13, 4-ball 3, 14-ball 13) ever since being the big-money man for SRH (he was bought for Rs. 13.25 Crore/$1.62 million). He had been given a go at a middle-order role, but then he was promoted to open on Friday and the game before. He finally came good against the Knight Riders, so against my team of all teams… His 55-ball 100 not out really sealed the fate of KKR.
Photo Cred: Mint
Hold On, Harry, You're Not the Only Star
With the exception of Agarwal, we saw another KKR vs. PBKS repeat batting-wise, except this was by far the worst beating our bowlers took… In KKR vs. PBKS, seven opposition batters had at least 120+ SR. All but two of them hit at 150+. In KKR vs. GT, five Gujarat batters had a SR of 100+. Only two of them went at 150+. SRH, however, had five batters (including Brook) shellacking the KKR bowlers for a minimum of 181 SR! This was just runs galore for the Hyderabad, almost as if this game was their coming-out party!
Photo Cred: IPL T20 (Markram)                               Photo Cred: IPL T20 (Klaasen)
A Game Is Never Over Until It's Over
The good news this season has been that Kolkata hasn't shown signs of giving up this year. Even when the going got tough, the tough got going. Someone, somewhere always stood till the end through the win or loss, so that's what I was realistically looking forward to. I knew this was going to be a tough ask for any team. I knew history wasn't by my side, but would I dare go against my team? A team that did successfully take down 29 runs in five balls in the last game, mind you! Were we going to see a repeat of that again?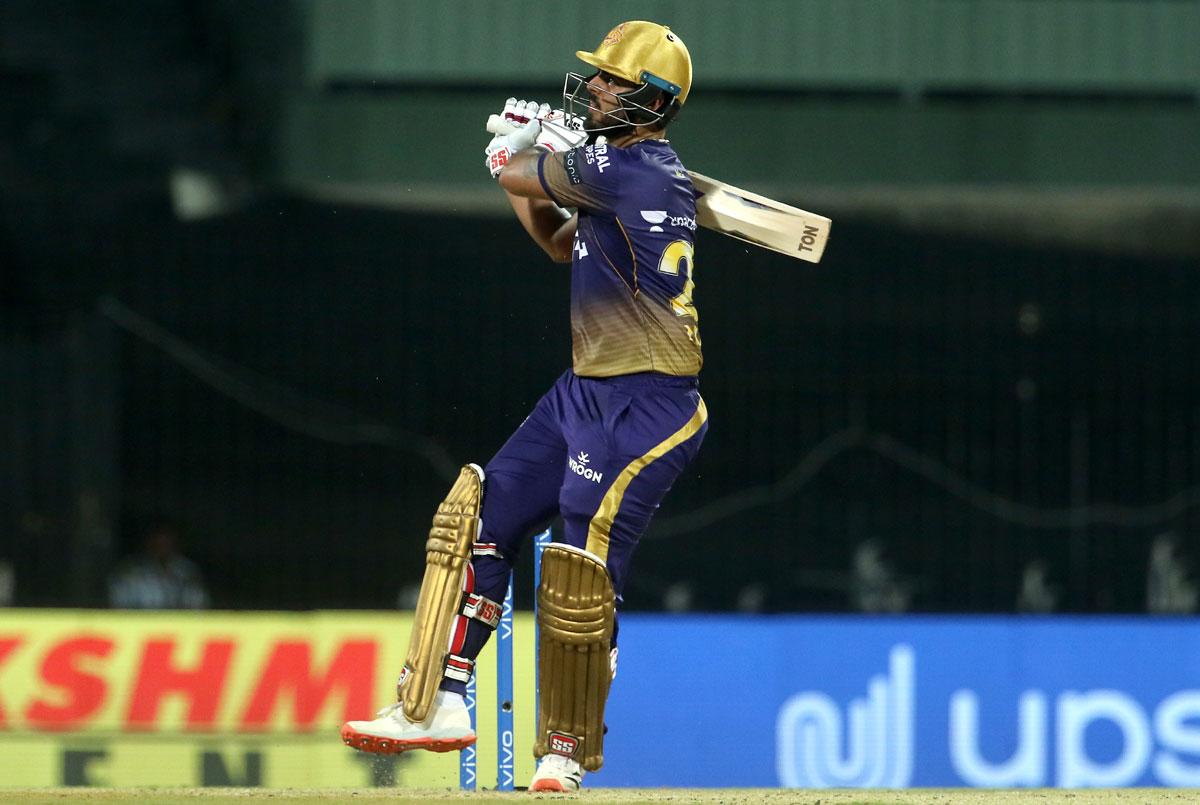 Photo Cred: Rediff.com (Rana)
Well, whatever little belief I did have went out the door when our main aggressor at no. 1 (Gurbaz) got out within three balls… He did have the right idea trying to charge Kumar but he ended up hitting the ball to the fielder at deep third. Next, Venkatesh and Narine would depart in the fourth over, and we're then three down suddenly in the powerplay. At least Jagadeesan was able to manage a 62-run partnership with Rana before he got out in the ninth over. While Russell was able to come to bat and was seemingly running between the wickets properly, he would get out on the first ball of the 11th over having scored only three runs in six balls.
Rana + Rinku, Then the 'Lords' Threaten SRH
Rana managed to partner up with the hero from the last match, Rinku, during a crucial moment of the game. Before the start of the over, the required run rate was above 13, so this game was ever so slightly slipping away from our grasp (if we even had any control of it). They steadied the course a bit with a 39-ball 69-run partnership, but Natarajan stopped it in its tracks by making Rana hole out to deep cover.
Photo Cred: SakshiPost                          Photo Cred: IPL T20
Next up was the hero from game 2, 'Lord Thakur', so now we had both 'Lords' on the pitch. This is actually their third partnership together. During Thakur's 29-ball 68, he had a 100-run partnership with Rinku by his side. Unfortunately, Thakur got out the first ball the next time they got to play with each other. This time around, they stuck around for 16 balls and 32 runs. With 32 runs needed in the last over, Thakur would get out on the first ball, and Umesh Yadav would take a single to put Rinku back on strike. It would not be enough, though, as 31 runs were needed off the last four balls, which is legally impossible. Unless the bowler messed up, the maximum number of runs that could've been scored would be 24 (four sixes).
And the Luck Finally Runs Out…
It took some time but it seems like the luck has finally run out for us. The bowling got hammered into giving up the highest total this season. Our batters also could not chase the total down, and rightfully so. I'd have called this game lucky if we had lost by runs in the teens, but we lost by 23 runs. The last two games have seen our bowlers give up 200+ runs and 10+ extras. The earlier discipline from games 1 (four extras) and 2 (six extras) seems to have disappeared.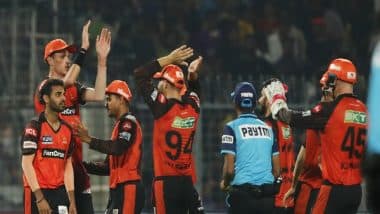 Photo Cred: Latestly
One thing to be genuinely worried about, regardless of how these four games have gone, is the consistency of our batters. The only time our opposition batters did not have consistency between their own players was when we played the Royal Challengers Bangalore. Every other game had all or all but one of the team's batters striking at 100 or more. KKR has yet to replicate that same type of consistency among our own batters, instead having to rely on one or two players to score the bulk of our runs at various points in the game.
The Positives and the Negatives
Kolkata Knight Riders
Pros:
Through thick and thin,

Narine will always have your back

! When everyone around him was getting pelted around the field, Narine still managed to have an economy rate below 10 (7.00, in fact).
We FINALLY have a

stable opening partnership

! While Gurbaz was unable to contribute to this game, his partner did. Jagadeesan hit a 21-ball 36 (complete with five 4s and a 6). That means we can keep this pair going for the next games without having to worry about who will play alongside Gurbaz.

Rinku Singh's consistency

. He has seriously been a revelation for us this year, and he's just continuing his form from last season. His run contributions had been going up for us (46 and 48 respectively) from game 2 onward, and it culminated in his maiden IPL 50. Really happy for the young man!

Nitish Rana

. It's always good to have your captain leading from the front, and he's been able to do so on three occasions so far this season. His 41-ball 75 (five 4s and six 6s) was his best performance so far this season.

Andre Russell's bowling

. In his first time bowling this year, he picked up a wicket on the first and last balls of the over! In his third over, he picked up his third wicket of the game after conceding a wide. This is what I've been waiting to see for a while now!
Photo Cred: CricketAddictor (Jagadeesan)                Photo Cred: Republic World (Rinku)
Cons:
Horrific bowling

. When you give up 11.40 runs per over, you already know your bowlers gave up way too many runs. That's why it's better to look at things relatively if you want to see if any of your bowlers had any sort of success. In this case, a bowler has "done well" if they can have a better econ than the final run rate.

By those terms, Narine (7.00 econ), Chakravarthy (10.25 econ, one wicket), and Russell (10.15 econ, three wickets) were able to do well. Suyash also barely makes the cut with an 11.00 econ.

Narine and Russell fall early

trying to go bang-bang… Against PBKS, both players had some runs behind their names (3-ball 8 and 19-ball 35 respectively). Since then, Narine has had three consecutive 1-ball 0s (getting out twice in that span) and Russell has only added four runs in nine balls.

No middle-order consistency

. Continuing from an earlier paragraph, we've had to rely on one or two guys every game to just run rampant on the opposition bowlers. There has yet to be some overall team consistency instead of individual player consistency. The only times the majority of our batters hit at 100+ SR were against SRH (five batters) and against PBKS (seven).

However, both games come with a qualifier: balls faced. Against SRH, one of those five batters faced less than five balls, and three batters in the Punjab game also didn't face five balls. So, while we've had two "consistent" games from most of our batters, it's just a technicality.

Sloppy/tough fielding

.

Mostly, the fielder in question was Thakur, who dropped a catch and also could not stop a four.
Over 5.4, a four was hit in Chakravarthy's over that could've been stopped.
Suyash had a chance to remove Brook on 45 with a caught-and-bowled but failed to hold onto the catch.
The next ball after that, Brook got two runs by applying pressure to the fielder at deep midwicket. The second run could've been avoided.
Over 10.5: Russell at deep midwicket fumbles a hit by Markram, allowing a second run to score.

This is the fourth time that there was a chance for the opposition bowlers to have a hat-trick against us. Two of RCB's bowlers (David Willey and Karn Sharma) had chances against us, but Gujarat Titans' Rashid Khan was actually able to complete it. In this game, Marco Jansen had a chance too in the fourth over.

Bad pitch

. Our home ground of Eden Gardens should've had a pitch better suited for our strengths: spin bowling. Instead, we got a batting track that was utilized to its fullest by both sides. 433 runs were scored in total, after all!
Photo Cred: Business Upturn
Sunrisers Hyderabad
Pros:
Harry Brook finally comes good

! SRH's big-money buy in 2023 finally has had a valuable contribution to the team. Maybe his best role is to be an opener now.

The South African contingent continues to shine

.

Captain Markram led the way with his 26-ball 50 (two 4s, five 6s).
Klassen had a six-ball cameo that went for 16 runs (two 4s, one 6).
Jansen had two wickets, including a chance at a hat-trick. He had a 9.25 econ.

Mayank Markande and Bhuvneshwar Kumar

. Both of them were the pick of the bowlers on the day as a whole. Markande picked up two wickets with the best econ of the game (6.75), while Kumar picked up a wicket at an econ of 7.25.
Photo Cred: CricketAddictor (Markande)                          Photo Cred: Rediffmail (Kumar)
Cons:
Mayank Agarwal

up top didn't work this game. He only got nine runs in 13 balls, but he did have 56 in 50 balls before this game.

Umran Malik was super expensive

… Before dialing things back a bit in the last over of the second innings (one wicket, eight runs), he gave up a whopping 28 runs in his first over!

T Natarajan was also ineffective

. While he picked up a wicket, he gave up 54 runs in four overs for an econ of 13.50.

No impact from the Impact Player

. Washington Sundar's only real contributions to this game were his two catches while fielding, but he was also part of sloppy fielding for SRH too. In his two overs of bowling, he gave up 20 runs.

Sloppy/tough fielding

from SRH too.

Over 2.3: Kumar could've gotten Jagadeesan out caught-and-bowled but could not hold on. Just like Suyash earlier, he had little time to react to the ball.
Over 6.4: Tripathi, normally a good fielder, dropped Jagadeesan's top-edge.
Over 6.5: A diving short third could not stop a four from Jagadeesan.
Over 7.4: Jagadeesan strikes yet again! The sweeper tries to give chase and a slide but could not stop the four.
Over 14.3: Agarwal could not stop a four by Rinku.
Over 15.4: Sundar drops an easy catch at deep square leg. Rana was on 69 then.
Over 17.6: Markram dropped Thakur, and two runs were scored due to it.
Over 18.6: Substitute fielder Glenn Phillips, who is normally recognized as one of the best fielders in the world, dropped Rinku, and four runs would come off of it because the ball would touch the ropes.
Photo Cred: India Posts English
The Links to My KKR Preview & Review Series