The LSU women's basketball team made NCAA history during Sunday afternoons matchup against Iowa in Dallas, TX. The Tigers defeated the Hawkeyes in a 102- 85 victory. This is the first time in program history winning the National Championship. The Tiger's win made Mulkey the first women's coach in history to win an NCAA championship at two different schools.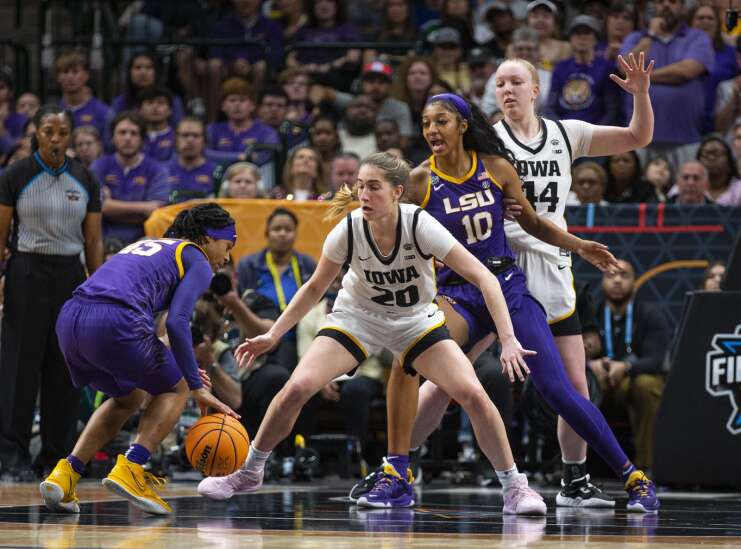 Photo: The Gazette
Iowa faced foul trouble early in the game. Two of their key starters sat out because of this. The Tigers utilized this to their advantage to give their starters a break and put in their secondary players. Judging from the way they came into the game; you would not have even noticed the starters were out of the game.
"Coaches coach a lifetime, and this is the fourth time I've been blessed," LSU head coach Kim Mulkey said. "Never in the history of LSU basketball, men, or women, have they ever played for a championship, and to win it, I think my tears are tears of joy. I'm so happy for everyone back in Louisiana."
Photo Cred: The Athletic
Guard Jasmine Carson came in firing from all cylinders. She shot 83% from the field and 3-point range. Carson added 22 points off the bench.  She entered Sunday averaging 8.4 points per game. She tallied 11 points the entire tournament entering Sunday and was scoreless in her three previous games.
"This is the game of my life," said Carson. "When I woke up, I just wanted to win. I wanted to do anything that my team needed in this game. Whether it was defense, rebounding, or anything to support them. I scored tonight, and that really pushed us and got us momentum."
Photo Cred: MLive.com
Coming into this matchup, Iowa was the one to beat after just knocking off No.1 seed South Carolina. The Tigers had a lot of people to prove wrong, and that is what they did. After winning a national championship, you would think they would finally get the credit they deserve. The LSU Tigers have been criticized for their style of play, taunting, and poor sportsmanship on social media. The Tigers do not deserve the backlash they are receiving. They deserve to be praised for their challenging work and talent.