There is lots of finger-pointing connected with this University of Louisville basketball team. Most comments are not complimentary. But to place all the blame on Kenny Payne is unfair. The things that have happened to this athletic department since 2016 are unprecedented. All the turmoil hurt the men's basketball program more than most fans realize. UofL decided to take the Kenny Payne route out of purgatory. Former AD Tom Jurich did good things, as did former Coach Rick Pitino. But the end results are some of the reasons this team is limping toward a record-setting losing season. One could go on and on about the many missteps in the last several years. But that is in the past.
Photo Cred: Card Chronicle
Louisville's Biggest issue is everything. The first year of the Kenny Payne era has been rough. Turnovers and defensive breakdowns are noticeable. After starting the season with three consecutive one-point losses, Louisville has been blown out game after game. The Cardinals lost their ACC-Big Ten Challenge game against No. 22 Maryland 79-54. Louisville has no flow to offense.
Photo Cred: Courier Journal
Louisville doesn't have many answers part due to its roster construction. Some of this is due to the punishment Louisville was to receive this year. It scared players away, but the result of the NCAA investigation was a mild reprimand. Some key players that were on last year's basketball team are playing elsewhere, including Samuel Williamson (at Southern Methodist) and Dre Davis (at Seton Hall).
Photo Cred: Card Chronicle
When Coach Chris Mack left, I blamed some of that on former President Neeli Bendapudi. She wanted Mack dismissed immediately after allegations from his top assistant but then Athletics Director Vince Tyra stood his ground. After playing shooting guard almost exclusively last season, El Ellis is playing point guard this season, and his turnover rate is the highest among 41 players who have had at least 150 possessions this season, according to Synergy Sports.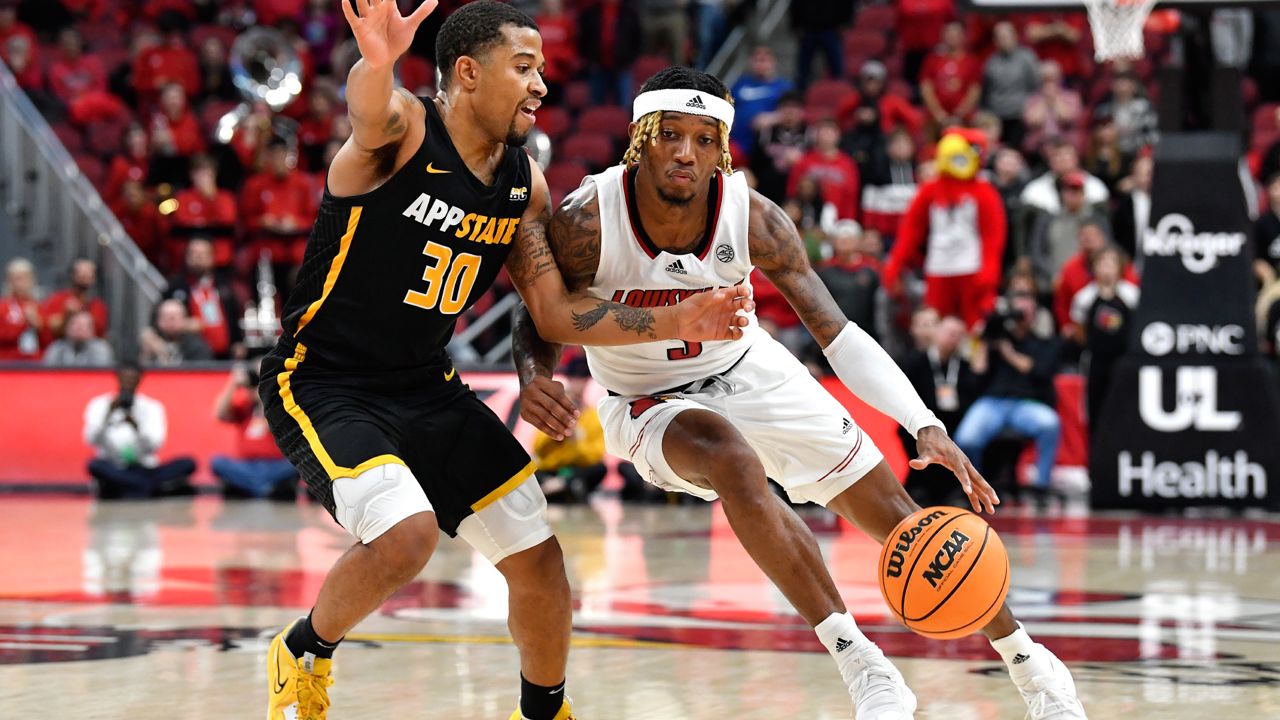 Photo Cred: Spectrum News
Louisville compounds its turnover troubles with woeful transition defense. The Cardinals have allowed 20 points per game off turnovers ranking in the bottom half of college basketball. Louisville thought they would improve in some areas with Ellis getting more comfortable at point guard. But that has not happened. Fixing the effort and communication, though, maybe a tough task. Louisville has not even appeared in the NCAA tournament since 2019. If the Cardinals miss out again  and it certainly doesn't look good now  that would be three dance  Marches in a row. That hasn't happened at Louisville since 1971.