Wisconsin is headed to a bowl game for the 21st consecutive season against Oklahoma State. However, for the first time in school history, the Badgers will make a bowl appearance in the Guaranteed Rate Bowl. The Badgers finished the season 6-6, 4-5 Big Ten, and Oklahoma State finished 7-5, 4-5 Big 12. The bowl game will take place at Chase Field in downtown Phoenix. The game will kick off at 9:15 p.m. CT on ESPN. 
Photo Cred: Wisconsin Badgers Athletics
"I'm really excited for this opportunity for our players." head coach Luke
Fickell said. "Oklahoma State is a great program, and I have tremendous
respect for Coach Gundy and his staff. Bowl games are great rewards for players and staff, and I can't wait to start our preparation." Fickell was named the University of Wisconsin's 31st head football coach on Nov. 27, 2022. Fickell will undoubtedly take the Badgers football program to new heights after elevating the University of Cincinnati's football program during his six seasons there as head coach.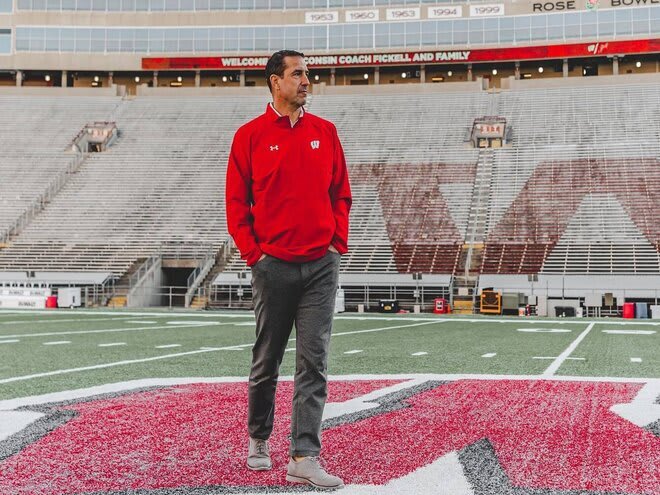 Photo Cred: Badger Blitz
"I'm very proud of our team for earning the chance to play another game,"
Director of Athletics Chris McIntosh said. "I'd like to thank everyone at the Guaranteed Rate Bowl for selecting us. Bowl games are always extraordinary events for our fans. We have a tremendous following of Badgers in the Phoenix area, and I'm sure they will execute the tradition of the incredible support we've enjoyed for many years at bowl games."
Wisconsin's active bowl streak is the third-longest in the nation, trailing Georgia (26) and Oklahoma (24). The Badgers have won seven of their last eight bowl games. Wisconsin has the most wins of any FBS team during that eight-bowl game streak. Last year, the football team finished 9-4 overall, better than this season. 
Photo Cred: Badger Wire
This is the first time in program history to play Oklahoma State; just the second time the Badgers will take on an active Big 12 opponent. The Badgers hold a 17-6-1 record against the current slate of Big 12 schools. In 2010, the Badgers met then-independent TCU in the 2011 Rose Bowl, where the Horned Frogs defeated the Badgers 21-19. TCU joined the Big 12 in 2012. 
Wisconsin's last visit to Arizona for a bowl game was in 1996 when they played in the Copper Bowl in Tuscon, Arizona against Utah. They beat Utah 38-10 in that game. Their last visit to Arizona during the regular season was when they played Arizona State in Tempe, losing 30-32. 
"The Guaranteed Rate Bowl is truly a one-of-a-kind postseason college football Bowl game and fan experience. We are excited to welcome back the Big Ten and Big 12 Conferences, squaring off in a Major League Baseball ballpark live on ESPN," said Randall Norton, Board Chair for the Guaranteed Rate Bowl, and Fiesta Bowl Organization. "History shows that these matchups are entertaining, with something always memorable happening on the field."
The Big 12 has won six of the nine matchups between the conferences. This is a fantastic way for the Badgers to not only end on a positive note after a disappointing season, but Fickell has stressed that it is a chance for younger players to step up heading into the offseason. After the three-year starter, Graham Mertz, entered the transfer portal last week, he left filth-year senior Chase Wolf and true freshman Myles Burkett as the two options to start against Oklahoma State. 
Photo Cred: Oklahoma State Athletics
"It won't be my decision, to be honest with you. I have the utmost respect for what these guys (the current staff members) know and what they think gives us the best chance to win," Fickell said. "I just like to sit down with them, and if they have any questions about things I might see, they can ask. But the reality is what they believe is best."
Six notable players in addition to Mertz entered the transfer portal: running back/kick returner Isaac Guerendo and cornerback Semar Melvin. Starting defensive tackle Keeanu Benton, outside linebacker Nick Herbig, cornerback Jay Shaw and center Joe Tippmann declared for the NFL Draft. Benton, Herbig, and Shaw combine for 114 tackles, 26.5 tackles for a loss, 15.5 sacks, 10 pass breakups, and one interception this season. Tippmann started all 12 regular-season games and played 359 snaps. Mertz didn't miss a game over the last three seasons.
Photo Cred: New York Times
Inside linebacker Maema Njongmeta and wide receiver Chimere Dike are the new leaders on this new team. "Right now, leadership is seeing who wants to be here – who wants to be a part of the solution to get that last win that we need for the season. As someone with a more mature role on the team, my job right now is to set the example and bring everyone with me."
OSU has won five of its last six bowl games, and Gundy is among the best in the nation and getting his team ready for the postseason, but this could be a tough spot for the 18th-year head coach. The Badgers rank 53rd nationally in rushing offense, managing 173.2 yards on the ground per game. Unfortunately for Oklahoma State, the Pokes rank 93rd in the same category, and they no longer have Spencer Sanders to help add to that total. This will be a tough spot for both offenses, but I will take the team with the better running game and the better defense to win in a low-scoring slugfest.