SIZE
Ferguson possesses prototypical height, weight, and athletic build for the position in the NFL today. He stands at 6'5 and 250lbs. He is too big for safeties and corners to cover underneath in a one-on-one situation. Ferguson is too quick and physical for LBs to get a hand on and disrupt. He has a lean frame and utilizes all his size attributes well in box-out situations when competing for the football. His arms and wingspan are shorter than expected for a player his size.
HANDS / RECEIVING
He is dependable and has soft hands overall. Ferguson makes spectacular catches and makes routine ones look easy. Ferguson makes a habit of extending his arms on throws away from the body and snatching the football. The tight end rarely uses his body to trap throws and does a solid job securing the ball before adjusting up field. Ferguson displays outstanding ball skills, balance, and body control for a tight end of his size, giving you an extended catch radius despite his limited wingspan. He shows a natural ability to adjust to throws over either shoulder or below the waist. He Provides a dependable target on third downs. Red Zone threat with the versatility to line up in multiple spots and create huge mismatches within that boundary.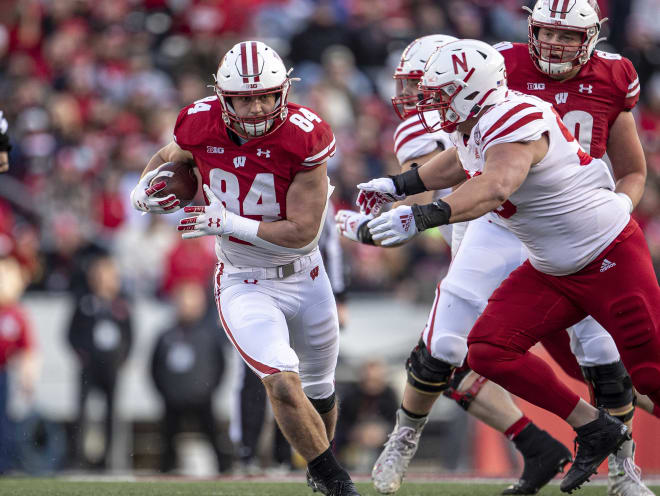 BLOCKING
He came from a Pro-Style offense in college. Wisconsin used him as an In-Line Blocker. His inconsistency in attacking angles leaves him with no anchor and fighting to maintain his contact balance. Lack of physicality and aggression paired with an H-Back body type could hurt the number of snaps he sees on the field. Ferguson struggled more times than not when matched up against more athletic assignments. He lacks the power at the point of attack to sustain blocks.
ROUTE RUNNING
Route Tree confined to Flats, Bubble Screens, Comebacks, and Slants, nothing much-applying pressure to the third level. Ferguson needs to improve on sinking his hips when setting up defenders and changing directions. He lacks preciseness and sharpness at the top when breaking off routes, which could be due to the lack of versatility within the route tree in Wisconsin. He has good suddenness and an initial burst off the line. The tight end carries his pads well and has a good body balance.
EXPLOSIVENESS
Ferguson has limited vertical work within the Wisconsin offense. He shows good leg drive when fighting through tacklers for extra yards. The tight end is comfortable in space once the ball is in his hands. He lacks the power at the point of attack to sustain blocks. Running style is a North/South with quick feet to make defenders miss when he maintains balance. Ferguson is agile when the ball is in the air and does a reliable job of tracking. He will not hesitate to climb the ladder for off-target throws, secures the ball, and seldom does he double catch. He is not fast at tight end but explosive and crafty in the open field once he has the ball. Ferguson struggled more times than not against players bigger than him.