In the rapidly evolving landscape of college football, the spotlight has recently focused on several standout players, particularly quarterbacks Jayden Daniels of LSU, Bo Nix of Oregon, and Michael Penix Jr. of Washington, along with wide receiver Marvin Harrison Jr. of Ohio State. These athletes have been making waves with their performances, and as the season unfolds, key developments are reshaping their narratives in the Heisman Trophy race.
Starting with Jayden Daniels of LSU, the quarterback has been nothing short of spectacular in the last two weeks, amassing a total of 13 touchdowns and an impressive 1,115 yards of offense. However, not all the attention has been positive for Daniels. Controversy ensued when Coach Brian Kelly chose to keep him in the entire game against an overmatched Georgia State, leading to criticism and debates about player management strategies. This decision raised questions about player welfare and the need for coaches to balance dominance in games with the preservation of key players for the more challenging matchups that lie ahead.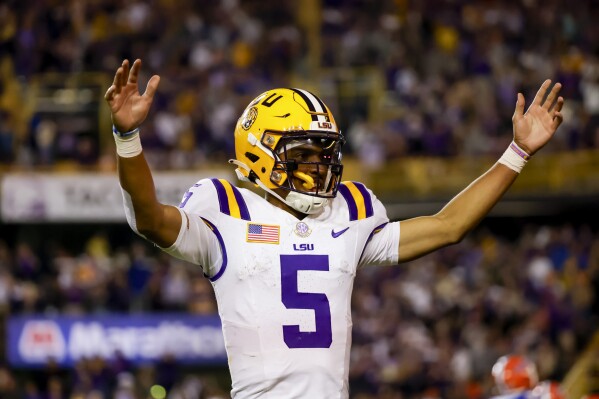 Photo Cred: AP News
On the other side of the country, in the Pacific Northwest, Bo Nix of Oregon has been on a hot streak with consecutive 400-yard passing games. This surge in performance has elevated Nix's standing in the Heisman Trophy race. With pivotal matchups against Oregon State and Washington on the horizon, Nix has a golden opportunity to further solidify his case for the prestigious award. The pressure is on, and Nix's ability to perform in these critical contests will undoubtedly shape the narrative around his Heisman candidacy.
Photo Cred: AL.com
Meanwhile, Marvin Harrison Jr., the talented wide receiver from Ohio State, is gearing up for a pivotal showdown against bitter rival Michigan. The outcome of this game could have far-reaching implications, potentially securing a playoff spot for Ohio State. Harrison Jr.'s impact in this matchup is deemed crucial, with expectations for a "monster effort" from the standout receiver. The magnitude of this game adds an extra layer of pressure and significance to Harrison Jr.'s Heisman aspirations.
Photo Cred: SI
Conversely, the trajectory for Michael Penix Jr. of Washington has taken a different turn. After a notable performance against Oregon on October 14, Penix Jr. has experienced a decline in his overall performance. Shaky outings, an increased number of interceptions, and a decreased completion percentage have raised concerns about his ability to maintain a lock on a Heisman Trophy finalist spot. The dynamic nature of the Heisman race is evident in Penix Jr.'s case, underscoring the importance of sustained excellence to secure a place among the finalists.
Photo Cred: Washington
In conclusion, these recent developments provide valuable insights into the performances of key college football players and their potential impact on the Heisman Trophy race. As the season progresses, the dynamics of the race are expected to shift, and players' standings will be influenced by their performances in upcoming games. The college football landscape remains unpredictable, making it essential for players to consistently deliver exceptional performances to stay in contention for the highly coveted Heisman Trophy.