Seton Hall basketball is back! With a 2-0 start to the season, coach Shaheen Holloway has the Pirates working hard in their opening week. In an ugly win against Saint Peter's and a blowout of Fairleigh Dickenson, the Pirates showed signs of how they can stack up with their defensive-based game. The offense, however, has shown its weaknesses. The leader in the Pirate's two wins has been senior guard/forward Kadary Richmond, with 18 and 14 points respectively.
Photo Cred: Big East
He also has been rebounding very well, as he posted seven rebounds in both contests. Richmond looks to have taken over as the focal point in this offense. He was not without help, however. Against Fairleigh Dickenson, senior center Jaden Bediako shot a very efficient 4/5 for 12 points and brought down ten boards for the Pirates. The transfer from Santa Clara has brought a size presence to the Pirates, replacing center Tyrese Samuel.
Senior guard Al-Amir Dawes had an off night against FDU and a bad second half against Saint Peter's. He scored 13 points on 5/15 shooting against FDU, compared to a more efficient 14 points on 62.5 percent shooting. Senior guard Dre Davis had 14 points and six rebounds against Saint Peter's and 11 points, along with eight rebounds against Farleigh Dickenson.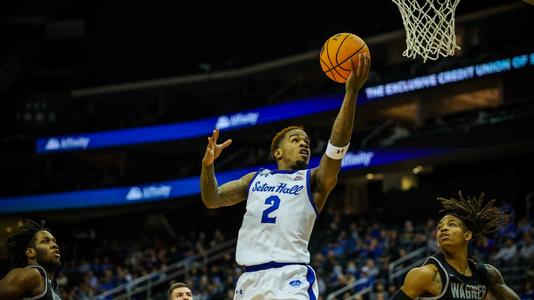 Photo Cred: Senton Hall
Davis has watched his role grow on top of last year and has really proven his worth to the Pirates roster. Seton Hall has another two-game week on the schedule, as they play Albany on Wednesday and Wagner on Saturday at home. Hopefully, the Pirates can get off to a 4-0 start against their more local opponents to build momentum for later in the season when their Big East matchups start.