No. 14 Missouri rushed for 255 yards and two touchdowns in their 36-7 victory over No. 13 Tennessee on Saturday at Faurot Field. Cody Schrader and Brady Cook were the rushers who led the offense for the Tigers this weekend.  
Cody Schrader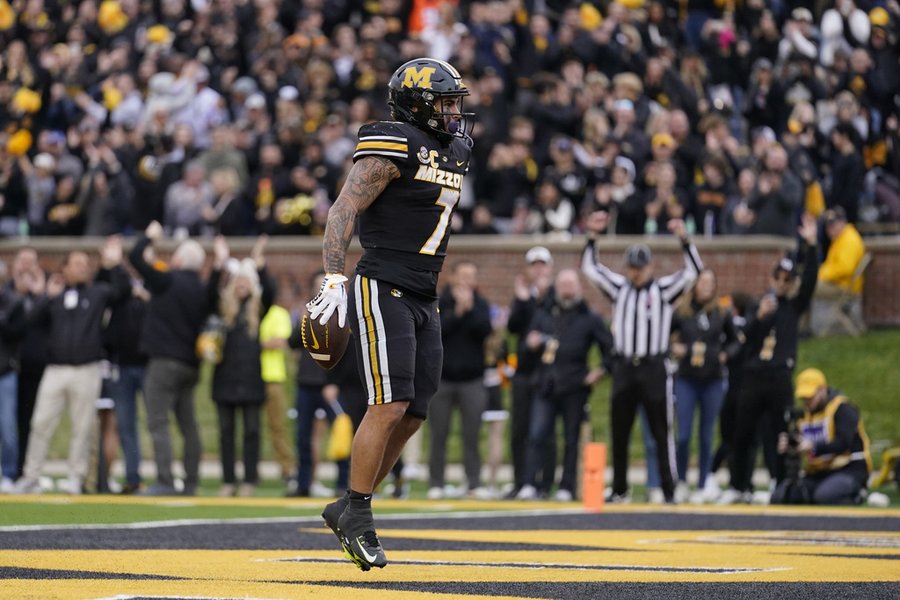 Photo Cred: ESPN
Schrader had a stellar performance for MU on Saturday, rushing for 205 yards and a touchdown on 35 carries. Right from the start, he made his presence known. The St. Louis native ran for 12 yards on two straight carries in the team's first offensive drive. On Missouri's next offensive possession, the fifth-year senior tallied 18 rushing yards during the 11-minute drive, which ended in a 31-yard field goal from Harrison Mevis. 
The momentum carried for Schrader in Mizzou's next drive. Cook connected with Schrader for a 43-yard reception to get to the Volunteers' 32-yard line. A few plays later, the RB rushed for a seven-yard touchdown to give the Tigers a 10-7 lead with 10:33 remaining in the first half. With 20 seconds left in the first half, Missouri's defense recovered a fumble on UT RB Jaylen Wright on their own 18-yard line. Schrader then recorded a 35-yard scamper on the first play to enter Tennessee territory. The Truman State transfer also rushed for a nine-yard gain with four seconds left. This set Mevis up for a 46-yard field goal, which he converted to make the score 13-7 in favor of MU.
"In that situation, we were just trying to run the ball," Schrader said. "After my first play, we realized we could get some points, so we aimed for the field goal."
Schrader picked up right where he left off to begin the second half. The RB rushed for 24 yards on four straight plays, including an 18-yard dash to get inside the red zone. Cook followed with a three-yard rushing touchdown to extend MU's lead to 19-7.
The St. Louis native played a big part in helping the Tigers run away with the matchup. Schrader rushed up the middle for a 31-yard gain and in Volunteers territory. On the next play, the RB recorded another big rushing play of 14 yards for another touchdown by Cook to give Missouri a 29-7 lead. 
"He's (Schrader) a very talented player," head coach Eliah Drinkwitz said. "He's constantly putting in the work and always competing, so he earned a performance like that." 
Brady Cook
Photo Cred: Yahoo Sports
Cook also had a strong showing rushing the ball with 55 yards and a touchdown. The junior QB rushed 12 times and made some big plays when it mattered most, especially on two big rushing plays in the first half. Cook scrambled up the middle for 12 yards in the first quarter and gained 10 yards on a third-and-six situation in the second. 
The QB's biggest play of the game came at the start of the fourth quarter. With the ball on their own one-yard line on third down, Cook rushed to the right for 24 yards. He also had a play in the third quarter where he gained 17 yards and an additional 15 yards due to an unnecessary roughness call by UT defensive lineman Omarr Norman-Lott.
"He (Cook) did a great job scrambling," Schrader said. "He was able to use his legs on plays that he didn't see an open receiver, and that's a huge part of our offense."
In addition to a strong performance running the ball, Cook also was effective in the passing game, throwing for 275 yards and a touchdown. His passing touchdown came in the fourth quarter, as he connected with wide receiver Luther Burden III for a 21-yard touchdown with 6:21 remaining.