Missouri only scored 22 points in the second half in their 70-55 loss to Memphis on Friday at Mizzou Arena. MU had a strong showing offensively in the first half before cooling off significantly in the second. 
Cold Second Half
The Missouri Tigers shot 19.2% from the field in the second half. Dennis Gates' team also only made five field goals throughout the final 20 minutes on 26 attempts. Mizzou couldn't score a bucket for four straight minutes at the beginning of the half. Throughout those minutes, Memphis scored ten straight points to take a 48-38 lead with 13:33 remaining and never looked back. After freshman forward Anthony Robinson stopped the drought with three free throws, Missouri went through another period where they couldn't score, this time for three-and-a-half minutes. 
"Missed shots can definitely be contagious," fifth-year senior guard Nick Honor said. "Shooting is what we still need to work on, and we need to make sure we don't get mentally affected by it and get back to the gym."
Photo Cred: columbiamissourian.com
Another struggle that Missouri went through in the second half was turnovers. The Missouri Tigers turned the ball over five times, including two within the first three minutes, which helped keep the momentum with UofM. Memphis Tigers guard Jahvon Quinerly stole the ball from Caleb Grill, and Tamar Bates turned it over on a bad pass, which resulted in a fastbreak layup by David Jones to give the Memphis Tigers a 38-36 lead. 
"We had two different approaches to how we came into each half," Gates said. "We didn't approach the second half with the same energy as we did to start the game, which hurt us, and it starts with me."
Missouri also missed four free throws in the second half, which made an impact. MU couldn't score on three free-throw attempts during the two-and-a-half minute time period where they were down 48-41. Fifth-year senior guard Sean East II missed two free throws after drawing a foul driving to the rim. Forward Noah Carter also missed a free-throw attempt in a one-and-one situation with 10:24 left in the contest.
Bright Spots
Despite their first loss of the season, the Missouri Tigers still found some success they can build on. Gates' team led by as many as 14 points in the first half and went into the locker room with a 33-26 lead at halftime. East had a sensational first half, scoring 14 points and recording two assists. The Louisville, Kentucky native hit two three-pointers and assisted Aidan Shaw for a dunk and Noah Carter for a three-point play to give MU a 23-13 lead.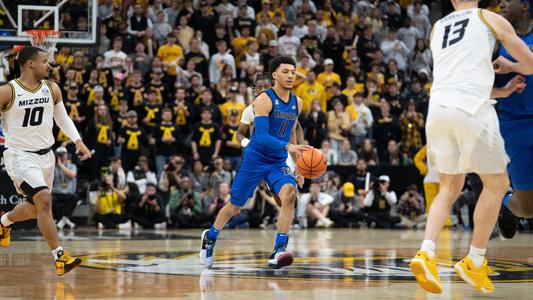 Photo Cred: Memphis
Honor tallied eight points for the Missouri Tigers on Friday. The former Clemson Tiger shot 50% from the field and went 2-for-3 from beyond the arc. Honor hit a three-pointer in each half. Defensively, Missouri caused some issues for Memphis, as they forced 11 turnovers throughout the game. UofM turned the ball over seven times in the first half. In the second half, MU began to struggle on the defensive side of the ball, as they were only able to force four turnovers.