Michigan has submitted documents to the Big Ten conference, alleging that three other conference teams engaged in a plan about the Wolverines' signals during the 2022 season. The three teams are Rutgers, Ohio State, and Purdue. Purdue played Michigan last season Big Ten championship game. It's alleged the team received offensive signals from Ohio State and defensive signals from Rutgers.
Photo Cred: GBMWolverine
Michigan beat Rutgers with a score of 52-17 and 45-23 against Ohio State. It remains uncertain whether signal sharing among conference teams violates the Big Ten's sportsmanship policy or any NCAA rules. It's worth noting that NCAA rules do not explicitly prohibit in-game signal stealing but do forbid schools from engaging in off-campus scouting in advance of games. Recent developments include the Big Ten sending a notice of disciplinary action to Michigan. The Wolverines must respond to the Big Ten ASAP, and punishment may come down after. The most likely form of discipline will be a suspension for Michigan's football coach, Jim Harbaugh.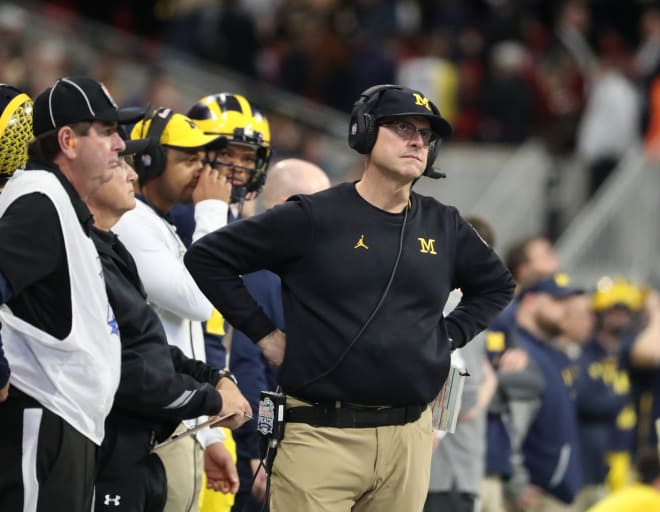 Photo Cred: Rivals
The Big Ten's sportsmanship policy emphasizes the importance of conducting contests with integrity, civility, and respect for all involved, including opponents and officials. It places a strong emphasis on upholding these fundamental elements of sportsmanship in all competitions involving member institutions. Furthermore, the Associated Press reported on a former employee from a Big Ten program who provided Michigan with documents detailing the Wolverines' signs and how they corresponded to specific run and pass plays.
These documents included descriptions of specific plays and their associated signals. The former staff member also supplied Michigan with screenshots of text message exchanges with staff members at other Big Ten schools, revealing the plan to collect Michigan's signals. Michigan ultimately secured a 43-22 victory over Purdue, securing their second consecutive Big Ten title and earning a spot in the College Football Playoff. Purdue, Rutgers, and Ohio State did not immediately respond to requests for comments on these allegations.