Mizzou is looking to maintain its impressive offensive momentum as the Tigers prepare to host South Carolina this Saturday. MU currently boasts a four-game winning streak against the Gamecocks heading into this weekend's showdown.
South Carolina's Defense is Having a Tough Season So Far
UofSC has encountered defensive difficulties this season. Clayton White's total defense is ranked last in the Southeastern Conference, surrendering an average of 451.5 yards per game. South Carolina's run defense is also struggling, placing ninth in the SEC with 129.83 yards per game. The team has allowed an average of 31.3 points per game, including two occasions where they gave up 41 points.
Defensively, the Gamecocks have faced their most significant challenges thus far. In their last two games, both losses to Tennessee and Florida, South Carolinas' opponents managed to score 41 points. Tennessee quarterback Joe Milton threw for 239 yards and a touchdown. UofSC also allowed running back Jaylen Wright to gain 123 yards and score a touchdown in their 41-20 loss to the Volunteers. In the Florida game, QB Graham Mertz passed for 423 yards and three touchdowns, leading the team to a 41-39 victory last weekend. The Gators' offense managed to move the ball down the field in less than two minutes, securing the game-winning touchdown with only 47 seconds left on the clock.
Photo Cred: Gators Wire – USA Today
Even in their two victories, White's defense faced challenges. South Carolina had to rely on an explosive offensive display in their 37-30 victory over Mississippi State in September. MSU QB Will Rogers finished with an impressive 487 yards and a touchdown. Bulldogs wide receiver Lideatrick Griffin tallied 256 yards and a touchdown on seven receptions. In their Week 2 win over Furman, the Gamecocks allowed 21 points. Paladins QB Tyler Huff managed 129 yards and a touchdown, while WR Joshua Harris added 73 yards. 
For UofSC to have a chance against Missouri, several players will need to step up. Defensive back Jalon Kilgore leads the team in tackles and currently ranks fifth in the SEC with 53 tackles (31 solo). Sophomore DB DQ Smith also plays a crucial role for the Gamecocks, contributing 45 tackles (20 solo), a forced fumble, and an interception in six games. Defensive tackle TJ Sanders leads White's defense with 4.5 sacks, achieving a sack in three out of four SEC games this season.  
Missouri's Offense Aims to Stay Hot
In 2023, the Tigers' offense has been a standout feature. Kirby Moore's offensive unit ranks fourth in the SEC, averaging 33.9 points per game and 446.6 yards per game. 
This week, MU received several midseason awards on their offense. The offensive line room earned a spot on the Joe Moore Award's Midseason Honor Roll, with OL Javon Foster securing a place on the Midseason All-America Second-Team Offense. WR Luther Burden III was recognized on the Midseason All-America First-Team Offense and was also unanimously voted as a Midseason All-American. QB Brady Cook found a place on the Manning Award Midseason Watch List. Both Cook and Burden were mentioned in the Midseason Maxwell Award Watch List.
Photo Cred: Missouri Athletics
Cook has had an impressive season leading the offense, amassing 2,054 yards and 14 touchdowns in seven games. The junior has delivered standout performances, including Missouri's 38-21 victory over Vanderbilt a few weeks ago, where he recorded 395 yards and four touchdowns. Burden is currently the third-leading receiver in the nation, with 808 yards and five touchdowns. The WR has achieved five games with over 100 receiving yards. WR Theo Wease Jr. has also been significant for Moore's offense, contributing 400 yards and five touchdowns so far this season. His best game came against the Commodores, where he registered 118 yards and a touchdown. WRs Mookie Cooper and Marquis Johnson, along with tight end Brett Norfleet, also play pivotal roles in the Tigers' offense. 
RB Cody Schrader is having a strong senior season, ranking as the 19th-leading rusher in the nation with 648 yards and seven touchdowns on 114 carries. The senior's most notable performance this season was in Mizzou's 49-39 loss to LSU, where he accumulated 114 yards and three touchdowns. However, the RB is listed as questionable for this Saturday's contest. RB Nathaniel Peat has also contributed to MU's ground attack with 274 yards and two touchdowns.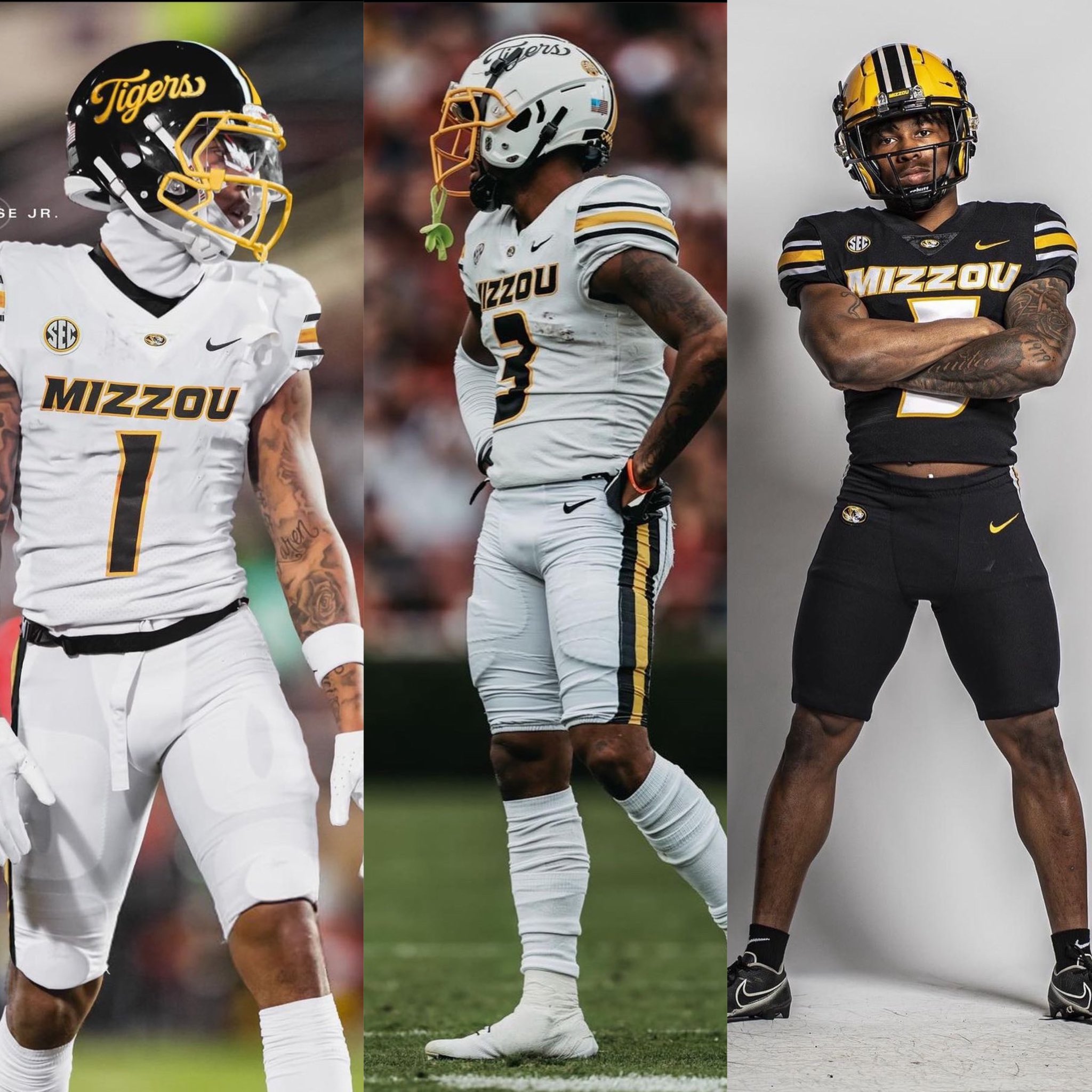 Photo Cred: X.com (Wease Jr., Burden III, Cooper)
Gametime
Missouri will kick off against South Carolina on Saturday at 2:30 P.M. CT at Faurot Field, with the game broadcast on SEC Network.