The crowd stormed the field on Saturday as Missouri upset No. 14 Kansas State with a last-second 61-yard field goal from Harrison Mevis. The field goal set an SEC record and secured MU's victory at Faurot Field.
Explosive Offense
Before Mevis' game-winner, Tigers quarterback Brady Cook completed consecutive passes to Theo Wease Jr., advancing to the Wildcats' 39-yard line. In the final play before the field goal attempt, MU incurred a delay of game penalty, pushing them back five yards.
"We knew we were going to kick it," Missouri coach Eliah Drinkwitz said. "Before the possession, we told ourselves that if we got to the 40, then we felt like he (Mevis) could kick it. That delay of game was a stupid mistake on my part, but luckily my players bailed me out."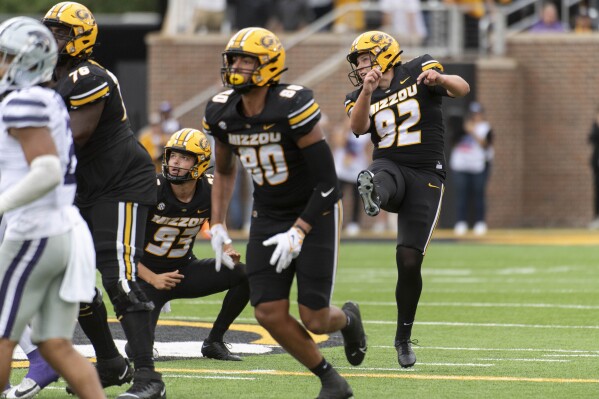 Photo Cred: AP News (#92 Mevis)
Cook connected with wide receiver Luther Burden III for two touchdowns. The redshirt junior threw a 47-yard touchdown pass to Burden in the first quarter. Later in the game, they connected on a screen pass in the fourth quarter. This resulted in a touchdown that gave the Tigers a 27-24 lead with just over eight minutes remaining. 
The St. Louis native threw for 356 yards and two touchdowns. Drinkwitz praised his QB for his resilience and contribution to MU's victory.
Photo Cred: The Kansas City Star (#3 Burden)
"The way he fought through adversity was very impressive," Drinkwitz said. "He made a lot of big plays down the field which put us in the best situation to win the game."
The redshirt junior also scored a rushing touchdown. Cook completed a 27-yard pass to tight end Brett Norfleet, advancing to the KSU 7-yard line. A few plays later, the QB powered his way into the endzone, giving Missouri a 17-14 lead in the second quarter.
Photo Cred: Yahoo Sports (#12 Cook)
The Tigers offense also received significant contributions from WRs Theo Wease Jr. and Mookie Cooper. Wease finished the game with 72 yards and had a 26-yard reception late in the third quarter to get into Wildcats territory. Cooper had 79 yards on four receptions. 
Running back Cody Schrader was a key component of the Tigers' offensive success on Saturday. The senior rushed for 58 yards on 10 carries and had an explosive 36-yard play up the middle in the fourth quarter. That run caused a facemask penalty on Kansas State's defense as well, netting MU an additional 15 yards.
Photo Cred: Columbia Missourian (Norfleet)
Key Defensive Plays
With the game tied, the Wildcats began their drive on their own 39-yard line with 3:56 left in the game. On second down, KSU was called for a false start violation, moving the ball back five yards. On third-and-15, defensive back Joseph Charleston tackled RB Treshaun Ward, forcing a punt.
MU's defense also made significant plays in the previous drive. Ward's touchdown was nullified due to a delay of game penalty when it was third-and-goal on Missouri's three-yard line. On the very next play, QB Will Howard's pass was incomplete, leading to a field goal that tied the game at 27.
Photo Cred: The Wichita Eagle
Some key plays from the Tigers' defense came in the first half as well, and they turned out to have a long-term impact on the game. Defensive back Daylan Carnall sacked Howard for a loss of six yards. The Kansas State QB subsequently threw an incomplete pass, resulting in a fourth down. KSU kicker Chris Tennant missed a 55-yard field goal, giving possession to the Tigers.
The first significant play by Blake Baker's defense came in the first quarter. DB Kris Abrams-Draine intercepted Howard's pass when the game was tied at 7.
"I don't think we started out the best in applying pressure," defensive lineman Johnny Walker Jr. said. "We increased our pressure later in the game and we started to find success with that."
Photo Cred: WFXG
The junior DL had a stellar performance on Saturday with three solo tackles and a sack. Charleston led the way for Missouri's defense with nine total tackles (six solo).
Linebacker Ty'Ron Hopper had eight total tackles (six solo). DBs Jaylon Carlies and Ennis Rakestraw Jr. each had seven solo tackles.
Photo Cred: KPVI
Kansas State Kept Battling
KSU kept going back and forth with MU throughout the entire game. Every time the Tigers had the momentum, the Wildcats responded right away.
Howard and TE Ben Sinnott connected on two three-yard touchdowns during the game. The first occurred in the second quarter, when the QB found Sinnott in the endzone to give Kansas State a 14-10 lead. Their next touchdown connection came with over a minute to go in the third quarter. Howard would find WR Phillip Brooks for a reception of 19 yards. KSU took a 24-17 lead after the touchdown.
Photo Cred: The Kansas State Collegian
The senior QB concluded the contest with 270 yards and three touchdowns. Howard's first touchdown came during the Wildcats' first offensive possession. He connected with Brooks to get KSU on the board early. 
Sinnott and Ward were the leading receivers for Kansas State. Sinnott finished with 78 yards and two touchdowns, while Ward recorded 61 yards on five receptions.
Defensively, the Wildcats had notable achievements. Joe Klanderman's defense sacked Cook twice. Defensive end Jevon Banks and LB Daniel Green each had one sack. Green also led KSU in total tackles with nine. Safeties Kobe Savage and Marques Sigle each had eight total tackles.
Photo Cred: Bring On The Cats
Looking Ahead
Missouri will travel to St. Louis next Saturday to face Memphis in a neutral site game. You can catch the game on ESPNU at 6:30 P.M. at The Dome At America's Center!
Photo Cred: Explore St. Louis