It's less than one month away from the 2023-24 NFL season, and the excitement is building as the preseason is almost underway. Over the next few weeks, I dive into each position group, from the quarterbacks to the kickers, and rank them before the season kicks off in Kansas City on Sept. 7. Today, we'll parse the top pass-catching units in the league. This will include receivers and tight ends.
1. Cincinnati Bengals
The Bengals don't have a number one and a number two receiver; they have two number ones. Everyone knows about Ja'Marr Chase and his ability, but Tee Higgins is also great. Higgins came into the league as a ball-winner but has refined the rest of his game while developing into the best-contested catch-winner in football. One of the few who can stack up to Higgins in that department is his counterpart Chase, who physically dominates defensive backs with power and speed. Add Tyler Boyd, the best number-three wideout in the NFL, and the Bengals have an unmatched trio of receivers to pair with Joe Burrow.
Photo Cred: USA Today
2. Philadelphia Eagles
The Eagles are bringing all the pieces from their 2022 team back. That team was within minutes of winning the Super Bowl and is loaded with weapons for Jalen Hurts to work with again. DeVonta Smith is only getting better, and A.J. Brown is still one of the best wideouts in the world. They are versatile in diverse ways, creating separation at all three levels and making plays after the catch. Dallas Goedert is still a high-end tight end; a healthier year could see him reach even bigger heights. The speedy Wuez Watkins is back in the slot to stretch the defense down the field, giving the stars more room to work with underneath. The Eagles, if healthy, still have the best playmaking group in the NFC.
3. San Francisco 49ers
San Francisco enters yet another season with quarterback questions, but the weapons around him are so good that it may not matter (again). Deebo Samuel is still the do-it-all Swiss Army Knife who can play running back or receiver. Samuel is a unique runner after the catch, and the Niners will give him plenty of opportunities on screens and short passes to make big plays. George Kittle is still the second-best tight end in football, making plays after the catch and being just as good as a sixth offensive lineman in the run game. Brandon Aiyuk continues to get better each year as Kyle Shanahan trusts him more and is becoming one of the more polished route runners in football. Combine all of that with the versatility of Christian McCaffrey out of the backfield, and the Niners will be a nightmare to stop again in 2023.
4. Miami Dolphins
The Dolphins lost their tight end and have no depth at wide receiver, but that matters a lot less when you have two absolute game-breakers on the outside. Both Tyreek Hill and Jaylen Waddle are a touchdown waiting to happen at any moment, and the Dolphins had the most explosive offense in football when both were on the field in 2022. Mike McDaniel knows how to get the most out of both of his superstar receivers and if they're both healthy in 2023, Miami will have plenty of highlights.
5. Minnesota Vikings
Justin Jefferson has officially evolved into someone you can build an entire passing attack around and has a convincing argument as the best wideout in the league heading into 2023. Jefferson led the NFL in catches (128) and yards (1,809) in just his second season last year and was consistently carrying the Viking's receiving core despite being double- and even triple-teamed. To help Jefferson out, the Vikings spent a first-round pick on USC receiver Jordan Addison, who can work at all levels of the field on the other side of Jefferson and should benefit from seeing a ton of 1-on-1 coverage. T.J. Hockenson was great for the Viking's offense after being added mid-season last year and should be even better with a full off-season under his belt. With K.J. Osborn back as the Viking's WR3, Minnesota should have an even more lethal passing attack in year two under Kevin O'Connell.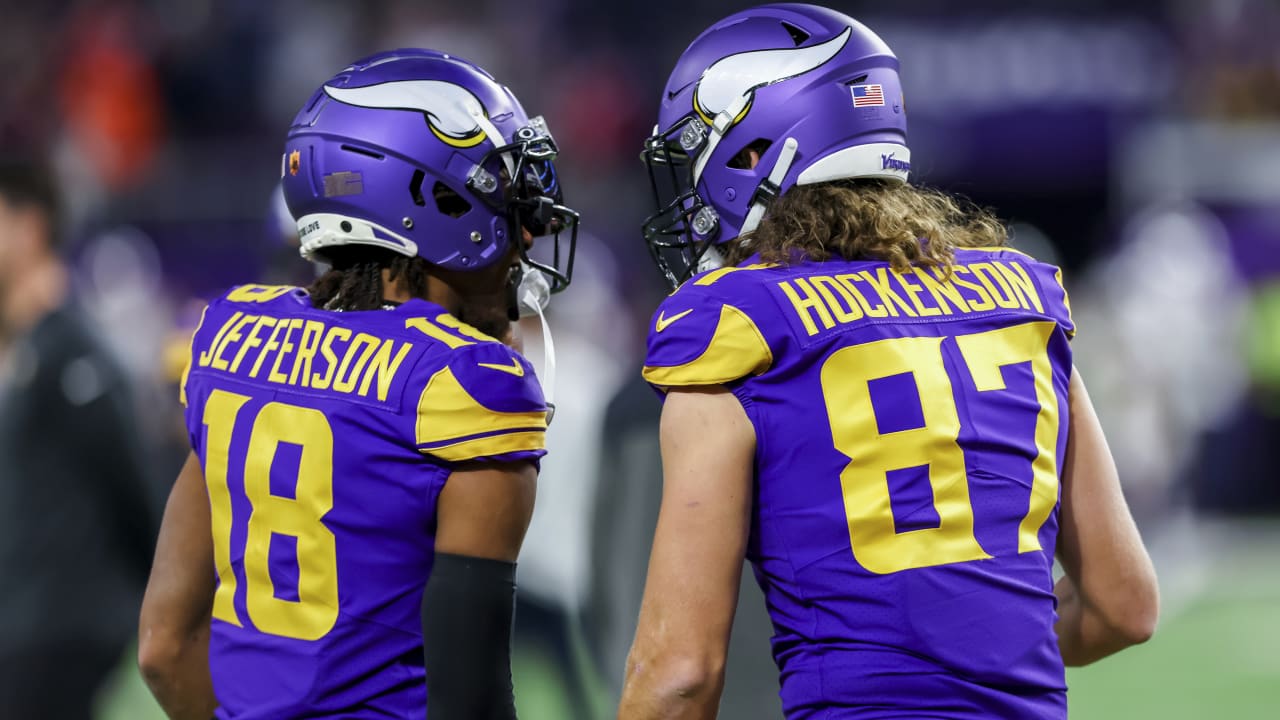 6. Seattle Seahawks
Geno Smith's resurgence was the story of the Seahawks in 2022, but he didn't do it all by himself. DK Metcalf and Tyler Lockett have been one of the top receiver duos in the NFL for some time now, and that should be no different in 2023. Metcalf is still refining his game and showing more nuance in the position to add his incredible physical traits. Lockett is still one of the savvier slot guys in the league, getting open at the sticks while still having the ability to take the top off the defense. Rookie wideout Jaxon Smith-Njigba provides a different play style from Metcalf and Lockett and can punish defenses who try to take Metcalf away with zone coverage. The addition of Smith-Njigba gives the Seahawks a three-headed monster that should allow the Seahawk's offense to be exceptionally good again in 2023.
7. Jacksonville Jaguars
Trevor Lawrence and the Jags are ready to take the next step in 2023, and they have stocked up the pass-catching group to help their young quarterback reach new heights. The last time we saw Calvin Ridley in 2021, he was firmly a number one receiver with his elite route running and ability to get open against any coverage. Ridley's addition drops Christian Kirk to the number two spot, a role he should thrive in after punching above his weight as a WR1 in 2022. Zay Jones and the explosive Jamal Agnew are back after carving out steady roles for themselves last season. Add in tight end Evan Engram, who blossomed in his first season in Duval last year, and you have one of the best groups in the league in Jacksonville.
8. Pittsburgh Steelers
The Steelers have quietly built an arsenal of weapons for Kenny Pickett heading into year two. George Pickens was a hit as a rookie in 2022, and already has a whole highlight reel of big plays and contested catches to his name. Diontae Johnson oddly never found the end zone last season but still caught 86 passes and was a consistent target for Pickett. Tight end Pat Freiermuth established himself as a high-end starter in the Steel City and should only get better in year three. Add in the talented Allen Robinson, looking for a bounce-back year after a down season in Los Angeles, and the Steelers have plenty to work with offensively.
9. Las Vegas Raiders
Davante Adams may be unhappy with things in Vegas, namely the departure of his good friend Derek Carr and Josh Jacobs's contract dispute, but he's still one of the truly elite wideouts in the game when he's on the field. Adams didn't miss a beat in his first season without Aaron Rodgers last season, catching 100 balls for 1,516 yards and 14 touchdowns. If slot man Hunter Renfrow can have a healthier year in 2023, it will give Vegas another target who can consistently move the sticks and take pressure off Adams on the outside. Vegas also added former Patriot Jakobi Meyers, another sure-handed receiver for Jimmy Garoppolo to find. The Raiders lost Darren Waller at tight end this offseason but replaced him with Austin Hooper and promising rookie Michael Mayer. Vegas knows they need weapons to compete in the AFC West and have them on paper.
Photo Cred: NFL Analysis Network
10. Kansas City Chiefs
Kansas City still hasn't found a star on the outside to replace Tyreek Hill, but it didn't matter last year, and it may not matter this year. Travis Kelce is back and will be the focal point of the Chief's passing game, and the future first-ballot Hall of Famer enters 2023 with seven consecutive 1,000-yard seasons. Kelce set career highs last season with 110 catches and 12 touchdowns. On the outside, the Chiefs have speed in Marquez Valdes-Scantling, Skyy Moore, and Kadarius Toney, but all three have their flaws. If Toney can stay healthy, he is a big play waiting to happen who can really unlock the best version of the Kansas City passing game.
11. Washington Commanders
The Commanders still have plenty of questions at quarterback, but whoever wins the job has a good trio of wideouts to work with. Terry McLaurin is a solid number-one receiver, able to win at all three levels of the field. Jahan Dotson and Curtis Samuel made splashes in 2022, and Samuel can be used in many different ways as a runner and receiver. Add the huge body of tight-end Logan Thomas in the red zone, and you have a solid pass-catching group in the nation's capital.
12. New York Jets
The Jets have built a deep cast of solid weapons for Aaron Rodgers to work within his first year in the big apple, bringing over Allen Lazard and Randall Cobb from Green Bay. Corey Davis is back, and Mecole Hardman comes over from Kansas City to give this group a ton of speed. The engine is second-year man Garrett Wilson, who looked like a superstar last season as a rookie. Wilson caught 83 balls for 1,103 yards as a rookie despite disastrous quarterback play all year. With Rodgers behind center, Wilson should be in for a massive season.
13. Baltimore Ravens
The Ravens have been looking for more out of the wide receiver position for many years, and this is the year they might get it. Mark Andrews has carried the passing game on his back, proving to be an elite tight end who can work the middle of the field at all levels. Baltimore has added more talent on the outside. First-round pick Zay Flowers projects as a playmaker out of the slot, and Rashod Bateman has been good when healthy in his young career. The addition of Odell Beckham Jr. raises the ceiling for this Ravens offense. We saw what he did for the Rams back in 2021-22, and he can provide a similar boost for Baltimore this season if he can stay on the field.
14. Los Angeles Chargers
The Chargers have an elite quarterback and a new offensive coordinator in Kellen Moore, who has led top-ranked offenses before. The biggest question in Los Angeles is: can weapons stay healthy? If they could, they would easily be a top 10 unit. Keenan Allen dealt with hamstring issues for most of 2022, and Mike Williams seems is always be hurt. When healthy, Allen is one of the best slot receivers in the NFL, and Williams turns 50-50 balls into more like 80-20 balls down the field. Add in the speed of rookie receiver Quinten Johnston, and you could have a great receiver trio.
Photo Cred: Bleacher Report
15. Dallas Cowboys
The Cowboys have been much less explosive on offense since losing Amari Cooper before last season but could be in for a bounce-back year in that department. CeeDee Lamb has established himself as a young star at receiver and can dominate both in the slot and on the outside. Michael Gallup provides a downfield threat when healthy, and new addition Brandin Cooks has been a 1,000-yard receiver six times before. If Cooks can bounce back from a down year in Houston and tight end Jake Ferguson can successfully step into a larger role in the offense, this Cowboys group can be lethal.
16. Tampa Bay Buccaneers
Tampa Bay's roster has fallen off a cliff since their win in Super Bowl LV, but the elite receiver duo of Mike Evans and Chris Godwin remains in pewter and red. The two complement each other perfectly, with Godwin's route running and separation being a perfect contrast from Evan's physicality and elite contested catch ability. With so much uncertainty at quarterback, the Bucs' two stars will have to carry the load offensively.
17. Buffalo Bills
The Bills are running it back in the receiver room in 2023, where they have lacked depth in previous seasons. This year, it will be Trent Sherfield and Khalil Shakir doing the slot duties for Josh Allen and company. The top two are still particularly good. Stefon Diggs is one of the best route runners in the game and will be the top target for Buffalo again this year, and Gabe Davis is back to provide big play ability, once again on the other side. Dawson Knox can make his presence felt in the red zone, Buffalo is sure to have a great passing attack.
18. New Orleans Saints
The question for this Saints pass-catching group remains the same. Can Michael Thomas stay on the field? The last time he did, he set records with 149 catches and 1725 yards. That was all the way back in 2019, and Thomas has only played ten games in the three seasons since his record-breaking campaign. If Thomas is healthy, the combination of him and second year wideout Chris Olave could be lethal. If not, the Saints will rely on Rashid Shaheed, Bryan Edwards, and Tre'Quan Smith to fill that production.
19. Chicago Bears
Coming into this past offseason, the Bears knew they needed to get Justin Fields some help. The quest started last season when they traded a second-round pick for Chase Claypool and reached a head this offseason when general manager Ryan Pace traded the No. 1 overall pick to Carolina for a package that included star receiver, DJ Moore. Pairing those two with speedster Darnell Mooney and reliable tight end Cole Kmet gives Fields a diverse array of weapons. If Moore can establish himself as a bonafide number-one receiver, watch out for this Bears group.
20. Los Angeles Rams
How high should Cooper Kupp alone get you on a pass catcher ranking? Kupp is about all the Rams have as a consistent weapon. The Super Bowl LVI MVP is just that good; he's firmly entrenched himself as one of the elite receivers in the game with elite route running, great hands, and explosive ability after the catch. After Kupp, however, the Rams are down to Van Jefferson, Ben Skowronek, and veteran tight end Tyler Higbee. Kupp has dealt with double teams before; but he will see them week in and week out in 2023.
21. Atlanta Falcons
The Falcons are thin in the receiver room, but there is no denying the talent in their top two weapons. Drake London is entering his second year on the outside after a stellar rookie season despite inconsistent quarterback play. Tight end Kyle Pitts, on the other hand, has seen that quarterback play cut into his production significantly. If Desmond Ridder can settle into a consistent flow as the new starting quarterback, these two young targets could be in for monster seasons.
22. Denver Broncos
The Broncos dropped a few spots on this list after Tim Patrick suffered a torn achilles in training camp that ended his season before it started. Without the reliable veteran in the lineup, the Broncos don't have the depth out wide to compete with the receiving cores of the AFC's elite. This year could be a big year for Jerry Jeudy, who is coming off the best season of his career. If Jeudy can turn his elite route running and short-area quickness into a breakout season and Cortland Sutton can consistently be the big-bodied X receiver that Russell Wilson so often leaned on in Seattle, then this ranking could look foolish in a few months.
23. Cleveland Browns
The Browns come into 2023 with a solid pass-catching group centered around the do-it-all ability of Amari Cooper. Cooper can make plays down the field, catch balls at the sticks to move the chains or create plays after the catch. He runs the prettiest routes in football and could be in for a huge season if he clicks with Deshaun Watson. Donovan Peoples-Jones is a great ball winner who will start opposite Cooper, and a change of scenery can unlock Elijah Moore in the slot. The Browns come in low, but there's a lot of potential here.
Photo Cred: Oddschecker
24. Detroit Lions
The Lions' offense was excellent last season, thanks in no small part to them maximizing their receiving talent. Even after trading T.J. Hockenson, the Detroit offense didn't miss a beat. Amon-Ra St. Brown emerged as a nightmare to cover in the slot, totaling 106 catches for 1161 yards in 2022. St. Brown is elite at separating from man coverage and is a first-down machine for Detroit, posting 68 receiving first downs last year. They're a little thin after St. Brown, but Marvin Jones Jr. is a steady veteran, and rookie tight end Sam LaPorta has a chance to be a consistent producer. Is the wild card in Detroit? Second year wideout Jameson Williams, who is suspended for the first six games of the year but could add an element of speed and explosiveness to this group that could catapult them up this list.
25. Green Bay Packers
New quarterback Jordan Love will rely heavily on second year wideout Christian Watson in 2023, and that may not be such a dreadful thing. Once Watson settled in and established himself as a full-time starter during the back half of last season, he broke out as one of Aaron Rodgers' favorite targets. Watson has breakaway speed and can create big plays deep down the field and by taking a short pass for big yards after the catch. Including Watson, the Packers have the youngest pass-catching group in the league, with second-year man Romeo Doubs starting alongside him. If rookie tight ends Luke Musgrave and Tucker Kraft can step up in year one, then Love could end up with a solid arsenal of young weapons to throw to.
26. Tennessee Titans
The Titans attempted to salvage their receiving core by adding DeAndre Hopkins to free agency, but who is going to complement him? Can 2022 first-round pick Treylon Burks come into his own and form a formidable duo, or will Tennessee be turning to the likes of Nick Westbrook-Ikhine again? It could also be tight end Chig Okonkwo, who blossomed into one of the best run-after-catch tight ends in football last season. Regardless, it looks like Hopkins will be doing most of the heavy lifting for the Titan's passing game.
27. New York Giants
The Giants tried to address their lack of weaponry this offseason by adding Darren Waller from Las Vegas, and the former Raider tight end will certainly step in as Daniel Jones' number-one target in 2023. Waller is a matchup nightmare and can play both in-line and split out wide. The problem in New York remains the same, however. They still lack talent at receiver. Isaiah Hodgins was a pleasant surprise for Giants fans last season and is back, while Darius Slayton and Sterling Shepard can eat snaps if needed. Can Parris Campbell or Wan'Dale Robinson add some explosiveness to the passing game? The Giants might need it if they want to repeat last season's success.
Photo Cred: ESPN
28. Arizona Cardinals
The Cardinals lost DeAndre Hopkins and are now lacking a physical threat on the outside, but they do still have a lot of speed. Marquise Brown and Rondale Moore can both take the top off a defense, but both dealt with injuries last year and Brown still fights drop problems from time to time. Zach Ertz is recovering from a torn ACL but could provide a much-needed possession receiver in the middle of the field for Arizona.
29. Indianapolis Colts
Michael Pittman Jr. is the only thing saving this Colts group from finding themselves even closer to the bottom of this list. The former USC star has established himself as a steady force for the Colts, eclipsing 2,000 yards over the last two years. The problem is, the Colts have zero reliable pass catchers after Pittman on the roster. Second-year man Alec Pierce was solid in his rookie season but doesn't separate from tight coverage well enough to be a true threat as a starting wideout at this stage.
30. Houston Texans
Houston has some intriguing young talent out wide in Nico Collins and John Metchie III, but there just isn't the top-end talent to have them any higher on this list. Collins is a big-body receiver who has struggled to stay healthy but can overpower corners when on the field. Metchie III is coming into his pseudo-rookie year after winning his battle with leukemia last season and should give rookie quarterback C.J. Stroud a security blanket out of the slot. Houston added a veteran presence in Robert Woods to round out the receiving core, and they paid Dalton Schultz big money to pry him away from Dallas, but it's an unspectacular group overall.
31. Carolina Panthers
The Panthers are betting on a lot of young, unproven players to catch passes in 2023. DJ Chark and Adam Thielen are solid veterans on the perimeter, but Thielen is past his prime and Chark has rarely been healthy in recent years. Beyond that, the Panthers are down to the likes of rookie Jonathan Mingo, Terrace Marshall, and Laviska Shenault. Shenault has been mostly a gadget player during his career, and Marshall has caught just 45 balls in two seasons. Hayden Hurst was a good add at tight end, but the cupboard is bare for Bryce Young in his rookie season.
Photo Cred: YouTube
32. New England Patriots
Simply put, there is just zero explosiveness or top-end talent in this New England pass-catching group. Juju Smith-Schuster is the only receiver on the roster that has ever consistently played at a WR2 level, and he lacks the big-play ability that you want out of a top target. DeVante Parker has struggled to stay healthy since his breakout 2019 season in Miami, but New England will need him to make plays down the field. The tight-end duo of Hunter Henry and Mike Gesicki is solid on paper, but Henry always has durability concerns and Gesicki never quite reached the level of production in Miami that his talent suggests he could. There's a world where this ranking ends up being low, but I don't see the ceiling being much higher in New England.