The University of Louisville has had an inconsistent season thus far. There are rumblings that football coach Scott Satterfield could be on his way out if the team doesn't catch any momentum. The saving grace is that UofL's star QB is returning from injury. Satterfield said his team benefitted from having an open date on the schedule last week. The Cardinals had a lot of guys that needed to heal up from some injuries beyond quarterback Malik Cunningham.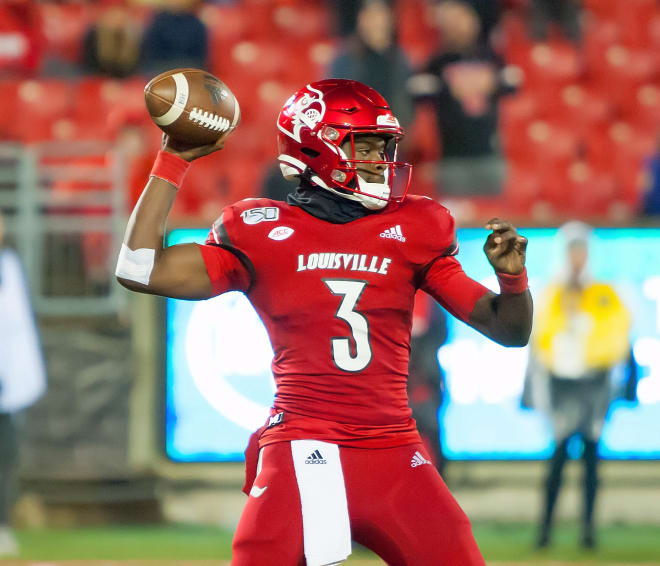 Photo Cred: Rivals.com
Satterfield said Cunningham, who missed the game against Virginia two weeks ago with concussion-like symptoms, was back at practice and is "ready to go" as the Cardinals prepare for Pittsburgh. Unfortunately, Cunningham would have to break his school-record streak of 40 quarterback starts. U of L will host the Panthers on Saturday at 8 in Cardinal Stadium. The forecast projects a perfect autumn day for a football game. Cunningham's injury happened in the Boston College game on Oct. 1.
Photo Cred: http://www.aseaofblue.com
"I think he's 100 percent," Satterfield said. "I don't have any concerns." Louisville is 3-4 in one score games at Cardinal Stadium under Satterfield and have lost the last three by a total of 11 points.
Cunningham first came out of the game after a targeting call on Boston College linebacker Jalyn Blackwell. He didn't immediately come out. The Cardinals scored, and Cunningham led the Cardinals on another touchdown drive, hitting Ahmari Huggins-Bruce on a 12-yard TD pass. Cunningham played one more series, which resulted in a punt. After further evaluation, they sat him against Virginia.
Cunningham ran 15 times for 62 yards and three TDs and completed 19 of 28 passes for 186 yards and one TD in the Boston College game. Brock Domann replaced Cunningham in the 34-17 win over Virginia. He completed 17 of 30 passes for 275 yards and one touchdown and ran nine times for 71 yards and one TD.
Photo Cred: Draft Network
In the first five games, the QB completed 84 of 135 passes for 968 yards, three touchdowns with three interceptions. He leads Louisville in rushing this season with 71 carries for 457 yards and nine TDs. The problem for UofL has been Cunningham or bust.
Despite missing the most recent contest, Cunningham still ranks near the top of the ACC in most rushing statistical categories. The signal-caller is currently second in yards per game (91.4) and fifth in yards (457).
Photo Cred: Draft Dive
"Offensively, it starts with Malik Cunningham," Narduzzi said Monday. "We've got to stop the run, you know, whether he is handing it off or he's running it himself. He is the key to the offense, for sure."
For his career, Cunningham ranks second in school history with 47 rushing TDs, only Lamar Jackson, and his 50 during his career. Cunningham has passed for 9,064 yards and 65 TDs during his career while rushing for 3,076 yards and 47 TDs. Cunningham has started 43 games during his career, the most by any quarterback in U of L history. UofL is searching for its fourth win of the year and second straight ACC win.