A hard-fought game by Joel Embiid and the Philadelphia 76ers was not enough to stop the newly-minted dynamic duo of Damian Lillard and Giannis Antetokounmpo from taking a 118-117 win on Thursday, October 26th. The two stars combined for 62 points, with Lillard pouring in 39 and Giannis adding 22. Lillard's scoring outburst would also net him the record for most points scored for a player making their Bucks debut, passing Terry Cummings' 34-point performance in 1984.
Photo Cred: Sporting News
Lillard wouldn't be the only Bucks player setting records that night, as Antetokounmpo also surpassed Kareem Abdul-Jabbar to become the franchise's leader in baskets made. On the 76ers' side, Tyrese Maxey led the way scoring-wise with 31 points, and Kelly Oubre and Joel Embiid had 27 and 24 respectively. Although down by nearly 20 in the first half, the Sixers clawed back throughout the second and pulled ahead in the fourth quarter after a 14-0 run. Without perennial MVP candidate James Harden, however, the combined power of Lillard and Giannis in crunch time proved too much to overcome.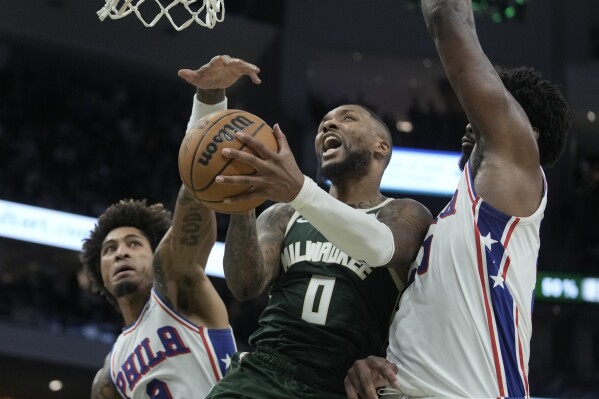 Photo Cred: AP News
Dame Time was on full display in the waning minutes of the game. Lillard single-handedly engineered an 11-point run, in which he scored every one of the Bucks' points, before finally sinking two free throws with 11 seconds remaining to put the game out of reach. Lillard was perfect all night from the line, going 17-for-17.
Summing up the new star presence in Milwaukee, Bucks coach Adrian Griffin said, "You just got a sense during the game he wasn't going to let us lose". Also speaking on Lillard's performance, Giannis Antetokounmpo said, "He had the hot hand. You've just got to keep on feeding him".