We are almost a quarter of the way into the 2023 NFL season, and the performance of the three rookie starting quarterbacks across the league has been positive. In the first round, only three signal callers were selected, and all three have solidified their positions as the starting quarterbacks for their respective franchises. Naturally, they have encountered their fair share of difficulties, as is typical for first-year quarterbacks. However, overall, all three rookies have shown promise. Let's look at their performances over the last month, starting with the No. 1 overall pick.
Bryce Young, Carolina Panthers:
Bryce Young, the Carolina Panthers' quarterback, appears to be performing slightly below the level of the other two rookies. However, it's important to note that the current offensive environment in Carolina has not been conducive to his success. Expectations were high for Young to play behind a strong offensive line, guided by a coach with a history of success in NFL offenses.
In his first three starts, the offensive line, which I had ranked No. 10 in my preseason offensive line rankings, has struggled immensely. He missed Carolina's Week 3 game due to an ankle injury. Young often faces significant pressure when dropping back to pass, making his job exceedingly challenging. Furthermore, he occasionally holds onto the ball for too long, resulting in a passing game that frequently stalls and incurs unnecessary negative plays.
Photo Cred: CBS Sports
The receiving corps hasn't provided much assistance either. While Adam Thielen has been a reliable veteran presence for the Panthers, the group lacks speed and big-play ability. Consequently, Young frequently encounters tight man coverage and is forced to make difficult throws to receivers who struggle to create separation. Nevertheless, the QB continues to display the attributes that made him a promising prospect in college. His pocket presence and mobility remain impressive, even with limited protection.
He makes good decisions and displays accuracy, as evidenced by his streak of 18 consecutive completions last weekend against Minnesota. As Young matures, his focus should be on reducing sacks and negative plays while maintaining his timing and accuracy. This will make him a potent passer in short and intermediate situations. Despite the challenging circumstances around him, the quarterback's long-term potential remains promising.
C.J. Stroud, Houston Texans:
C.J. Stroud has been the standout performer among the three rookie quarterbacks thus far. He has emerged as one of the NFL's better quarterbacks overall. This achievement is particularly noteworthy given his situation: he plays behind an improvised offensive line and throws to a talented but unproven receiving corps. As a result, the Houston Texans, currently sporting a 2-2 record, have been one of the league's surprise teams. This is primarily due to Stroud's exceptional performance.
The rookie's composure and command of the game have been nothing short of impressive, almost resembling that of a veteran quarterback. Stroud has the freedom to alter plays and protections at the line of scrimmage, and he consistently does so to put the Houston offense in advantageous positions. All the attributes that made him one of college football's top quarterbacks have seamlessly transitioned to the NFL.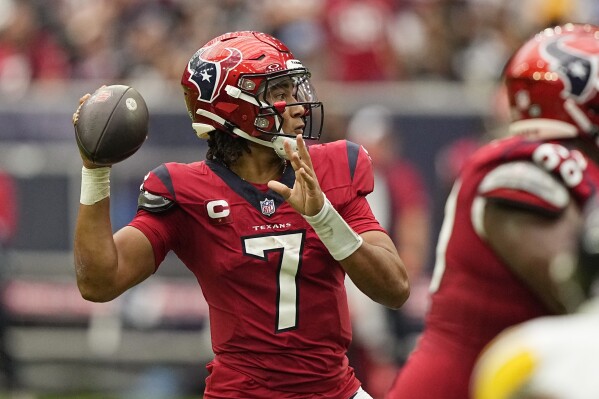 Photo Cred: AP News
His accuracy and anticipation have stood out the most, delivering passes at all levels. While he may not possess Josh Allen's arm strength, Stroud still has the capability to make throws to all areas of the field. The QB has also been judicious with his decision-making, maintaining a clean slate with no interceptions in his early career. However, it's important to note that the Houston offense hasn't relied solely on short passes. Stroud has been consistently pushing the ball downfield, with 17 completions of 20+ yards, ranking among the league's top performers in this category. What's truly remarkable about his early success is the development of aspects of his game that weren't as visible during his time at Ohio State.
In the NFL, he has been forced to improvise and create plays more frequently than in college, and he has excelled in this regard. The rookie consistently delivers accurate throws on the move. Concerns about his ability to perform under pressure, which was present during his college career, have been dispelled in the NFL. Overall, Stroud has comfortably established himself as one of the top 15 NFL quarterbacks thus far. While he may face challenges ahead, the Texans have every reason to be excited about his performance thus far.
Anthony Richardson, Indianapolis Colts:
Among the three first-round quarterbacks, Anthony Richardson was the most unpredictable prospect, having played the least in college and possessing a raw skill set. He lacked the polish of Stroud or Young. He was rough around the edges, but that hasn't surfaced this season. However, despite his limitations, Richardson's performance has been impressive.
Richardson has seen limited action, playing only about two and a half games due to a concussion. Nevertheless, a brief observation of the Colts' offense reveals his tremendous potential. His physical attributes are undeniable; he may be the most athletically gifted quarterback ever to enter the draft. The quarterback's athleticism has been evident in his running game contributions, his ability to escape the pocket, and his knack for extending plays. Furthermore, he possesses one of the strongest arms in the league, allowing him to make throws from any platform on the field.
Photo Cred: ESPN
However, Richardson's accuracy remains inconsistent, reminiscent of his college days, and he occasionally makes throws that should be more precise. Additionally, he attempts high-risk passes due to his confidence in his arm strength. It's worth emphasizing that the rookie has played fewer than three games, and his college experience as a starter was also relatively brief. He is still in the process of refining his skills and has ample time for development.
One of Richardson's most impressive qualities is his ability to avoid common pitfalls that often plague quarterbacks with his level of talent and skill set. While many quarterbacks with strong arms tend to hold the ball too long in search of big plays, Richardson does not share this problem. He processes information quickly, progresses through his reads efficiently, and keeps the offense on schedule. Furthermore, his exceptional pocket movement, especially for someone with limited high-level experience in the position, makes him a formidable scrambler.
He displays comfort moving within and through pockets rather than consistently relying on external mobility. Richardson's game may still require refinement, and his box score statistics may not fully reflect his potential. His performances on film in the first month of the season suggest that the Colts may have discovered another franchise quarterback.
The three rookie starting quarterbacks in the NFL's 2023 season have shown promise and potential, each facing unique challenges and opportunities. While Bryce Young navigates a challenging situation in Carolina, C.J. Stroud has impressed with his poise and decision-making in Houston, and Anthony Richardson's remarkable athleticism and potential shine through in Indianapolis. It will be intriguing to track their development as the season progresses.