The Bengals, Vikings, and Chargers entered the 2023-24 NFL season with lofty expectations. Each recently made playoff appearances and hoped to make significant strides in the current season. Cincinnati narrowly missed another Super Bowl appearance last season, while Minnesota and Los Angeles were eager to rebound from disappointing first-round playoff exits.
However, as of now, all three teams sit at 0-2, facing a challenging road ahead in week three. In fact, one of them could potentially fall to 0-3 if the Chargers and Vikings face off in a high-stakes match (or they might both move to 0-2-1 if they end up in a 45-45 tie, which would be fitting for these two teams). Let's delve deeper into these presumed contenders and assess their panic levels on a scale of 1 to 10 based on their performance in the first few weeks.
Cincinnati Bengals
Panic Level: 5
Initially, the panic level for the Bengals was lower. However, concerns are growing due to the uncertainty surrounding Joe Burrow's lingering calf injury. Burrow did not look like his usual self in the first two weeks, lacking his trademark escapability and out-of-structure playmaking ability that made him one of the league's best quarterbacks. To make matters worse, Burrow re-aggravated his calf injury towards the end of last Sunday's loss to Baltimore, and his availability for the Bengals' week three clash with the Rams on Monday night remains uncertain.
Photo Cred: CBS Sports
Cincinnati has also lost its ability to make big plays in the passing game. It was a strength of their offense in recent seasons. The Bengals have only recorded two explosive gains (20+ yards) through the air in the first two weeks, tying them for the second lowest in the league. This is not what Bengals fans have come to expect, especially with Ja'Marr Chase and Tee Higgins as wide receivers. Furthermore, the Bengals are among the bottom five in rushing yards, and their ground game has failed to alleviate the pressure on an ailing Burrow. Cincinnati found offensive success last season when they adopted a shotgun-heavy offense and improved their running game, but that success on the ground has disappeared.
Defensively, the Bengals have been average, giving up significant yardage on the ground, albeit against two of the league's better rushing teams in Baltimore and Cleveland. If Burrow can return to health, there's confidence that this Bengals team can find their rhythm. Burrow and company can generate explosive plays and defensive coordinator Lou Anarumo can potentially assemble an above-average defense. However, if Burrow's injury persists, Cincinnati could face challenges in a competitive AFC North.
Los Angeles Chargers
Panic Level: 6
The situation with the Chargers is perplexing, as they were among the most anticipated teams entering the 2023-24 season. The 2023-24 Los Angeles Chargers are the first team in NFL history to start 0-2 despite scoring over 50 points and committing zero turnovers in their first two games. In his last four games, Justin Herbert has posted impressive numbers, throwing for 1,200 yards, seven touchdowns, and zero interceptions. Surprisingly, the Chargers have lost all four of those games.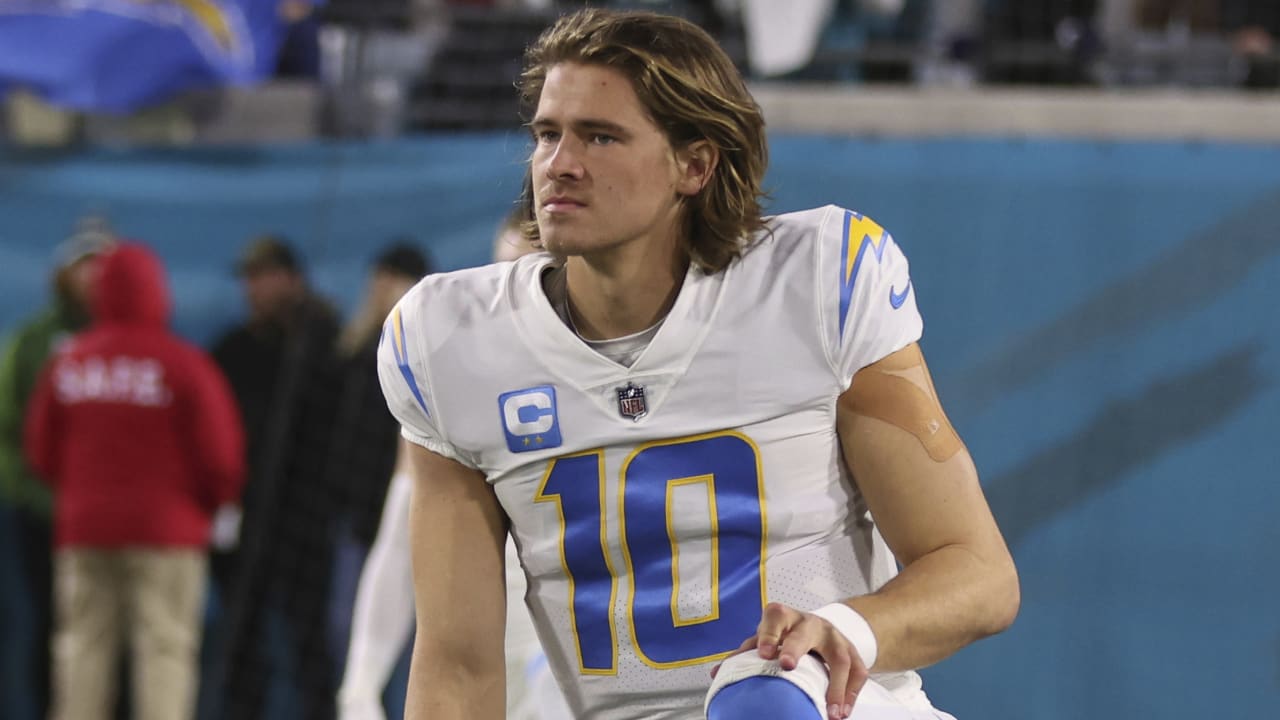 Photo Cred: NFL
While Herbert isn't blameless, the Chargers' struggles extend beyond him. Their third-down performance was abysmal in their overtime loss to Tennessee, converting just two out of 14 attempts, with Herbert sharing some responsibility for missed opportunities. Despite the defense's talent and investment, it ranks last in total defense and passing defense, making it the weakest unit in the NFL. This is particularly concerning given the high-profile additions to the defense. They include Joey Bosa, Derwin James, JC Jackson, Khalil Mack, and Kenneth Murray Jr. Head coach Brandon Staley, touted as a defensive wizard, has not turned things around.
Despite these defensive woes, Herbert remains an elite quarterback, and the offense, under new coordinator Kellen Moore, is performing well for the most part. If the defense can reach an average level of performance, the Chargers should remain competitive in the highly competitive AFC. However, if not, the pressure on Coach Staley will intensify.
Minnesota Vikings
Panic Level: 7
Among these three teams, the Vikings are currently causing the most concern. Part of this is due to their evident flaws this season, but part of it is also a regression to the mean after an exceptional 2022-23 regular season in which they went 11-0 in one-score games. This year, they find themselves at 0-2 in such games. An issue for the Vikings has been their performance in the trenches on both sides of the ball. Their defensive line struggled notably in a recent game against Philadelphia, exacerbated by defensive coordinator Brian Flores' decision to use a 3-3-5 personnel group for much of the match. The Eagles' strong running game dominated the Minnesota defense, amassing 259 rushing yards on 48 attempts.
Photo Cred FOX News
Offensively, the Vikings have struggled to establish a running game and rank last in the NFL in rushing yards through the first two weeks. In their game against Philadelphia, they managed just 28 rushing yards, with running back Alexander Mattison fumbling twice. A strong running attack is crucial for the type of offense that Coach Kevin O'Connell wants to implement, like the systems of Shanahan and McVay. There is optimism, however, as Kirk Cousins continues to perform well under the radar, and Justin Jefferson leads the NFL in receiving yards with 309 yards through two games.
The run game should improve as the offensive line gets healthier, and they face less formidable defensive fronts than those of Tampa Bay and Philadelphia. Furthermore, the Vikings are only one game behind in a weak NFC North, where the Lions and Packers have their flaws, and the Bears are struggling. While the Vikings' chances as NFC contenders may be in doubt, they could still compete for a division title and a playoff spot.