The conclusion of the 2022 season appeared promising for the Detroit Lions. Although they didn't secure a playoff spot, they managed to prevent their rivals (Green Bay Packers) from making it either! Despite a shaky start with a 1-6 record by Week 8, the team maintained their belief and perseverance. Only two of their losses were in the double digits, so they knew that they were just close to the finish line. A 9-8 finish marked Detroit's first time above .500 since 2017! They could look to build off their season with their returning injured players (Jameson Williams, Amani Oruwariye, Jeff Okudah).
Photo Cred: Pride of Detroit
However, the positive momentum took an unexpected turn in recent months. This will be a different kind of season review, as I'll be looking at some of the more concerning developments that have unfolded in Detroit. Let's delve into what has transpired in the Motor City.
CB Jeff Okudah Traded to the Atlanta Falcons
Okudah was the Lions' third-overall pick in 2020 and carried high expectations. Most sites had him ranked as the best cornerback prospect in that draft class, and he was selected by Detroit accordingly. His college stats may not immediately dazzle, though. Over his three years at Ohio State, he had 83 total tackles, three interceptions (all in 2019), and 18 passes defended. He displayed consistent improvement, which culminated in a standout 2019 season with the second-most Big Ten interceptions that year.
Photo Cred: ESPN
Okudah's ascent was attributed to his exceptional pass coverage skills. Walter Football noted his size, speed, and physicality as assets in handling elite receivers. He seemed to have a good combine performance as well, with the highlights being a 4.48 40-yard dash and a 41-inch vertical leap. NFL Next Gen Stats ranked him second in total CB score, third in athleticism, and first in production. A 7.15 prospect grade makes him Pro Bowl-level talent.
How'd He Fare in the NFL?
Unfortunately, injuries have been a common theme in his NFL career. He had to wait until 2022 for a relatively injury-free season. Prior to that, he played only 10 games over two years, with just one appearance in 2021. His rookie year saw him sidelined with a core muscle injury, followed by a ruptured Achilles tendon the following year… Currently, he grapples with an ankle injury in Atlanta.
Photo Cred: MLive.com
With that being said, he really showed out when he got the chance to play 15 games in 2022. He notched an interception that he returned for a touchdown against Justin Fields' Chicago Bears. Additionally, he recorded 73 total tackles, seven passes defended, a forced fumble, and two tackles-for-loss. Evidently, this was not enough progress for a third-overall pick in what was his first real season in coach Dan Campbell's system. This resulted in a trade to the Atlanta Falcons for, essentially, pennies on the dollar: a 2023 fifth-round pick…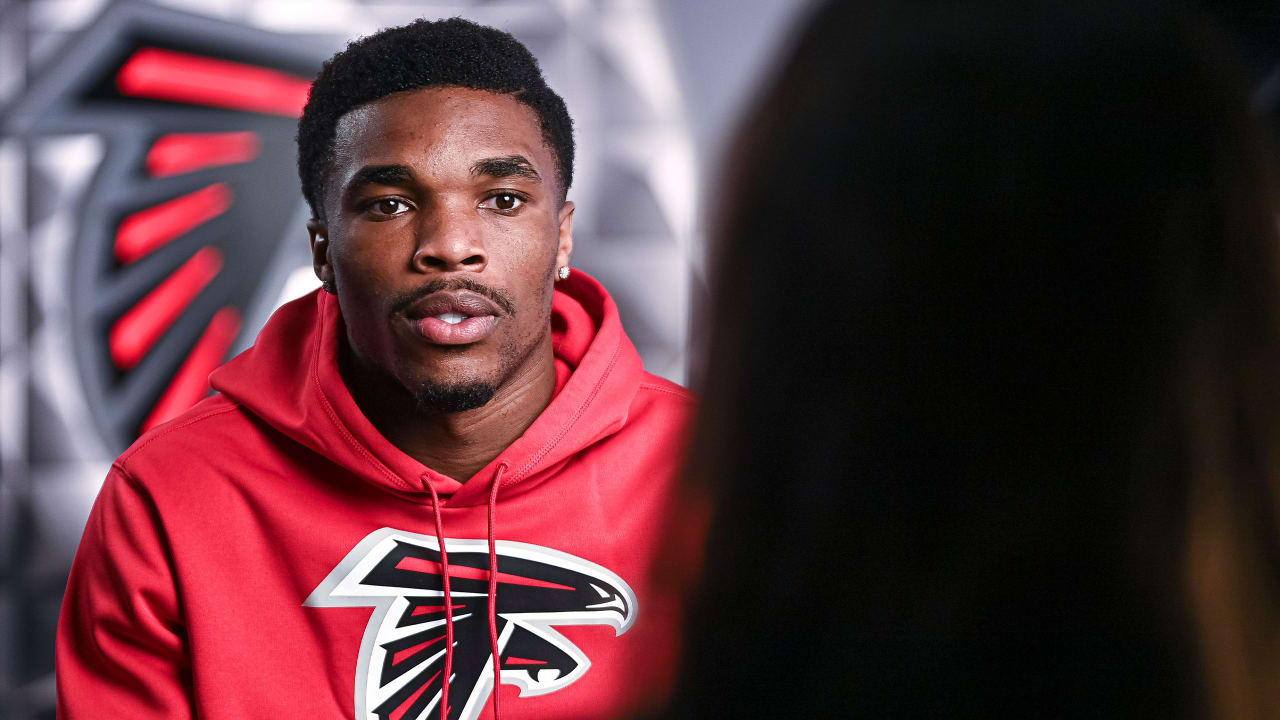 Photo Cred: Atlanta Falcons
The Fallout of the Trade
At least it seems that Detroit has picked a DB who may better suit their system. They packaged that pick (159th overall) and their own second-round pick (48th overall) in a trade-up with the Green Bay Packers. Moving up three slots to 45th overall, the Lions drafted DB/S Brian Branch from Alabama. Currently, Branch is listed as the CB2 on the left side behind Cameron Sutton. However, he has recently secured the starting nickel cornerback spot, as per Tim Twentyman. He's been a quick riser in the depth chart and has impressed the staff already a lot!
Photo Cred: Sports Illustrated
Additional Stats and Accomplishments
In his remaining 10 NFL games (seven starts), Okudah had one interception and three passes defended. He tallied 51 total tackles and four tackles-for-loss. Only one game (a start) was made in 2021. He exhibited promising performances in the two preseasons he participated in (72.8 in 2021, 81.6 in 2022). His regular season Pro Football Focus (PFF) grades, however, left much to be desired: 42.5 in 2020, 53.0 in 2021, 59.4 in 2022. The good thing is he at least improved every year. Pro Football Reference (PFR) gave him an approximate value (AV) of 2 in his rookie year, 0 for the one game he played in 2021, and a 5 in 2022. In 2019, he was named Unanimous All-American and earned a spot on the First-Team All-Big 10 as well.
Photo Cred: Twitter
DT Levi Onwuzurike's Injury Concerns
While in college in Washington, Onwuzurike dealt with back problems. Nevertheless, he didn't miss many games, if any. He has personally stated that he's been managing the injury and will continue to do so for the rest of his playing days. Unfortunately, it has persisted at the start of his NFL career as well… In his 2021 rookie season, he played 16 games but did not start any. However, he has yet to play a game since. Even then, he played through the pain that year, which restricted his productivity.
Photo Cred: The Husky Haul
Regarding the injury, Onwuzurike mentioned that he had experienced back and hip discomfort/nagging before the NFL. Despite the discomfort, he never missed a practice, believing that the pain was manageable. During his rookie NFL season, he did miss all of his rookie training camp. Then-defensive line coach Todd Wash had this much to say: "I know he played, he didn't miss games really for the most part, but he was not healthy. He was battling through it." "I think our strength staff did a really nice job this offseason. He's not limping. He can actually sit in a chair for meetings. So, health is the biggest thing for him." It underscores the severity of his injury if Onwuzurike couldn't even sit in a chair comfortably…
A Progression of Injuries and Worries
He opted out of the 2020 season due to COVID-19 but he planned to prepare for the 2021 NFL Draft. His last college game would've been the 2021 Senior Bowl. However, an undisclosed injury prevented him from playing in the game. He missed the last practice before the game as well. Nevertheless, he was a second-round pick for the Lions in 2021. During his rookie year training camp, he experienced issues with the discs in his back. At the beginning of his second season, during training camp, those issues flared up again. It was just the first padded practice of the camp… He was placed on injured reserve (IR) after the 53-man roster decisions were made, providing him with at least four more weeks to recover.
Photo Cred: ESPN
Unfortunately, that was not the case. In Week 6 (the Lions' bye week), his season came to an end due to his decision to undergo back surgery. The Lions may have been aware of the risks when they picked him 41st overall in 2021, but there was a legitimate concern about his career. Will he ever recover and return to play? The surgery is a measure to help prolong his career. He even detailed as much recently in an article series about Lions players called "Beyond".
Photo Cred: Detroit Lions
I praise him for having the courage to detail his whole journey and thought process throughout this challenging time. For a young man aged 25, accepting that his football career may potentially be over is never easy. However, he was made peace with that knowledge and moved forward to prioritize his long-term health. Very commendable and completely understandable! I certainly hope he performs well this season and plays in better health than before.
Stats and Accomplishments
In college, he played 35 games in three years. His total tackle count increased each year, reaching a final count of 95. He would have 16 TFLs (including two back-to-back seasons with at least six). His total sack count stood at seven. In his redshirt junior season (2019), he was named to the First-Team All-Pac-12 team.
Photo Cred: Lions Wire – USA Today
In his lone NFL season, he came up with 35 total tackles, two passes defended, a sack, two tackles-for-loss, and a QB hit. All this added up to only 1 AV. However, PFF graded him well in the 2021 and 2023 preseasons (84.5 and 80.3 respectively). Just like Okudah, his rookie year yielded a bad PFF grade: 43.2.
Gambling Suspensions
As if these challenges weren't enough, there seemed to be a crackdown on recent stupidity and carelessness. On April 21st, five players (four from the Lions) were handed suspensions of varying lengths for gambling-related offenses. The most prominent among them is WR Jameson Williams, who was expected to be a star but has already faced limiting playing time due to injuries. Since then, four more players have been suspended for the same thing… And now, this epidemic has spread to college as well.
Photo Cred: WWMT (L-R: Williams, Berryhill, Cephus, Moore)
The reason I call his stupidity or carelessness is the fact that none of these players learned from their colleague Calvin Ridley. Ridley was handed an indefinite suspension for similar or related charges these nine pros (and five college players) are facing. This should've served as a warning and made them more aware and cautious. Alas, that was not the case… At least Ridley learned from his mistakes and is regretful. He's since been reinstated.
The Specific Lions Involved
1.
Jameson Williams
Williams was supposed to be the main star of the receiving corps, a role that has now been assumed by Amon-Ra St. Brown. Drafted 12th overall in the first round last year, it's clear that Detroit had a lot of faith in his abilities. This was evident when they traded up to select him. His first two college years were less hyped, as he only garnered 15 receptions, 266 yards, and three TDs over 19 games. Those years were spent at Ohio State behind lead receivers Chris Olave and Garrett Wilson.
Photo Cred: Buckeyes Wire – USA Today                                         Photo Cred: USA Today
It was after transferring to Alabama that he gained nationwide recognition for his performances. In 15 games, he accumulated more than five times the receptions he had in his first two years combined (79). Williams finished with 1572 receiving yards (1595 scrimmage yards in total) and a remarkable 15 TDs. As a punt returner, he had 352 yards on 10 returns, including two TDs. His college career ended on a high with many accomplishments. He was the SEC Co-Special Teams Player of the Year, a First-Team All-American, and First-Team All-SEC, all in 2021.
Injury + NFL Stats
Unfortunately, in the 2022 College Football Playoff National Championship game, he tore his ACL against Georgia. That game was on January 10th, 2022 and he was going to be out for 5-7 months. Due to this, he was placed on the reserve/non-football injury list to start his rookie season and would be out for at least four games.
Photo Cred: Detroit Free Press
He would make his NFL debut in Week 13 (December 4th) but had minimal involvement for the remainder of the season. Despite being targeted nine times in six games, he only secured one reception. However, it was a significant one- a 41-yard touchdown. He also had one rushing play for 40 yards.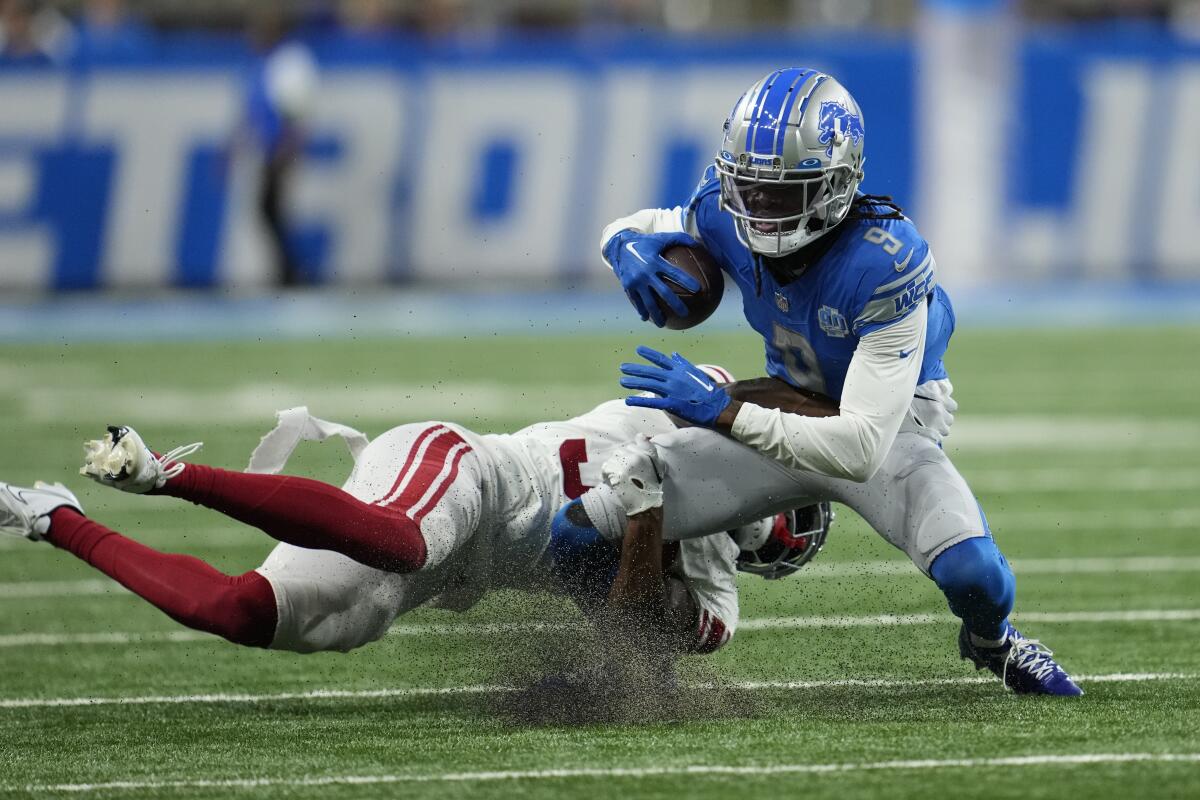 Photo Cred: San Diego Union-Tribune
Despite his suspension, he was allowed to practice and play during the preseason. However, he had limited reps even then. Due to a hamstring injury in Week 1 of the 2023 preseason, he was shut down for the remaining two weeks. He might've played 51 snaps in that first game but continued to be ineffective. Of his seven targets, only two were caught, resulting in 18 yards. One of those targets was a dropped touchdown as well…
Player Grades
PFR has given him a 1 AV for his six games. PFF rated him a little better. He received a 63.4 grade in the 2022 regular season and 58.5 for his one 2023 preseason game.
2.
Stanley Berryhill III
Berryhill is a wide receiver who played his college days at Arizona. Although he was not necessarily a standout, his senior year was his most productive. In total, he played in 39 games, had 139 receptions, 1477 yards, 10.6 yards/reception, and nine TDs. He also had 21 rushing attempts that went for 144 yards. His primary contributions in the NFL would seem to be on the special teams front. In 2018, he had five kick returns that would go for 83 yards, averaging 16.6 yards/return. As a punt returner in 2019 and 2021, he would have 21 returns for 154 yards, 7.3 average yards/return. Berryhill's only recorded NFL statistic is one solo tackle in four games played with Detroit.
Photo Cred: Arizona Desert Swarm
His NFL journey led him to three teams in the same year. He went undrafted in 2022 but signed with the Atlanta Falcons. After a three-month stint, he joined the Arizona Cardinals' practice squad. He would be released again approximately a month later. October 19th was when his journey with the Lions began. Berryhill started out on the practice squad and would go through an active roster elevation, a practice squad reversion, a signing, being waived, and re-signed to the practice squad over the course of a month. His final transaction, before the suspension, was a reserve/future contract signing in January this year. He would be released in May, roughly a month after it was announced that he would be suspended.
Player Grades
Berryhill got a 0 from PFR, while PFF gave him a 62.2 for his one reception for 14 yards in the 2022 preseason.
3.
Quintez Cephus
Cephus had the potential to become a mid-tier WR who could've received more valuable playing time in the coming years. The Lions believed in him enough to pick him in the fifth round (166th overall) in 2020. His three years at Wisconsin were marred by challenges, including a broken leg, surgery, legal charges, and expulsion. After playing 10 games in his 2017 sophomore year, Cephus underwent surgery to address his leg injury. Subsequently, he faced adversity that led to significant consequences. He was suspended and later expelled due to sexual assault charges levied against him. After missing all of 2018, he was allowed back in to finish his senior year in 2019. As is the trend, he had his best year in that last season.
Photo Cred: Milwaukee Journal Sentinel
In 20 games, Cephus recorded 93 receptions for 1496 yards at 16.1 yards/reception and 13 TDs. In his three years with Detroit, he started in six out of 22 games. On 37 receptions, he accumulated 568 yards, 15.4 yards/reception, and four TDs. After 13 games in his rookie year, he's only played in nine games over the last two years due to injuries. In 2021, a shoulder injury prematurely ended his season, while in 2022, he suffered a foot injury.
Player Grades
Cephus' best AV year was his rookie season, with 3. He would only get a 2 and 0 from then on. At PFF, both his preseason (71.8 and 58.0) and regular season scores (64.8, 71.7, and 68.0) have been varied.
4.
C.J. Moore
The lone defender in this list (at least initially), Moore is a four-year DB from Ole Miss. In 31 games, he recorded 96 total tackles, 3.0 tackles-for-loss, and four INTs. Additionally, he had seven passes defended and two fumbles. Even though he went undrafted in 2019, the Lions signed him and retained him until 2021, his first go-around with the team. Though he played 45 games (one start), his statistical contributions were very limited. Moore would have an interception, one pass defended, 36 total tackles, and one QB hit all buoyed by his best year in 2021.
Photo Cred: ESPN
In 2022, he re-signed with the team but would be waived/injured, placed on injured reserve, and released all in a span of six months. After spending more than a month in free agency, Moore signed with the Houston Texans' practice squad. However, Detroit would poach him off a week after he joined! Listed as a safety in 2022, he played in 11 games, had one pass defended, had a fumble recovery, 12 total tackles, and a QB hit. In 2023, he did sign a two-year extension but, alas, it's not meant to be.
Player Grades
PFR gave him an AV of 1 consistently in his four years in the league. His preseason PFF grades have been in the 60s (68.0 in 2019, 63.8 in 2021). Moore's regular season grades were generally on the lower end (65.2, 63.3, 59.2) until last year when he got a 70.0.
5. Dishonorable Mention-
Demetrius Taylor
Taylor was a five-year player at Appalachian State on the defensive line. It seems as though he was very consistently good in college, but maybe the level of competition he played was not on his side. In 58 games, he recorded 137 total tackles, 46 TFLs, and 26.5 sacks. Additionally, he had an INT, 10 passes defended, six forced fumbles, and one fumble recovery (which would go for a TD). 2019-21 was his best period of success, as he consistently delivered on four of these statistical categories. He was even on the First-Team All-Sun Belt during these three years.
Photo Cred: ESPN
Despite all this, he went undrafted in 2022. Upon signing in Detroit as an undrafted free agent (UDFA), Taylor initially made it to the 53-man roster. However, he'd ultimately get waived in October and would spend the rest of the year on the Lions practice squad. He did get to play in one game but he didn't record any statistics. While he signed a reserve/future contract with the team in January this year, he was released in May.
Player Grades
Taylor obviously didn't play enough to get an AV from PFR, so it remains at 0. PFF graded him highly in the preseason (71.3) but very poorly in the only regular season game he played (29.6).
6. Dishonorable Mention- 
Rashod Berry
Finding the right position to describe Berry was hard for me. In college, he played defensive end his freshman year but was a tight end the rest of his time. In the NFL, he's listed as a TE but predominantly played defensive snaps. ESPN still describes him as a DE but he has also reportedly converted to outside linebacker when he made it to the league. In any case, he played four years at Ohio State. In his lone season as a DE, he just recorded seven tackles in five games. In 18 games at TE, Berry had 17 receptions for 198 yards, 11.6 yards/reception, and four TDs.
Photo Cred: NBC Sports
In the NFL, he would go undrafted in 2020 but sign as an UDFA with the New England Patriots. He got to spend a year and three months with the team, getting waived, signing for the practice squad, getting to play three games, and finally getting waived again during that time. In 2021, he got to represent the Lions for five games after going through a similar cycle of getting waived and signed to the practice squad. In 2022, he re-signed with Detroit but would get waived two months later. His next stop would be with the Jacksonville Jaguars, who would claim him. However, he'd be waived three months afterward before they re-signed him to the practice squad almost two months later. Berry would get signed off that p-squad by the Indianapolis Colts in 2023. However, he'd get waived a few days after his suspension.
NFL Stats + Player Grades
In three games as a Patriot, he only recorded a solo tackle. As a Lion, he had three total tackles and a QB hit. Berry only participated in the 2021 and 2022 preseasons, getting grades of 53.2 and 68.1 respectively. In the 2020 and 2021 regular seasons, he got 63.4 and 44.6 respectively.
Where the Gambling Comes In and the Aftermath
The first wave of suspensions occurred on April 21st this year, involving the four aforementioned Lions and Washington Commanders' DE Shaka Toney. It was found out that Williams and Berryhill "made mobile bets on non-NFL sporting events while in the Lions' facility". None of them (including Toney) utilized insider information while placing their bets. However, Cephus, Moore, and Toney all placed bets on NFL games, so they all got indefinite suspensions. Meanwhile, Berryhill and Williams only got six-game suspensions. Following the findings, Cephus and Moore were immediately released. Berryhill initially stayed on before ultimately getting released as well. Williams and Toney remain on their respective rosters.
Photo Cred: Twitter
As if this wasn't enough, a second wave of suspensions occurred on June 29th. This time, it involved two Colts players (CB Isaiah Rodgers Sr. and Berry), a free agent (Taylor), and a Tennessee Titan (T Nicholas Petit-Frere). I mentioned Berry and Taylor as (dis)honorable mentions because they were former Lions who also faced suspensions. Everyone except for Petit-Frere was suspended indefinitely, as they bet on NFL games. Petit-Frere bet on other sports but the key point was that he did it while at his team facility. He got a six-game suspension and remains on the Titans. Rodgers and Berry were both waived shortly after the news broke.
More on the Six-Game Suspensions + More Bad News for the Lions
Berryhill and Williams both bet on college football specifically, which happened at the team's Allen Park facility. As for Petit-Frere, his bets were deemed legal under Tennessee law but were sanctioned only because he made them while at the Titans facility.
What surprises me about Williams and Petit-Frere specifically are the details that emerged when they spoke out. Williams "wasn't aware of the policy beforehand" and "was blindsided by the ruling". Petit-Frere said he "did not knowingly break the rules. Even after attending a league presentation, [he] was unaware about the specifics around placing bets from a team facility." I just hope that, with nine examples of what not to do, players are more careful or just don't risk gambling at all. Additionally, more effort should be made to clarify and reinforce the points regarding gambling in professional sports.
Photo Cred: Total Pro Sports
Apparently, gambling extended beyond just players. The Lions had to fire several staffers in March, which is when an investigation into gambling had started. According to Dave Birkett of the Detroit Free Press, Detroit "fired four lower-level staff members".
Two Interesting Draft Selections in the First Round
Forget what experts call "non-premium" positions. I'm not calling the two first-rounders selected by Detroit interesting because teams don't typically view running backs and off-ball linebackers as high as the Lions did. The selections are interesting to me for two separate reasons.
RB Jahmyr Gibbs (First Round, 12th overall)
The Lions decided to reshape their running back room in the offseason. As will be detailed below as players who were lost, Detroit would trade away D'Andre Swift and not re-sign Jamaal Williams. Only FB Jason Cabinda and Craig Reynolds remain from this 2022 group. Jermar Jefferson, who spent the previous season on the practice squad, landed on the injured reserve but was subsequently released. Notably, the 2023 practice squad welcomed the addition of former Jet, Zonovan Knight.
Photo Creds: L- Sports Illustrated (Williams and Swift), R- ClutchPoints (Montgomery and Gibbs)
Gibbs is expected to inject explosiveness into the Lions' running game. However, questions arise regarding the necessity of these changes. After all, Swift had a pretty good season AV-wise (8 AV, his career-best) and Williams was coming off of the best season in his career. Of course, the keywords here are injury and age. Swift is fairly dangerous, if he can remain healthy of course. That, however, is not a guarantee. He has missed 10 games in his three years in the league already. Williams, on the other hand, is not getting any younger (28) in a position that has a lot of early retirements due to the wear and tear on the body.
Enter Gibbs and Montgomery
Swift may have accumulated more yards than Gibbs from the line of scrimmage (LOS) in college. However, Gibbs performed at a more consistent level (6.9 LOS yards on average) and was a bigger threat in the passing game as well (1217 yards vs. 666 yards). Yes, Swift also had 6.9 LOS yards on average himself, but his numbers declined over the years while Gibbs' remained near constant. Furthermore, Montgomery is about two years younger than Williams and has only missed six games over the last three years. His remarkable consistency includes four consecutive 1000 scrimmage-yard seasons.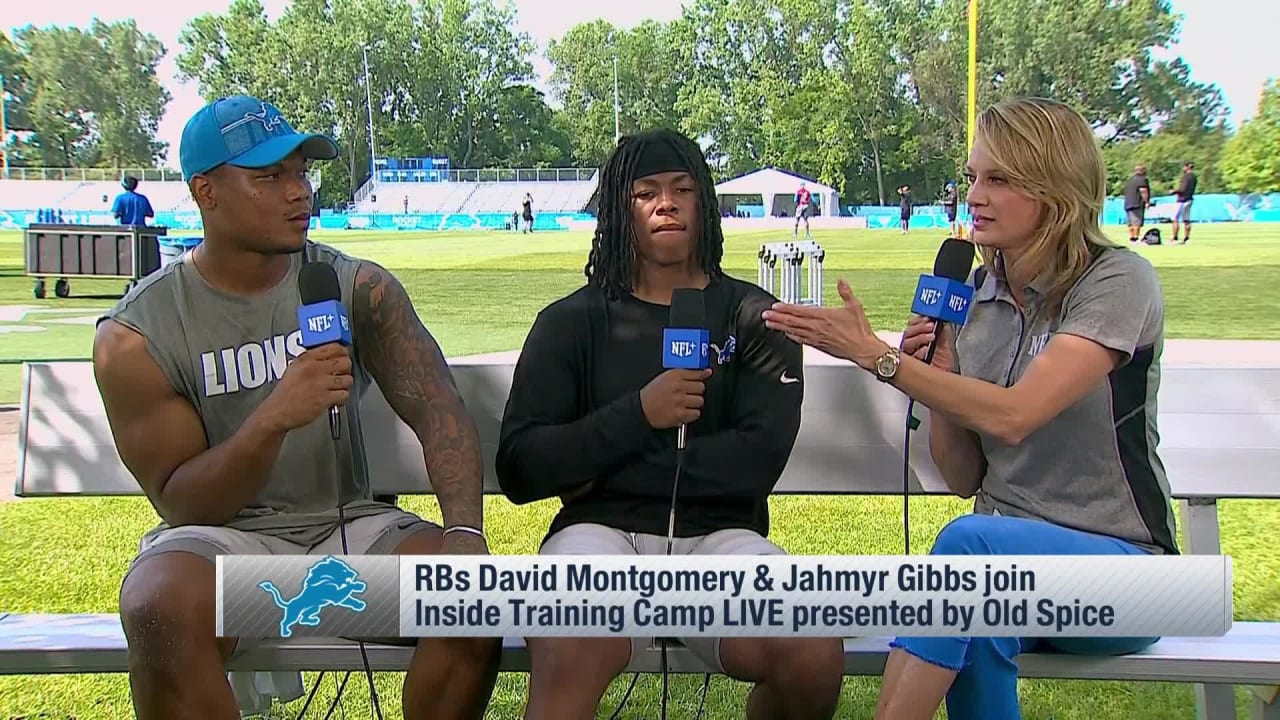 Photo Cred: Detroit Lions
LB Jack Campbell (First Round, 18th overall)
For Campbell, what prompted my surprise is the players Detroit let go past them. At 18th overall, several highly-regarded LBs remained on the board: Nolan Smith, Derick Hall, and BJ Ojulari (currently listed as a DE). Given their apparent need for a linebacker, why did they let these talents drop further down? Two of them fell to the second round.
Photo Cred: NFL Draft Buzz
After reviewing their college statistics and accomplishments, it becomes evident why Campbell highly regarded among them. Individually, Campbell was unquestionably the most accomplished of the four. Smith, on the other hand, achieved the greatest team success by being a part of two straight championship-winning teams. This addressed a position of need for Detroit, as their top LBs were limited to Alex Anzalone and Malcolm Rodriguez.
The Stats and Accomplishments
A four-year player at Iowa, he played in 34 games. If you find his overall stats impressive, it's actually because of a significant boost in productivity in his final two years. He tallied 302 total tackles, 12.5 tackles-for-loss, three sacks, and five INTs. Campbell returned one of those interceptions for a TD as well as recovering a fumble for a TD. He had three fumble recoveries in total. Additional stats include 10 passes defended, three forced fumbles, and a safety.
Photo Cred: Pride of Detroit
Campbell ended up being a highly decorated player before leaving for the NFL, with all but one of his accomplishments coming in 2022. He was a two-time First-Team All-Big Ten from 2021–22, including being a unanimous selection in the latter year. Winning the Butkus Award made him 2022's best college linebacker, and he also was the best scholar-athlete as well with the William V. Caldwell Trophy. He was also a Unanimous All-American, the Big Ten's Nagurski-Woodson Defensive Player of the Year, and the Butkus-Fitzgerald Linebacker of the Year!
Comparing the Four
Campbell's 140 total tackles in 2021 are more than Smith got in all of his four years combined (110). Hall's 146 total tackles in four years are just six higher than that 2021 total. Campbell also got 128 total tackles in 2022, which is the total number Ojulari got in three years. However, all three outperformed Campbell in the tackles-for-loss (20.0, 30.0, and 25.5 respectively) and sacks categories (12.5, 20.0, and 16.5 respectively).
Photo Cred: YouTube- CBS Sports
That makes it abundantly clear that the others consistently excelled at reaching the quarterback and disrupting plays in the backfield. Meanwhile, Campbell was a pure second-level tackler, preventing opponents from advancing further. This is more apparent if you look at the INT and PD columns. Only Smith and Hall had an interception each, with Smith and Ojulari combining for five PDs together. Hall had more forced fumbles than Campbell with five, and that's about it. It seems Detroit made the right selection after all, as they wanted a second-level guy rather than an edge rusher.
The Players Lost
In this Lions offseason review, there were a few notable player departures that caught my attention.
1. DT Michael Brockers
Brockers spent the past two years with the Lions before being released in February. He came over via trade from the Los Angeles Rams, whom they traded a 2023 seventh-round pick for. After the trade, he signed a three-year, $24 million contract. He did well, according to PFR, in his first year. Listed as an LDE, he started all 16 of the games he played, getting a sack and 52 total tackles to go with it. Brockers also had four TFLs and one QB hit, which got him 6 AV.
Photo Cred: The Oakland Press
However, things took a downturn in 2022. He only played in six games (five starts) as a DL, with his only stats being one pass defended, four total tackles, and a QB hit. This only got him a 2 AV. PFF also graded his time with the Lions roughly. His 2022 preseason grade was only 47.2. In his two regular seasons, he was only given a 41.1 and 51.3. He now lingers on in free agency. Despite the decline in performance, he was expected to be a leader on the defensive line. That position group seems to be a little short of talent.
2. OL Evan Brown
Brown seemed to be a valuable backup signing for the offensive line. He was picked up in a relatively nondescript manner, as he was signed to Detroit's p-squad in 2020. The Cleveland Browns had released him before, as did the Miami Dolphins. Brown was originally a 2018 UDFA signing by the New York Giants, and Miami would poach him from their practice squad. He signed a reserve/future contract in 2021 and re-signed with the Lions in 2022 as well.
Photo Cred: Sports Illustrated
In 2021, he'd start in 12 out of 16 games due to C Frank Ragnow's season-ending injury. Halapoulivaati Vaitai's injuries in 2022 forced Brown into action yet again, and he got to start in another 12 games out of 14 played. In April, he signed with the Seattle Seahawks, where he will be the starting center. In the preseason, Brown performed relatively well for the Lions. A 65.7 average PFF grade topped out in 2022 with a 70.9. His regular season grades were also around that average, with a 66.8 in 2021 and a 64.8 in 2022. PFR also rated him favorably, giving him 5 AV in 2021 and 6 in 2022.
Photo Cred: The Seattle Times
It appears that the Lions may have missed an opportunity to bolster their OL depth. However, seeing as how Brown is a starter now, perhaps he was priced out of the Lions' range when it came time for negotiations.
3. WR Quintez Cephus
I already mentioned Cephus earlier but I do want to add one more thing. He may have been picked in the draft during Matt Patricia's tenure but he still seemed to have a place in Dan Campbell's regime too. Unfortunately, a single mistake cost him that opportunity and depletes the Lions' WR corps.
Photo Cred: Pride of Detroit
4. WR DJ Chark Jr.
Chark's NFL journey began promisingly when he was the 61st overall (in the second round) pick in 2018 for the Jacksonville Jaguars. However, it took him some time to fully translate his potential onto the field. He did burst out of the seams when given the opportunity! In his four years with Jacksonville, he played 43 games (30 starts), caught 147 passes for 2042 yards, and had 15 TDs. This included a 1000-yard season in 2019, which got him a Pro Bowl appearance. It just seems his time was inconsistent, though, as he had 1 AV seasons in between 7 and 5 AV seasons. Part of that has to do with less usage in his rookie season, a broken finger, and a season-ending ankle fracture (the latter two in 2021).
Photo Cred: Bleacher Report
After three straight seasons of playing at least 11 games, he only participated in four in 2021 due to the ankle injury. His PFF averages and best scores were as follows: 55.7 in two preseasons (58.5 best) and 66.2 in the regular season (75.2 best). To revive his value, Chark signed a one-year, $10 million deal with Detroit. It seems as though he didn't fully recover from his previous ankle injury, as he re-injured that same ankle in Week 3 last year. This led to an IR stint, followed by his activation about a month later.
Photo Cred: YouTube- Detroit Lions                                           Photo Cred: Instagram
PFR gave him a 5 AV grade for his 11 games (10 starts) in Detroit. He would finish the season with 502 yards on 30 receptions, 16.7 yards/reception, and three TDs. While he only got a 52.1 in preseason from PFF, he graded much higher in the regular season (69.6). In March, he signed with the Carolina Panthers. However, injury issues continue to plague him, as he has been missing some time with a hamstring injury. Chark could've still been a valuable asset for the Lions, given the options they have behind St. Brown. Josh Reynolds, Kalif Raymond, and Marvin Jones Jr. will play on, though. Instead, he heads to Carolina to be one of the top options alongside fellow NFC North castoff Adam Thielen.
5. S DeShon Elliott
When comparing the rest of the players on this list, Elliott is more of an honorable mention than anything. He only got a 4 AV while at Detroit but PFF graded him a bit better: 74.8 in the preseason and 66.5 in the regular season. In 14 games (13 starts), he managed to record an interception to go with a career-high 96 tackles. Additionally, he was able to add the third-ever forced fumble of his career, his first-ever fumble recovery, and three PDs. Lastly, Elliott had a career-high five TFLs and three QB hits.
Photo Cred: WXYZ                                                        Photo Cred: Miami Dolphins
In March, he signed with the Miami Dolphins. His role with the Lions may have become uncertain due to the team's additions of several new defensive backs. Detroit's top signing of the season was CB Cameron Sutton from the Pittsburgh Steelers. They also got DB C.J. Gardner-Johnson from the Philadelphia Eagles and CB Emmanuel Moseley from the San Francisco 49ers. Add to that the drafting of Brian Branch and that further crowds the defensive backfield, which could've phased him out.
6. CB Amani Oruwariye
Oruwariye seems to be in the same category as DJ Chark Jr. during his Jaguars tenure: an inconsistent player who shows flashes. The Lions drafted him in the fifth round (146th overall) in 2019. In between a 1 AV rookie season and a 2 AV final season, he did have 4 and 5 AV seasons respectively from PFR. It coincides with the fact that he had become a full-time starter during those middle seasons, and he did decent when given that opportunity.
Photo Cred: SideLion Report
In 53 total games, he started in 36 of them and kept improving each year from 2019-21. He amassed a total of nine interceptions (six in 2021), 24 total PDs (11 in 2021), two fumble recoveries, and four TFLs. In terms of tackles, he's had 173 total, including back-to-back 50+ combined tackle seasons from 2020-21. In 2020, he missed about 10 days after being put on the reserve/COVID-19 list. Other than that, a Week 15 thumb injury prematurely ended his promising 2021 season.
Photo Cred: Empire Sports Media
In March 2023, he had initially signed a one-year, $1.2M deal with the New York Giants. However, he got cut five months later and now resides on their practice squad. He's been just about average in the preseason with Detroit, with a 54.6 PFF average rating and a best of 61.8. However, Oruwariye's regular season ratings are not good consistently… After a 71.4 rookie season, he didn't get much better, with grades of 50.4, 59.0, and 30.0 following that… Maybe he got lost in the numbers game like Elliott. Probably also why he couldn't break into the Giants' 53-man roster either.
7. OL Logan Stenberg
The other honorable mention on this list, Stenberg was a fourth-round pick for the Lions in 2020. He did not have a memorable time in Detroit but did get put into action in 16 games last year, with four of them being starts. That's the only reason he got out of Detroit with 3 AV, all because of that last year. In his three years, he played 25 games in total. On October 25th, 2021, he was placed on the injured reserve for an undisclosed reason.
Photo Cred: Pride of Detroit                                                  Photo Cred: Instagram
The Lions waived him in August this year and he subsequently signed with the Chicago Bears two days later. However, after a 17-day stint, he was waived yet again and has been a free agent since. PFF graded him pretty highly in the preseason (67.4 in 2021 and a whopping 80.1 in 2022). This means he at least has some potential in the league. However, his regular season grades of 55.1 and 39.3 respectively quickly shut down that notion… At best, he could've been further depth for a Lions team that only has eight offensive linemen and two on the p-squad.
His College Exploits
Photo Cred: 247 Sports
He seemed to be better in college more than anything. He started 39 games straight after his freshman year, playing in a total of 51 games in his four years at Kentucky. In 2019, he got into the Second-Team All-SEC and the FWAA Second-Team All-America. Stenberg's college stats range as follows: 37 knockdown blocks (2018), one missed assignment (2018), one QB pressure (2018), no sacks allowed (in total), 95 total knockdown blocks, and 209 blocks at the point of attack.
8. RB Jamaal Williams
Williams signed a two-year contract with his division rivals in 2021. Before that, he was a Green Bay Packer for four years. While he had a good run in GB, he was always playing second fiddle to someone. In 2017, Ty Montgomery was ahead of him. From 2018 onward, it was Aaron Jones. With GB, he got 20 starts in 60 games, 500 rushes for 1985 yards, and 10 TDs. Additionally, he would catch the ball 122 times for 961 yards and eight TDs. Despite serving as a secondary back, Williams accumulated 22 AV during his time in Green Bay, demonstrating his reliability. His PFF averages with GB were: 63.4 in two preseasons, 69.8 in the regular season, and 65.6 in two postseasons. His best grades (respectively) were: 64.0, 76.7, and 79.0.
Photo Cred: Green Bay Packers                                         Photo Cred: Detroit Free Press
Williams still had a lot to show the world, and show out he did! In 2021, he had the most rushing yards in his NFL career (601) to go along with three touchdowns, 26 receptions, and 157 receiving yards. 2022 was the major highlight, though, as he crossed 1000 yards rushing for the first time in the NFL. He was also the NFL rushing TDs leader, as he crossed the goal line 17 times! His two years in Detroit saw him start 20 of his 30 games, rush for 1667 yards on 415 attempts, and double his TD count from his four GB years combined (20). He finished with 13 AV, including a career-best of 8 in 2022. Of course, one problem he did have was fumbles. After never fumbling in his life, he had four with the Lions. His PFF averages show that he had a rough time in the preseason (52.4) but he performed well in the regular season (71.6).
Photo Cred: Canal Street Chronicles
Williams signed with the New Orleans Saints in free agency this year. His departure from the Lions followed a statement in which he described the team's offer as "disrespectful." He did all that good work for the team only to be treated like this. I do wonder, though, how no team considers him to be a lead back. It just seems to me that he is always the bridesmaid but never the bride. In Green Bay, he was always listed as RB2. In Detroit, he was essentially a RB1A partnering with Swift but he still played behind Swift in these two years. Now, in New Orleans, he'll be Alvin Kamara's backup. At least he can continue to be a valuable asset in the league!
9. RB D'Andre Swift
Swift is one of my favorite running backs in the league, but that might just be my bias talking (I am an Eagles fan, and he is now an Eagle). He was able to showcase his talent in college during 2018-19, with back-to-back 1000-yard rushing seasons. In total, he rushed 440 times for 2885 yards on 6.6 yards/carry. He added 20 rushing TDs (including 10 in 2018) and also added 666 yards and five TDs on 73 receptions. With that being said, his yards/carry did get lower every year as I mentioned earlier (7.6 to 6.4 to 6.2).
Photo Cred: UGA Wire – USA Today
In the NFL, he was selected in the second round (35th overall) in 2020 by Detroit. This, of course, would be the last season for the Matt Patricia regime before Dan Campbell would take over. Swift's professional career has been marked by injuries and limited opportunities to break out. In his 40-game tenure with Detroit, he only started in 16 of them. He had Adrian Peterson and Kerryon Johnson as backfield partners in his rookie season and then it was him and Williams from 2021-22.
Photo Cred: Pride Of Detroit
Swift's 364 rushes went for 1683 yards and 18 touchdowns at 4.6 yards/carry. In the passing game, he recorded 156 catches for 1198 yards, 7.6 yards/reception, and seven TDs. This meant that he only had one season with over 1000 scrimmage yards (1069 in 2021), which means he's not really done much. He's had six fumbles in these three years but the number kept lowering every year, so that's good. Swift's AV did keep rising, though, going from 6 in 2020 to 7 the next year and ending with an 8 in 2022.
Photo Cred: Sportskeeda
In the one preseason he did play (2022), he was given a 57.7 PFF rating. His regular-season grades exhibited highs and lows. Swift started with a 69.4, then went down 58.0 before rising up with a strong 78.1 in his last year. As I mentioned before, he's now in Philadelphia after a draft-day trade. The Eagles traded a 2025 fourth-round pick and had a swap of 2023 seventh-round picks for Swift, which came two days after Gibbs was picked in the first round. He should be the lead back in Philly but will face competition for touches from Kenneth Gainwell, Rashaad Penny, and Boston Scott.