After going 6-7 a season ago, Missouri will hit the reset button as it hosts South Dakota to open up the 2023 season on Thursday. The Tigers lost four games by one possession in 2022 and they hope to get over the hump as the new season approaches. In order to start off on a high note, Missouri will need to come out victorious against the Coyotes.
Photo Cred: Sports Chat Place
One thing to keep an eye out for is the Tigers' quarterback situation. Missouri head coach Eliah Drinkwitz stated that both Brady Cook and Sam Horn will see the field during the season opener. Cook was the starting QB all season last year, despite suffering a shoulder injury in the Tigers' Week 2 loss to Kansas State. Horn is emerging as a candidate to lead the offense in his sophomore year. How both QBs perform on Thursday will be interesting to watch.
Photo Cred: ClutchPoints
Missouri's running back room could be dangerous with the duo of Cody Schrader and Nathaniel Peat. Schrader, who is a transfer from Division II Truman State, was named a captain for this season after a sensational 2022. The St. Louis native ran for 745 yards and nine touchdowns in his first year with the Tigers. Peat, who is a transfer from Stanford, is expected to start the season as RB2. The graduate student RB ran for 438 yards and two touchdowns. He was playing his first season of college football in his hometown of Columbia. 
Photo Cred: Sports Illustrated
The wide receiver core is what Missouri fans should be very excited to watch on Thursday. Luther Burden III is a name that comes to mind. The sophomore receiver played in all 13 games as a true freshman last year. He recorded 375 yards and six touchdowns. Joining the former five-star recruit is Oklahoma transfer Theo Wease Jr. Wease is coming off an impressive 2022 season, as he finished with 378 yards and four touchdowns. The talented WR played three seasons with the Sooners before transferring to Missouri. The Tigers WR core will also consist of talented receivers such as Mehki Miller and Mookie Cooper.
Photo Cred: Rock M Nation
The Tigers offense will face off against a Coyotes defense that's looking to improve. South Dakota allowed an average of 29.18 points per game last season when they went 3-8. Their defense also struggled in multiple games, as it allowed 58 points to Northern Iowa and 45 points to Youngstown State. Regardless, the Coyotes did have a couple of strong defensive games, such as a 12-10 victory over Illinois State and a 20-13 win over Missouri State. The leader of South Dakota's defense is senior linebacker Stephen Hillis, who finished last season with 61 solo tackles and four sacks. Missouri's offense will also have to deal with defensive back Myles Harden, who led the team in interceptions with three and had 27 solo tackles a season ago. Harden was named to the Preseason Buck Buchanan Award Watch List.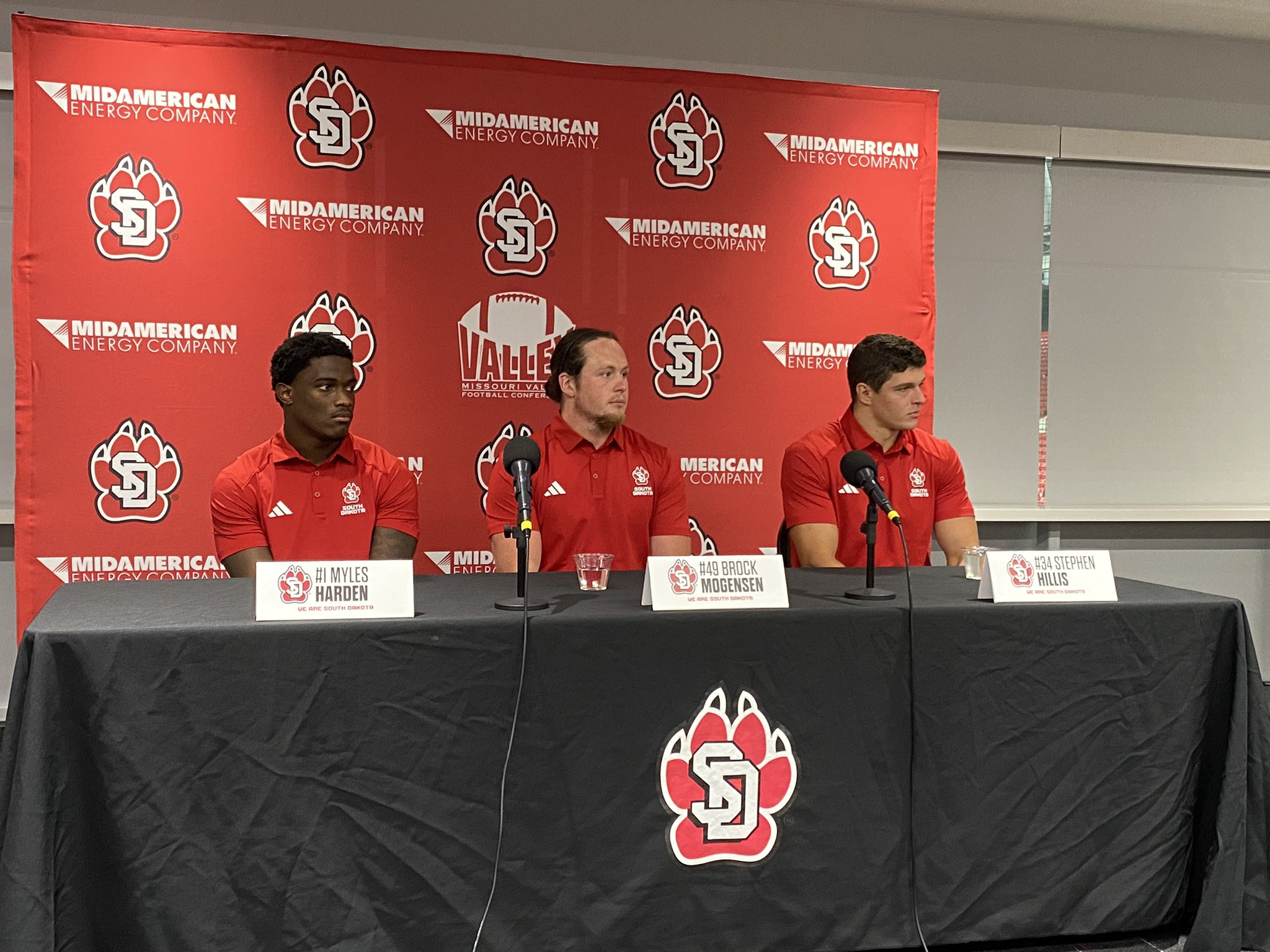 Photo Cred: Twitter
The Coyotes also have talent on the offensive side of the ball. Sophomore QB Aidan Bouman will be the leader of the team. Last season, he threw for 892 yards, eight touchdowns, and just one interception. The Buffalo, Minnesota native was also named to the Missouri Valley Football Conference All-Newcomer team. Travis Theis is the leading returning rusher for the Coyotes this upcoming season. He ended last year with 774 yards and five touchdowns.
Photo Cred: University of South Dakota Athletics
The duo of WR Carter Bell and TE JJ Galbreath is one that the Tigers' defense needs to keep an eye on. Bell had 245 yards and three touchdowns last season, while Galbreath finished with 255 yards and a touchdown. WR Jack Martens is also a player to watch out for the Coyotes offense as well.
Photo Cred: University of South Dakota Athletics
Defensively, Missouri should be feeling confident heading into Thursday. The Tigers' defense put up multiple impressive statistics last year. They were first in the SEC in tackles for loss (7.2/gm), third in rushing defense (125 yds/gm), and fourth in total defense (340.8 yds/gm). The Tigers are bringing back a majority of their defensive production as well. DB Ennis Rakestraw Jr., defensive lineman Realus George Jr., DB Dreyden Norwood, and others will continue to lead the group. Their defense also has some strong additions coming in. Defensive end Joe Moore III joins Missouri from Arizona State, while safety Sidney Williams comes from Florida State. 
Kickoff time is set for 7 P.M. Thursday at Faurot Field on SEC Network. 

Photo Cred: St. Louis Post-Dispatch                   Photo Cred: St. Louis Post-Dispatch