Regular-season football is one month away from the 2023-24 NFL season, and the excitement is building as the preseason is almost underway. Over the next few weeks, I'll dive into each position group, from the quarterbacks to the kickers, and rank them before the season kicks off in Kansas City on Sept. 7.
First, we look at the most critical position on the field: the quarterback.
Kansas City Chiefs
If there was any doubt about Patrick Mahomes as the best quarterback in the league coming into 2022, it's gone now. The signal-caller picked up a second MVP and a second Super Bowl MVP, capping it off with a virtuoso performance against the Eagles in Super Bowl LVII.
Mahomes combines an unmatched ability to create plays off-script with a rock-solid game from the pocket. His arm talent pops off the screen every week, and he has excellent accuracy and field awareness to go with it. Entering just his sixth season as the full-time starter, Mahomes is only getting better and is at the mountaintop entering 2023.
Phot Cred: Fox News
2.

Cincinnati Bengals
Joe Burrow lacks some physical traits other elite quarterbacks have, but his resume speaks for itself. The 2019 Heisman Trophy winner has already taken the Bengals to the Super Bowl, and his swagger galvanizes a Bengals squad that plays with immense confidence.
He may not make the eye-popping highlight plays that someone like Mahomes does, but his elite ball placement, pocket presence, and pre-snap acumen make him a surefire top-tier quarterback. Burrow is a gamer, and there aren't many I trust more to get the job done in big moments. If his calf injury suffered in training camp doesn't bleed into the regular season (head coach Zac Taylor said Burrow would be out for several weeks), Burrow should be ready to compete in the AFC again.
Photo Cred: PFF
3.

Los Angeles Chargers
Justin Herbert is one of the most polarizing quarterbacks in the league, and that comes from the contrast in his traits and his team results. The Chargers have yet to win a playoff game with Herbert at the helm and are coming off one of the most embarrassing postseason losses in league history.
However, the 2020-21 Rookie of the Year is still more than deserving of this ranking. Herbert has set records for completions, passing yards, total touchdowns, and 300-yard games in his first three seasons, and has eclipsed the 4,000-yard mark in each of them. His rocket arm and pinpoint accuracy into tight windows, even deep down the field, allow him to create explosive plays out of thin air. With the new offensive coordinator Kellen Moore in 2023, expect Herbert to open it up even more and take this Chargers offense to new heights.
4.

Buffalo Bills
2022-23 ended sourly for Josh Allen and the Bills when Cincinnati dominated them on their home field in the Divisional Round, but Allen remains one of the NFL's brightest young stars. Possessing the strongest arm in the sport, Buffalo will always be able to move the ball in chunks through the air with the former Wyoming star at the helm. 
Allen's dual-threat ability has been apart of the Bills' offense over the past few seasons. Last year, he became the first quarterback in NFL history to record 100 passing touchdowns and 30 rushing touchdowns in his first four seasons, and leads Buffalo in rushing touchdowns over that time frame. His massive 6'5" frame makes him a nightmare in the red zone, and the Bills should put up huge numbers on offense with Allen at the helm again this year.
5.

Baltimore Ravens
The only question I have about Lamar Jackson's game coming into 2023 is his health. If Jackson is on the field, he's answered every other question about his skill set. We know he's arguably the most explosive runner at the quarterback position of all time, but Jackson's development as a passer over the last few years has flown under the radar just a bit. With new offensive coordinator Todd Monken in the fold, Jackson has the potential to get back to his MVP heights.
Photo Cred: SI
6.

New York Jets
It's been a long time since the Jets have slotted in this high on a quarterback ranking, but that's what a blockbuster trade for Aaron Rodgers will do for you. Rodgers took a slight step back from his MVP form last season but is stepping into a much better situation in New York with a young star out wide in Garrett Wilson and a defense that should be exceptionally good once again. Rodgers is still one of the best in the game, and his savvy veteran experience should do wonders for a young Jets team who are hungry to make noise in the AFC East.
7.

Philadelphia Eagles
Before 2022, the big question surrounding the Eagles was whether Jalen Hurts could be a franchise quarterback. Just one year and a Super Bowl appearance later, it's where Hurts ranks among the top 10 quarterbacks in the league. The dual-threat star had an incredible season in 2022-23 through the air and on the ground, showing massive strides as a passer while providing consistent production. If he can repeat that without offensive coordinator Shane Steichen this season, he will firmly cement himself as an elite quarterback for years.
8.

Jacksonville Jaguars
After a tumultuous rookie season, Trevor Lawrence settled in 2022-23 and showed flashes of the generational talent he showed coming out of Clemson. His incredible poise and pocket presence allowed him that extra half-second to find an open receiver down the field, allowing him to use his big arm to fit the ball into tight windows. A second year in Doug Pederson's system and the addition of star wideout Calvin Ridley should mean another leap for Lawrence in 2023.
9.

Dallas Cowboys
Photo Cred: Yahoo Sports
Say what you want about Dak Prescott, but he has consistently been a solid option for America's Team behind center since he entered the league in 2016. He desperately needs to cut down on the turnovers (league-leading 15 interceptions in 2022-23), and his Divisional Round performance in San Francisco was ugly, but other teams would love to have Prescott as their quarterback heading into 2023.
10.

Minnesota Vikings
Kirk Cousins is seen as an average quarterback over the past few seasons, but his consistency earns him and the Vikings the final spot in the top 10. Numbers-wise, Cousins has been as rock-solid as they come, eclipsing the 4,000-yard mark in seven of the last eight years. He showed a good rapport with new coach Kevin O'Connell in 2022, and his connection with Justin Jefferson is still elite, so Cousins should be in for another good year in 2023.
11.

Los Angeles Rams
Matthew Stafford is aging and injured in a disastrous 2022 season, but I'm not writing the 2021 Super Bowl champion off yet. Assuming his elbow is healthy after an offseason off, Stafford still has one of the best arms in the sport and should still be able to light it up with Sean McVay in charge and Cooper Kupp running routes.
12.

Miami Dolphins
We know Tua Tagovailoa is limited physically as a passer, but he makes up for the lack of arm strength with elite anticipation and great accuracy. This allowed him to pair seamlessly with speedsters Tyreek Hill and Jaylen Waddle in head coach Mike McDaniel's offense in 2022, and the Dolphins possessed one of the most explosive passing attacks in the league when Tua was out there. Should Tagovailoa miss time again in 2023, Mike White was solid in relief for the Jets last year and is one of the better backups in the game.
13.

New Orleans Saints
Photo Cred: USA Today
The Saints' trade for Derek Carr is an upgrade over Andy Dalton, but it has the potential to be a better version of the same thing. Carr is a smart veteran quarterback but tends to be very conservative. Nevertheless, Carr has reached 3,500 yards in seven of his nine seasons, and having Jameis Winston as a backup if needed gives New Orleans a solid quarterback room.
14.

Detroit Lions
2022 was Jared Goff's best season since taking the Rams to the Super Bowl in 2018, as he led a surprisingly explosive and efficient Lions offense to the brink of a playoff appearance. Detroit had the chance to draft a new, young signal caller in April but opted to go with the veteran from Cal for at least another year. Why not run back what was a top-five offense in 2022? Goff can get the young Lions into the playoffs in 2023.
15.

Seattle Seahawks
Geno Smith was somewhat of a revelation in 2022, putting together a strong season after being a career backup up to that point. Smith led the NFL in competition percentage without relying solely on check-downs, routinely taking calculated risks, and pushing the ball downfield to DK Metcalf and Tyler Lockett. If Smith can repeat that in 2023, the Seahawks could make a return to the playoffs.
16.

Cleveland Browns
This was the hardest ranking to place. Deshaun Watson was well on his way to being one of the league's premier passers after over a year off due to a contract holdout in Houston and more than 20 different alleged instances of sexual assault, Watson was downright awful when he returned from suspension in 2022. So which Watson will show up in 2023? The elite, explosive improviser who ascended to star status in Houston or the inaccurate, erratic Watson who finished 2022?
17.

Denver Broncos
Photo Cred: WJTV
Russell Wilson is another tough evaluation coming into this season. The former Seahawk has been one of the NFL's top quarterbacks over the past decade, but 2022 was an all-around dumpster fire in Mile High City. Nathaniel Hackett is out, Sean Payton is in, and Wilson is poised for a bounce-back year.
18.

New York Giants
Daniel Jones is coming into 2023 with a playoff victory and a new contract, but can he take another leap to become a true franchise quarterback? He has shown excellent flashes, such as his excellent performance in Minnesota in the 2022 Wild Card Round but has still been too inconsistent and unable to make post-snap adjustments to be higher up on this list.
19.

Tennessee Titans
Though there has been no official announcement, Ryan Tannehill is the Titans' week one starter again in 2023. 2022 third-round pick Malik Willis showed nothing to indicate that he was ready to start as a rookie, and 2023 second-round pick Will Levis is unlikely to unseat Tannehill before the regular season begins. Until it's time for the young guns to get their chance, Tannehill is a solid veteran quarterback who can help Mike Vrabel's squad compete for an AFC South crown.
20.

Arizona Cardinals
The Cardinal's only slot in this low because Kyler Murray is out for the near future with a torn ACL, which he suffered late last season. Colt McCoy is one of the better backups in the league, but Arizona can't expect to compete with him as the starter coming into the season. When healthy, Murray is one of the most dynamic young quarterbacks in the league, and here's hoping we can see him back by midseason.
21.

Carolina Panthers
Photo Cred: USA Today
No. 1 overall pick Bryce Young is the presumed starter under new head coach Frank Reich, and the Panthers have much to be excited about in the Alabama product. The 2021 Heisman Trophy winner was accurate during his time in Tuscaloosa and consistently make plays outside the pocket. Much has been made of his size, but Young avoids big hits with his pocket awareness, mobility, and feel for where defenders are always. This Carolina roster has a long way to go, but putting Young behind center is a suitable place to start. If Reich isn't ready to go with Young right from the jump, they have longtime vet Andy Dalton who can step in.
22.

Chicago Bears
It's safe to say that 2023 is a big year for Justin Fields. The 2021 first-round pick is incredibly explosive as a runner and consistently broke off big gains as a scrambler last season but has a long way to go as a passer before he can be declared the future of the Bears franchise. It's not a talent issue, as Fields has a huge arm and is one of the best athletes at the position, but the decision-making and consistency need to improve in 2023.
23.

Las Vegas Raiders
 Jimmy Garoppolo isn't winning any MVPs anytime soon, and it's still unclear why Las Vegas willingly downgraded from Derek Carr after 2022-23. Garoppolo has been consistently average throughout his career, but if he can limit his turnovers, and lean on Davante Adams, and Josh Jacobs, the Raiders' offense can have a solid season.
24.

Houston Texans
No. 2 overall pick C.J. Stroud will battle it out with 2022 starter Davis Mills for the week one starting job in Houston, but even if Mills prevails, it is hard to imagine Stroud will be on the bench for long. The Ohio State product is a very polished pocket passer who showed flashes of creativity in the Buckeyes' CFP semifinal loss to Georgia. Stroud's pinpoint accuracy should make him a solid quarterback from day one, and the Texans are hoping for the rest of his game catches up to make him an elite quarterback in the future.
25.

Pittsburgh Steelers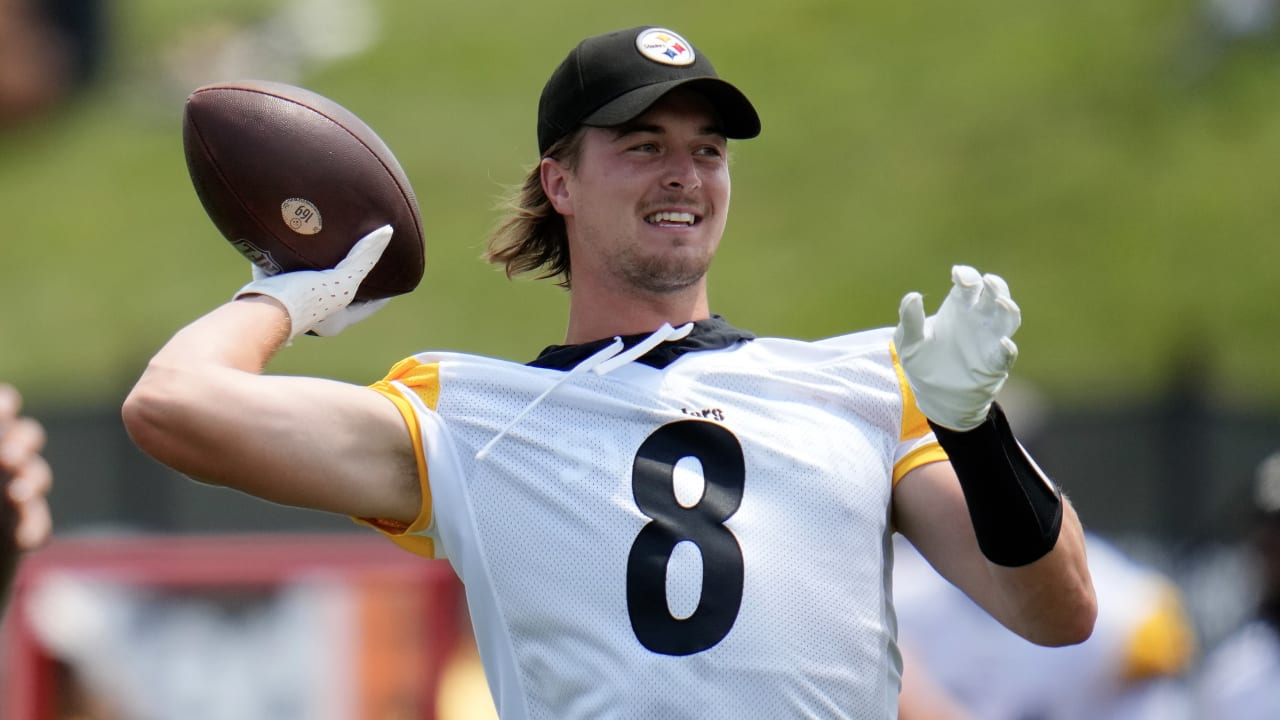 Photo Cred: NFL.com
Kenny Pickett came on strong at the end of 2022-23 as the Steelers made a playoff push and will be looking to build on that coming into his second season in Steel City. Pickett has no elite traits but can create plays off-schedule and is accurate enough to be a solid NFL starter. The Steelers also still have Mitchell Trubisky as a backup, who has flaws but has experience as an NFL starter.
26.

New England Patriots
This is too harsh of an assessment of Mac Jones, but I'm not sure how much higher his ceiling is. His situation was admittedly bad last year with Joe Judge and Matt Patricia running the offense and a porous receiving core on the outside. Jones doesn't have the physical abilities to become an elite quarterback. If he cuts the reckless decisions out of his game, he has the smarts and the accuracy to be a solid starter but trending in the wrong direction after a solid rookie year in 2021.
27.

San Francisco 49ers
Nobody knows what the 49ers quarterback situation will look like in 2023. Brock Purdy is back from offseason UCL surgery and will begin the season as the starter. Last year, Purdy was very steady, keeping the Niners' floor high and allowing the defense and the running game to help contend in the NFC. Will Kyle Shanahan turn to the higher ceiling of Trey Lance at any point? Or will he make Sam Darnold his latest reclamation project? Regardless, the Niners' Super Bowl window is closing, and they will need to get good quarterback play in 2023 to capitalize on it.
28.

Green Bay Packers
Photo Cred: USA Today
This low ranking isn't about Jordan Love's talent, but more that he hasn't had a chance to show it. In limited exposure last season, Love showed encouraging signs, flashing the arm talent that earned him a first-round selection in 2020. If Love can turn that into a consistent season in 2023, he and the Packers will skyrocket up this list.
29.

Indianapolis Colts
No. 4 overall pick Anthony Richardson is battling it out with Gardner Minshew and Sam Ehlinger for the starting job in camp, but it would be a shock if the Florida product isn't the starter in due time. Richardson has been one of the best athletes to come into the league in a long time but is still extremely raw as a passer. However, if he can consistently make good decisions and increase accuracy, he has the arm to be a great passer and is already a nightmare to manage in the run game.
30.

Washington Commanders
The Commanders enter the preseason with Sam Howell and Jacoby Brissett battling for the starting job in the nation's capital. Brissett is a solid veteran who has been around and played good football for the Browns last season before Watson returned, but Howell will get a shot at some point this year. The 2022 fifth-round pick has a big arm and is a good athlete, and the Commanders will want to see what they have in him.
31.

Atlanta Falcons
Desmond Ridder enters 2023 as the Falcons' full-time starter after spending most of 2022 behind Marcus Mariota. Ridder is a good athlete who is comfortable throwing from the pocket but can be a little wild and should use his athleticism more than he likes to. 2023 is a big year for Ridder, as there was rumbling about Atlanta taking a quarterback last spring, and they may not pass on the chance twice.
32.

Tampa Bay Buccaneers
Photo Cred: NBC SPorts
Amazingly, the Bucs have no plan for life after Tom Brady, as they enter the season with Baker Mayfield and Kyle Trask as their top two options behind center, and in 2023, that's simply not going to cut it. Mayfield is a journeyman at this point, and Trask hasn't played outside of garbage time since being picked in the second round in 2021.