Missouri head coach Eliah Drinkwitz and his staff have been targeting recruits for their 2024 recruiting class. So far, the Tigers have landed 11 players and three in-state commits. Missouri's recruiting class is ranked 59th in the nation by 247sports. Here is a look at each player a part of the Tigers' 2024 recruiting class so far:
James Madison II
Photo Cred: 247 Sports
Wide receiver James Madison II out of St. Thomas Aquinas is the best recruit. Madison is a four-star receiver. In his junior season, the 6 '4 receiver recorded 19 catches, 407 yards, and six touchdowns. He helped St. Thomas Aquinas secure an undefeated season and win a Sunshine State 3M title. Madison committed to Missouri over Michigan, Florida State, Louisville, Oregon, Georgia, and more Power Five programs. The pass catcher senior season will be something for Missouri fans to pay attention to this fall before he arrives in Columbia. 
Brian Huff
Photo Cred: On3
Linebacker Brian Huff was another impressive pickup for the Tigers' coaching staff. Huff is another four-star according to 247Sports Composite and Rivals. Missouri landed the Jonesboro, Arkansas native over notable programs such as Kansas State, UCF, and the Arkansas Razorbacks. Huff had an impressive junior season last fall for Valley View High School. The outside linebacker finished the year with 92 tackles, three fumble recoveries, and a forced fumble. Missouri fans should be extremely excited about Huff as he looks to continue to improve in his senior season and become a critical addition to the Tiger's defense in 2024. 
Cameron Keys
Photo Cred: SI
Cornerback Cameron Keys is another talented commit to watch out for Missouri. 247Sports has Keys listed as a four-star after an impressive junior season at Mosley high school in Lynn Haven, Florida. Keys recorded 26 tackles, two interceptions, and nine pass breakups during 2022. 247Sports states that the rising senior was also a regional qualifier in the 100-meter dash for track and field this past year. The cornerback committed to the Tigers over schools like Kentucky, West Virginia, and Arkansas. Keys is a notable commit for Missouri fans to watch as he aims to conclude his high school career on a high note this fall before arriving in Columbia.
Cam Dooley
Photo Cred: On3
Three-star ATH Cam Dooley got offers from universities such as Tulane, Alabama State, and Kentucky before committing to Missouri on July 1st. Dooley attends Valley high school in Valley, Alabama, where he plays a role for the football team. Dooley played as a quarterback, wide receiver, and defensive back in his junior season. Three-star versatility and qualities make Dooley a critical addition to the Tigers' 2024 recruiting class. 
Ryan Jostes
Photo Cred: 247 Sports
Drinkwitz and his staff picked up a talented in-state recruit as they landed three-star offensive tackle Ryan Jostes from Washington, Missouri in March. Jostes committed to the Tigers over Duke, Purdue, UNLV, and Vanderbilt. The rising senior also plays tight end for Washington high school but was recruited as an offensive tackle, which is what he will play at Missouri. The 6 '6 280-pound offensive tackle was a key pickup for the Tigers as he will be another big body protecting the quarterback from SEC defenses in the future. 
Justin Bodford
Photo Cred: Rivals
Missouri landed an addition to its future defenses as three-star defensive tackle Justin Bodford committed to the Tigers. Bodford committed to Missouri over West Virginia, Uconn, East Carolina, and other Division 1 programs. The defensive tackle is one of three players out of St. Thomas Aquinas to commit to the Tigers for 2024. Bodford is a commitment that Missouri fans should feel optimistic about. 247Sports states that the defensive tackle finished his junior season with 25 tackles and four sacks which helped St. Thomas Aquinas secure a Florida 3M state title. Bodford could become a piece for the Tiger's defense in the future. 
Whit Hafer
Photo Cred: 247 Sports
Three-star tight end Whit Hafer is another name to watch out for in Missouri's recruiting class. He is a talented in-state recruit. The tight end received offers from other Power Five programs, such as Kansas State, Kansas, and Iowa State. The 6 '7 230-pound tight end is a rising senior at Joplin high school in Joplin, Missouri. Hafer brings a lot to the tight end position for Missouri and could become a piece to the Tiger's offense down the road. 
Nicholas Rodriguez
Photo Cred: Rivals
Nicholas Rodriguez is another exciting commit for Drinkwitz and staff as he is another player out of St. Thomas Aquinas that decided to play in Columbia. Rodriguez is a three-star on 247Sports and a four-star on Rivals. The outside linebacker received offers from West Virginia, Pittsburgh, and Ohio State. Rodriguez had an impressive junior season in 2022. The linebacker recorded 93 tackles, three pass breakups, and five sacks in his junior year. 247Sports mentions that Rodriguez is also a wrestler and qualified for the state of Florida's 2A meet as a sophomore. Missouri fans should feel excited about Rodriguez as he looks to help St. Thomas Aquinas win another state title in 2023 and become vital to the Tigers' defense in 2024 and beyond. 
Aidan Glover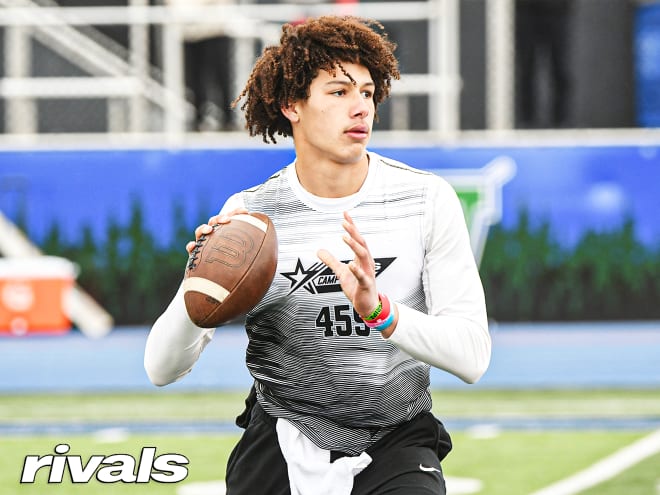 Photo Cred: Rivals
Missouri will add to its quarterback room in 2024 as it landed three-star Aidan Glover from Collierville, Tennessee. The dual-threat quarterback committed to the Tigers over multiple division one programs such as Buffalo, Temple, Georgia Tech, and Northwestern, who were in the top two for him. Glover is coming off an impressive junior season for Collierville high school. The three-star completed 64.9% of his passes and threw the ball for 1,421 yards and six touchdowns. The 6 '3 193-pound quarterback is a commit to keep an eye on as he looks to finish off his high school career strong in the fall before battling to become the offensive leader for the Tigers. 
Jackson Hancock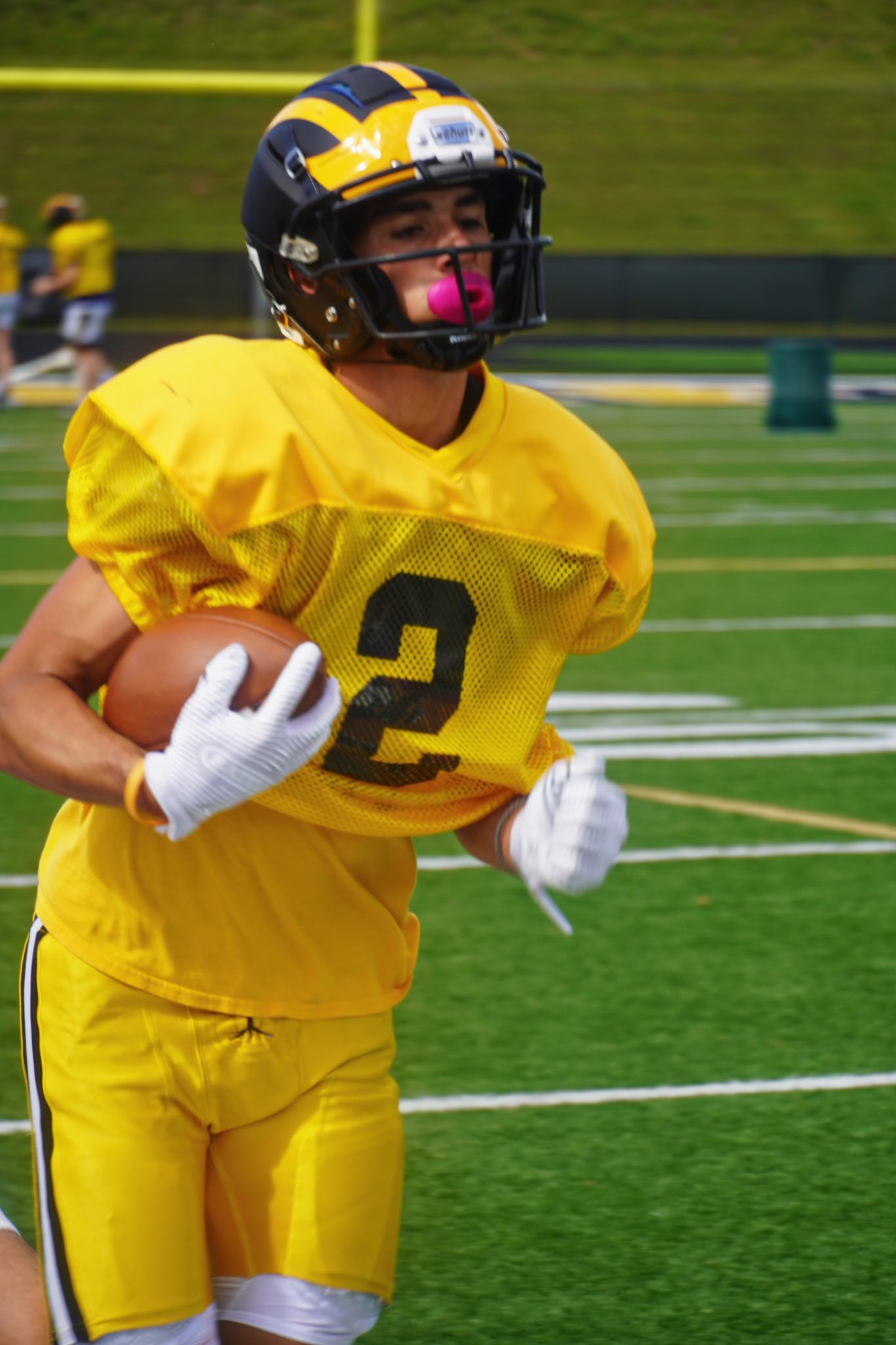 Photo Cred: Twitter
In June, Missouri landed three-star ATH Jackson Hancock from Canton, Georgia. He played a pivotal role in Sequoyah high school. Hancock played on both sides of the ball and recorded 49 tackles and three pass breakups on defense. Offensively, Hancock caught 18 passes and recorded two touchdowns last season. Hancock received offers from schools like Georgia Southern, Charleston Southern, Eastern Kentucky, Appalachian State, and Troy before announcing his commitment to the Tigers on June 30th. The Canton, Georgia native was a dark horse in the recruiting trail and will look to prove that when he arrives in Columbia next year. 
Jude James
Photo Cred: Rivals
The Tigers added a nice pickup from in-state recruiting as they landed three-star wide receiver Jude James from Saint Charles, Missouri. James is listed as an athlete on Rivals but will play wide receiver. The three-star is enrolled in Francis Howell High School and is coming off an undefeated state championship season in 2022. James received multiple Division 1 offers from North Dakota State, South Dakota State, Army, Navy, and more before committing to Missouri on June 30th. The 6'4″ receiver will look to become a part of an already talented Tigers' receiving core in 2024.