After entering the locker room at halftime trailing by seven points, the Rams (7-4 A10) started the second half on a 28-6 run to seize control from a depleted Minutemen bunch (4-8 A10). UMass shot 49% from the field on the night compared to Fordham's 40%, but the Rams went 27-34 from the free throw line, which made the difference. Along with winning the free throw battle, the Rams brought down 15 offensive rebounds for 15-second chance points in front of a sold-out Rose Hill Gymnasium. Fordham to defeated UMass 77-67 Wednesday in the Bronx.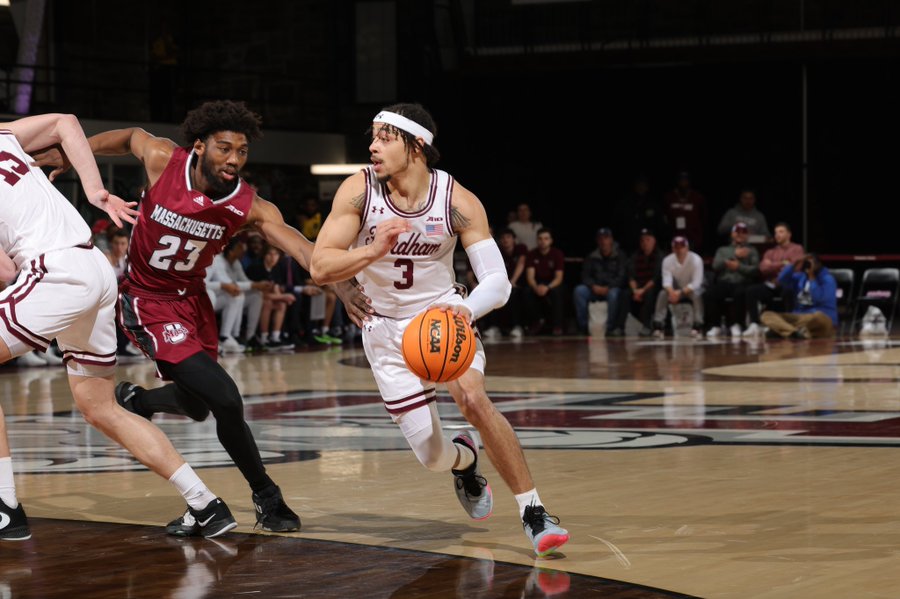 Photo Cred: Fordham Athletics
Darius Quisenberry led the Fordham offense with 21 points and four assists. After a pregame ceremony celebrated him reaching 2,000 career points. Despite only hitting four shots from the field, Quisenberry consistently managed to draw fouls and shot 12-14 on free throw attempts while not turning the ball over a single time. 6'7 Forward Khalid Moore had a very productive night, scoring 19 points and grabbing seven rebounds. Quisenberry and Moore have paced the Rams all season, averaging 16.9 and 15.3 points.
UMass was missing three guards in Frank Martin's usual rotation; Noah Fernandes, RJ Luis, and Rahsool Diggins. Fernandes and Luis are two of UMass' three top scorers per game. Forward Matt Cross would once again have to shoulder the scoring load offensively. Cross scored 17 points after scoring 28 against Davidson on Saturday. The Louisville transfer added five rebounds and three steals. Freshman Keon Thompson was forced to play a career-high 36 minutes because of the injuries to the UMass backcourt, scoring 13 points on 6-11 FG and notching four of UMass' eight total assists.
Photo Cred: Mass Live
"We didn't make as many defensive breakdowns and our intensity picked way up," Fordham coach Keith Urgo said of the second-half turnaround.
The Minutemen turned the ball over 14 times compared to the Rams' 10 turnovers. This was another phase where UMass hurt itself on the road. The Minutemen will stay on the road and travel to Philadelphia. They play La Salle this Saturday, a team to who they have already lost this season.
Photo Cred: http://www.dailycollegian.com
Fordham, who unexpectedly stands 19-5 on the season and 7-4 in the Atlantic-10, heads south to face Davidson on Saturday. Fordham was picked to finish 11th in the official preseason conference poll. But finds themselves sitting in fourth place, 1.5 games behind Dayton. A strong February could secure the Rams a double-bye in the A-10 Tournament.